Wrangell St. Elias National Park and Preserve
You may have never heard of America's largest national park and preserve, Wrangell-St. Elias. Three times larger than Yellowstone NP, it sits in the southeast corner of the Alaska mainland. For the most part it is rugged and remote, with comparatively little vehicle access.
It addition to being the largest national park, it may also be one of the least visited. We were two of only 87,000 visitors each year (compared to Yellowstone's 3-4 million) and only 5,000 visit the Nabesna side of things.  Not bad for a park that boasts nine of the sixteen highest peaks in North America, with Mt. St. Elias, at 18,008 feet, being the highest. To the east it abuts Canada's Kluane National Park making the combined protected area the largest in the world.
Wrangell-St. Elias NP is a land of extremes. It has the greatest concentration of glaciers in North America, with fully 33% covered in glacial ice. Yet, WSE also has 12 volcanoes, Mt. Wrangell, at over 14,000 feet, is the highest and largest active volcano in the United States outside Hawaii.
This park is remote and rugged, yet right in the middle of it are the remnants of a copper mine that extracted well over a billion dollars' worth of copper (in today's dollars) from a series of mines so inhospitable it would be an amazing feat even today.
You get to WSE by heading south at Tok, Alaska toward Glennallen. A word about this road is in order. We had heard that the Glennallen road was rough and that was probably an understatement. For the first few miles, you are lulled into a false sense of security, then, without warning, you hit 20 miles of frost heaves that will knock your teeth out. Be prepared to slow down to 40 mph if you are towing or have a camper in the bed of your truck. This was worse than the last 400 miles of the Alaska Highway almost all the way to Tok and that was pretty rough.
In exactly 65 miles, you will turn east (left) on the Nabesna Road. Stop at the visitor center and then be prepared to drive about 40 miles to the end of the road. This is a very beautiful and interesting drive. We camped at about Milepost 6 at Rufus Creek in a very nice and free site. In ten more miles, the road turns to gravel.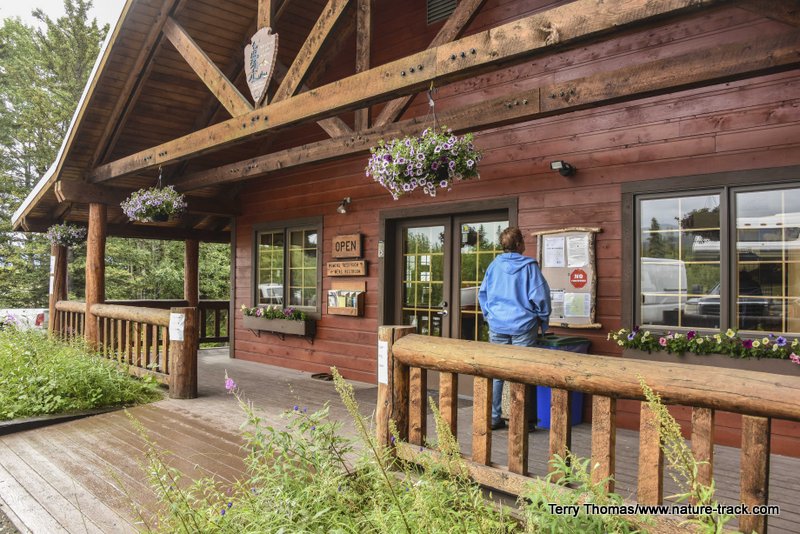 You will have some great views if the weather cooperates as you drive this road. Be aware that there are many many private inholdings along this road so respect private property. There are a number of pullouts and the ones marked as Wayside have toilets, tables and fire rings. You are welcome to camp at any of them.
At about Milepost 24 along this route you will get to Twin Lakes and the Kendesnii campground. This FREE campground has about a dozen sites and several outhouses and was never more than half full. We wish we had stayed there but we had heard that this road was pretty rough and we didn't want to haul the trailer down it. However, this was not the case. The road was actually in pretty good shape to this point.
There are only a couple of places where the road can get iffy in poor weather. Both of these are past the campground. We had no difficulty despite the fact that it rained a lot while we were there.
There is an airstrip and a Bed and Breakfast at the end of the road ($150/night) and it is worth driving all the way out there. Going beyond the airstrip in a vehicle other than an ATV isn't recommended.
If the weather cooperates, the views into the depths of the Park are awesome from the airstrip and well worth the drive.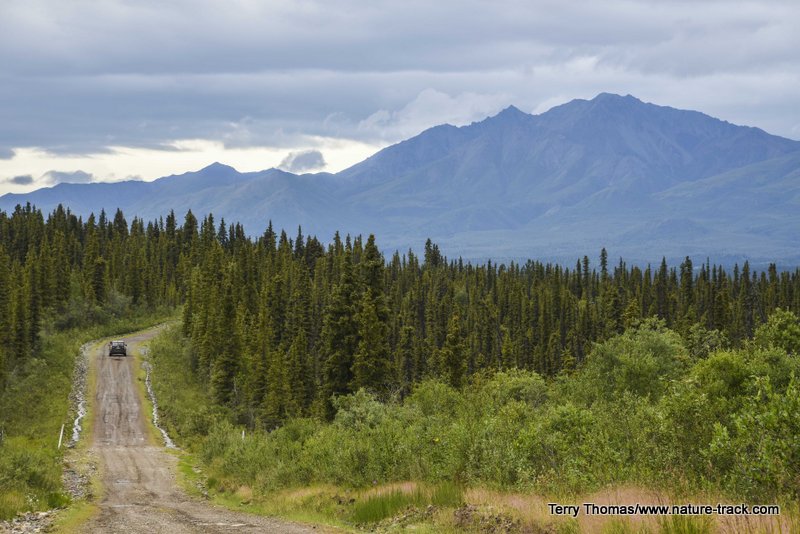 Rush hour on the Nabesna Road. A fair number of families live along this road, but you seldom meet traffic.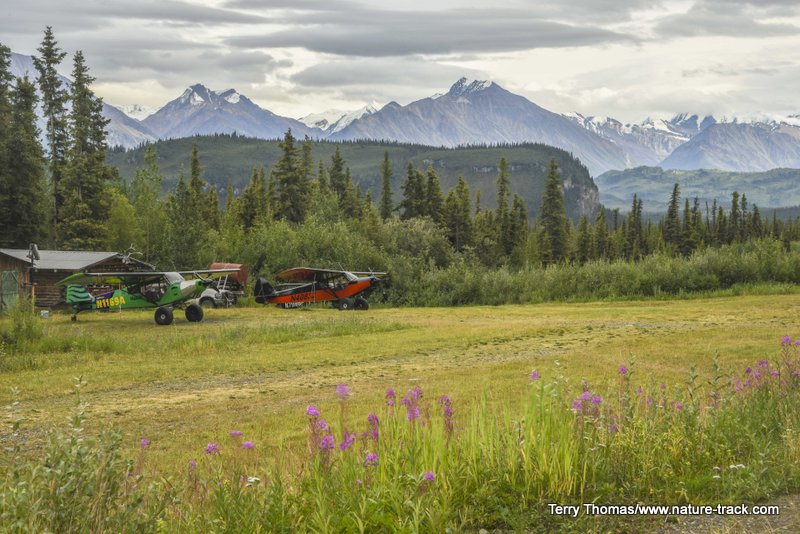 Airstrip at end of road. The B&B would be a fun place to stay. 
View from end of Road. Pretty spectacular.
Speaking of ATVs, that reminds me that WSE is a national park AND a national preserve. Different rules apply in each. For instance, you can't take an ATV into the national park, but you can on designated routes in the preserve.
The only other road into WSE is the road to McCarthy which starts about 30 miles south of the Glennallen cutoff toward Anchorage. There is a visitor center at Copper Center and then you head south about five more miles to catch the new Edgerton Cutoff that takes you out to Chitina.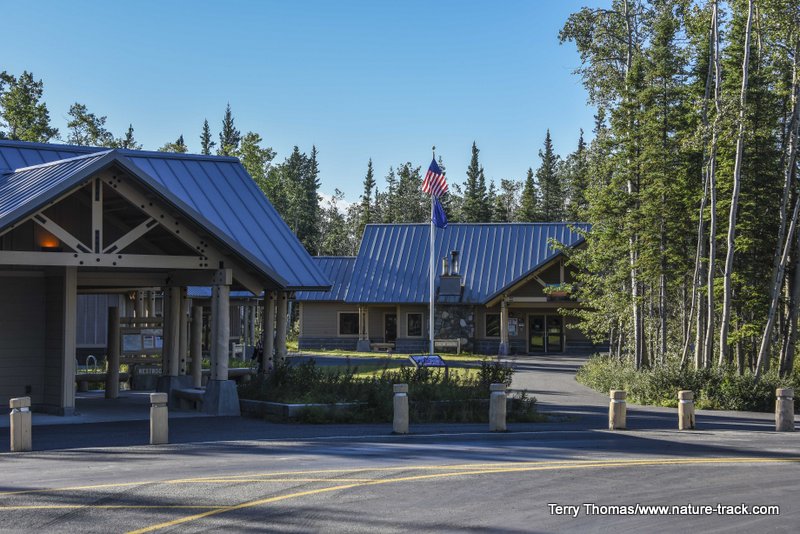 Copper Center Visitor Center. This is on the Richardson Highway, just a few miles south of Glennallen toward Valdez.
We got a late start heading out to Kennecott, leaving our camp at Squirrel Creek State Recreation Area about 0745. We knew this drive would take some time and it did. We reached Chitina in about 45 minutes, not counting time spent on photo ops, and then headed up the McCarthy Road, paved for about 20 miles in an on again, off again fashion. After that, it was all gravel, some of which was beyond ridiculous. I have been on better two-tracks. There were some stretches though, where we could actually do the speed limit of 35 mph. With that said, several motorhomes made it in just fine. It just isn't always fun.
Edgerton Cutoff. This leads to Chitina, where the McCarthy/Kennecott road starts.
We also had low clouds virtually all day that obscured most of the scenery. That was too bad, because my earlier research had built up quite an expectation of photography bliss in my mind.
On the way out though, we had a bit better weather and were even graced with some sunset colors.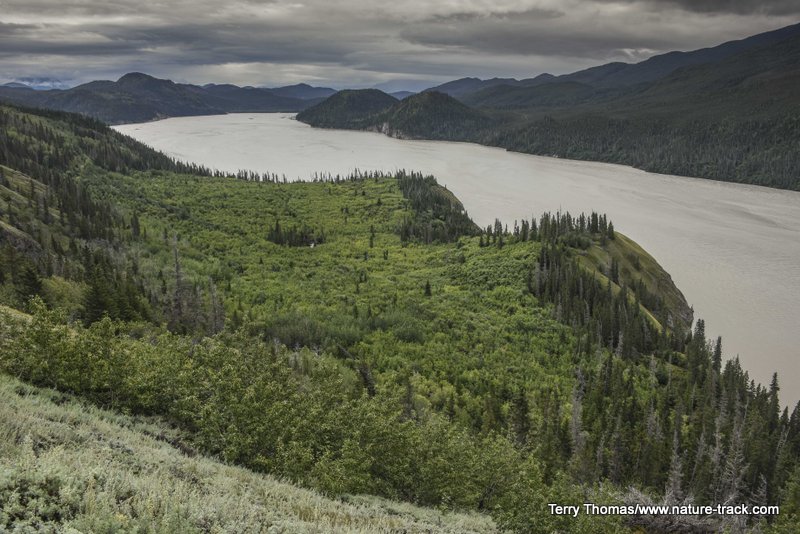 Storm clouds hid some spectacular views on our drive in. It was still awesome but a bit disappointing.
These mountains are some of the ones we missed when driving in. The evening light and clearing storm made for some great photography.
The story of the Kennecott Mine is a fascinating one about one man's dream to extract some of the richest copper ore ever discovered but buried beneath the ground well beyond the end of the earth. To accomplish it, he enlisted the help of the Guggenheim family and J.P. Morgan, two of the wealthiest corporations of the day. They built a railroad, freighted in an entire town and ore processing plant and ran it for about 30 years, extracting over $100,000,000 in profits (over a billion dollars today) before abandoning the mill and town in its entirety--all in one of the most inhospitable climates imaginable. Snow to 30 feet deep, glacial rivers that washed out the bridges and trestles each spring and sometimes again in the fall, temperatures that might not climb about -20 F. for months. Add to that the isolation and it was one tough place to work.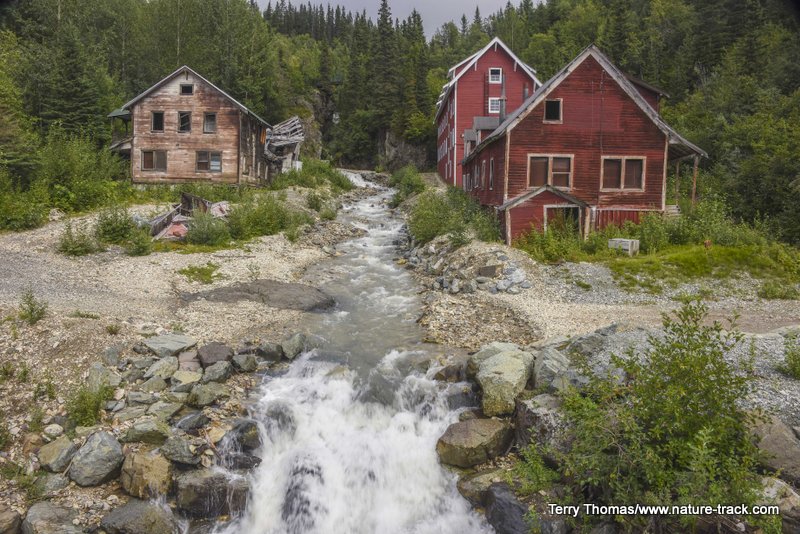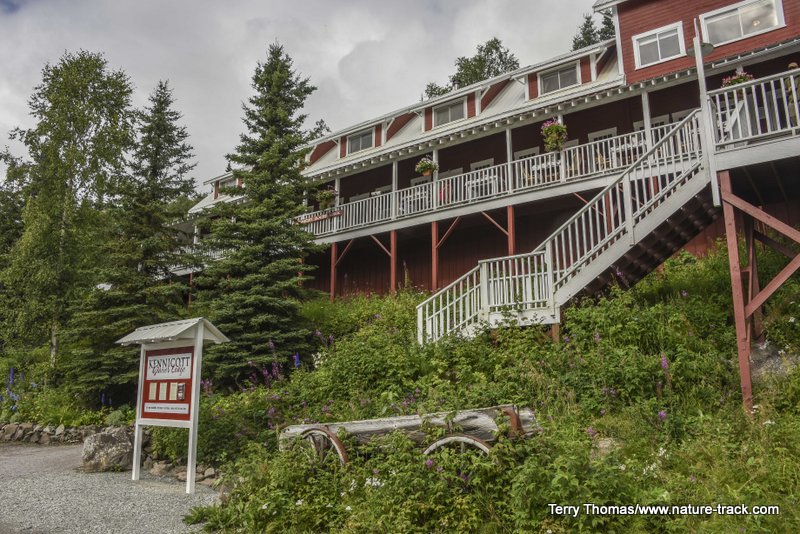 You can choose to stay at the Kennicott Glacier Lodge right at Kennecott. It would be a cool experience, but be prepared to shell out some significant change. Even in the off season, rates are around $150 or more a night.
After spending a couple hours in the restored buildings of the town and mill, I had to admit that it was worth the drive to see it. The town also looks out over the Kennicott (Yes, the spelling is different) Glacier, which we first mistook for mine tailings. The glacial ice is hidden under a thick layer of gravels and this extends for miles. It truly does look like a superfund site but is apparently totally natural.
We didn't take the time to explore what there was to see in McCarthy, the TINY village about five miles from Kennecott.
Kennicott Glacier is completely covered with gravel and looked like mine tailings at first.
McCarthy offers a few places to get something to eat, guide shops and a few craft stores.
A few things you should know about this trip. The drive took us over three hours, one way. It is 58 miles from Chitina to the parking area. If you park at the Wrangell-St. Elias Mountain Guides area, you can day park for free. Then you walk one quarter mile to the foot bridge and on the other side catch the shuttle to McCarthy and Kennecott. McCarthy is free, it is $5 EACH WAY per person to go to Kennecott. If you choose to park at the foot bridge instead of walk the quarter mile, it will cost you $5 or more.
Since the road is actually on top of the old railroad bed, flat tires are more common than normal, especially when grading exposes old nails and railroad spikes. Carry a full-sized spare, not a donut spare. We even brought a second spare though on this road we needed neither one.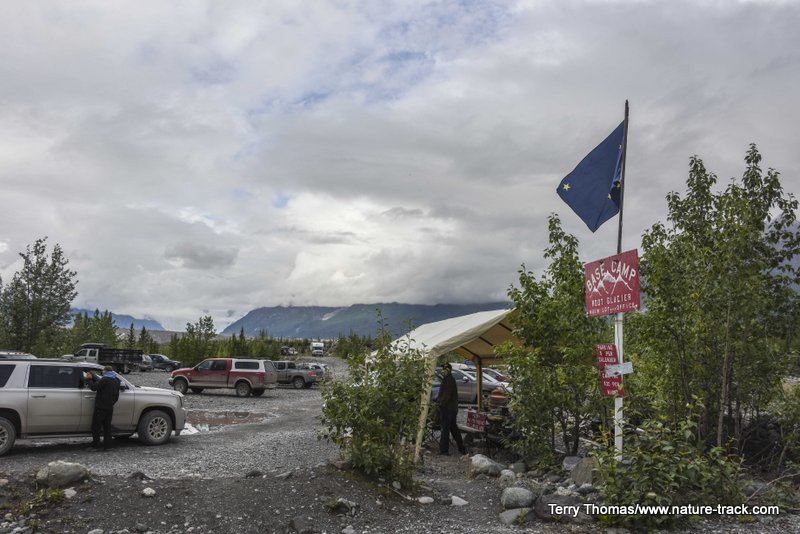 Parking lot at the bridge. This one costs you $5. Walk a quarter mile from the guide shack and save the money.
We did see several motorhomes come in to the guide shack area. I wouldn't tow a trailer down there on a bet though and I suspect the motorhome ride wasn't terrific.
If you get to Alaska, visiting WSE should be on your list. It is a beautiful place (even in the rain) with a lot of really fascinating history. Just be prepared.