Wildlife Road Trip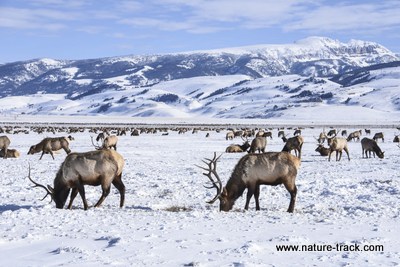 ---
I wrote a column recently about our trip to Jackson and all the wildlife we saw. I thought you might be interested in a bit more detail about where exactly to see wildlife up close and personal.
Our extravaganza started just after we turned onto off Highway 26 and onto Highway 31 at Swan Valley. As we approached the first big curve to the north, we encountered a herd of elk nearly on the highway. We didn't get a count but I would guess there may have been 30-50 scattered about. They were still there about a week later.
As we traveled up Pine Creek, the lower end was riddled with deer and moose tracks. I was busy keeping between the lines though and didn't actually see any wildlife. We had four vehicles though so someone else may have seen something.
Our next stop was on the east side of Miller Butte on the National Elk Refuge. As you travel up Broadway in Jackson, just keep heading north instead of turning toward the park at antler square (I am sure there is a better name for this place, but this one makes sense to me). You will go past an LDS church on the right and the hospital on the left. Just keep going straight and you will enter the Refuge.
This road can be full of wildlife any time of year. If it isn't too cold, there will be open water on Flat Creek that will attract waterfowl such as swans.
But the big draw is bighorn sheep. About 50 animals winter on the Butte and there isn't a better place that I know of to see them up close. Real close. As soon as a car stops in a pullout or on the road, the sheep make a beeline for it to lick at the salts on the paint and accumulating around the wheel wells. It isn't unusual to have half a dozen sheep "eating" your car at any given time.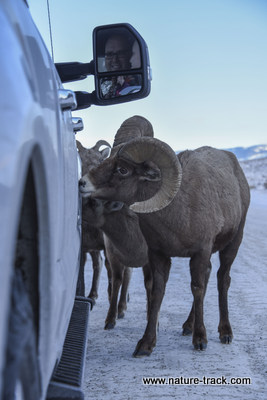 We also saw a herd of pronghorn on the Butte and a herd of elk and we occasionally see mule deer. About ten years ago, a lioness and her cubs took up residence there for the winter. I have also seen red fox and coyotes on the Butte in the winter.
Other wildlife present there but that we didn't see include bison, wolves and moose.
We then headed around to the other side of the Refuge to meet our appointment to ride the sleighs out among the elk. If you have reservations, they recommend that you be at the Visitor Center half an hour before your time. Reservations aren't required, but they are a good idea. You can call the concessionaire, Bar T5 Ranch at 307-733-0277 to make your reservation. My wife dealt with them and found them very nice and accommodating.
It is about two miles from the Jackson Visitor Center to the sleighs and you catch a bus at the Visitor Center. On the way up, we watched mule deer on the hill on the west side of the highway the entire two miles.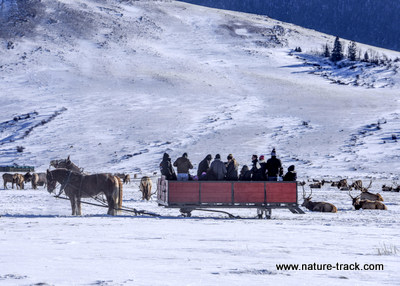 The sleigh ride was interesting and most of our group readily acknowledged that it was more fun than they anticipated that it would be. Some very large bull elk were almost within arm's length of the sleigh and that got most hearts pumping fast.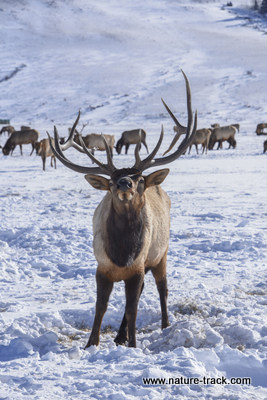 On our way home, we went down the river instead of back over Teton Pass. About a mile from Alpine we nearly ran into a group of mountain goats licking salt from the road. There were probably 20 or so and the Highway Department had flashing signs on the road warning everyone to be careful. There is a big pullout there where you can get out of the car and photograph all you want to. The goats are on the hill side of the road and the pullout is opposite them so they are hardly even aware of you.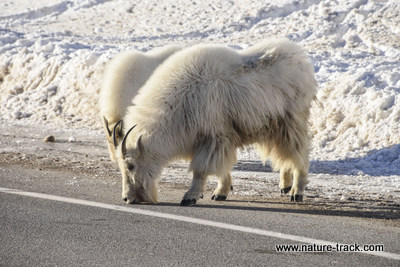 Right at the junction of the canyon road with Highway 26, we saw another group of elk just off the road. It was kind of sad to see the homes that are sprouting up right where these elk want to be. It won't be long before they are no longer welcome there.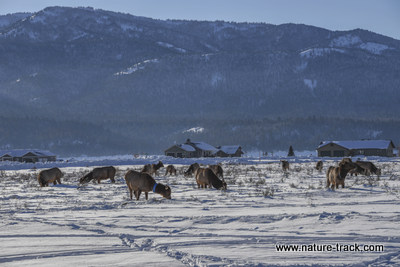 That was the end of our wildlife sightings but  it was just bad luck that we didn't see moose and white-tailed deer somewhere between Alpine and Antelope Flat. As it was, we saw five big game species and had the potential to see four additional species (moose, white-tailed deer, bison and wolves) all in one day. That is pretty cool.