West Florida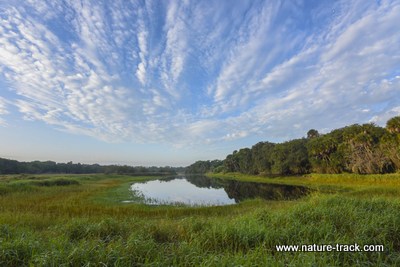 We spent several months researching just where we wanted to go once we landed in Tampa. Cathy talked to a friend who lives in the area, we studied website materials and I spent hours looking at everything with Google Earth. After all that, it was still difficult to decide where, exactly, to spend our precious morning hours each day.
Birding was a major impetus for our travels although not the only one. We wanted to see cool and fascinating things, hoped for awesome ocean vistas and great places to eat. As usual, our agenda and our available time didn't line up well despite the fact that we were giving this trip two full weeks.
 After lively discussion, we finally decided to start our first day at Robert K. Rees Memorial Park, part of the Pasco County park system. It is a small park with a single boardwalk. It is on the ocean though and we hoped to see a lot of new species of birds and perhaps catch a stunning sunrise.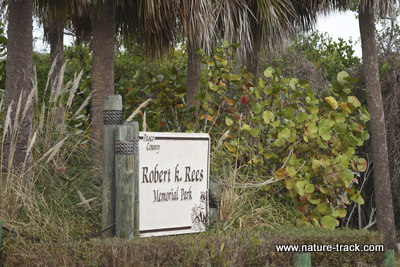 The sunrise was a bust, but we immediately starting seeing birds. This site is part of the Great Florida Birding Trail and appropriately so. We logged about 20 species in little more than an hour, including black skimmers, a new species for us.
We then made a quick trip to Starkey Wilderness Park, run by Pasco County as well. This is a large park with a campground, cabins for rent and lots of backcountry trails and camping. We were immediately impressed and tried to reserve a campsite but found that a single group had reserved every campsite and cabin. We took a walk on the nature trail and determined to come back on a future visit. We did find out a little late that if you pay for parking at one Pasco County park it is good at all the parks in the county for the day.
Tarpon Springs was our next stop. Tarpon Springs is known for two things: sponge harvesting and Greeks. Actually, the two pretty much go hand in hand as it was the sponges that attracted the Greek sponge divers about 100 years ago. Tarpon Springs is said to have the highest number of Greek people to be found anywhere in the world outside of Greece itself.
Tarpon Springs is on the Gulf and is a bit touristy. Parking along the main street on the harbor is almost impossible except in the paid lots.
There are a number of boat rides offered and we took advantage of one offered through Odyssey Tours. It was about two hours long and took us out to an island with a lighthouse on it. We were able to collect seashells for about 20 minutes then rode back to the dock. One of the main purposes was to see dolphins and we finally did see a pair on our way back. One thing to note about these cruises: they are in open catamarans and if it is a windy day, you will get wet. Take a jacket and don't sit in the front of the boat!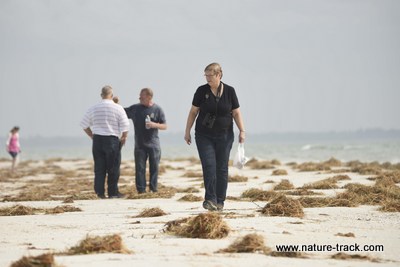 Cathy looks for seashells during our 20 minutes on a small island. Our Odessey Cruises boat ride took us there.
The best thing about Tarpon Springs was the food. On the plane, Cathy sat next to a lady who visits Tarpon Springs regularly and she recommended the restaurant "with the blue tiles". Once we saw it, we immediately recognized it just from that description. The name of the restaurant is, Hella's. We have never had Greek food so we ordered a sampler plate and a salad and shared them. It was really good food, probably the best we had in Florida.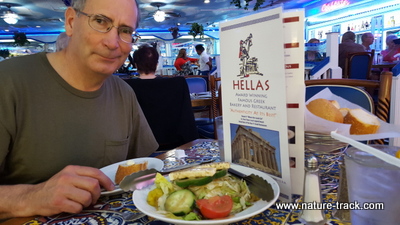 We balanced out the good food with the worst motel we have ever stayed in, named, Tarpon Inn. It was in a great location and looked okay on the outside, but the inside was a different story. We later read a Priceline review by one lady who stated that the best thing about staying there was that she survived the night.   You have been warned.
After Tarpon Springs we moved down the coast toward Honeymoon Island State Park. We got side-tracked on the causeway to the island and spent several hours photographing birds there including our first oystercatcher and royal tern.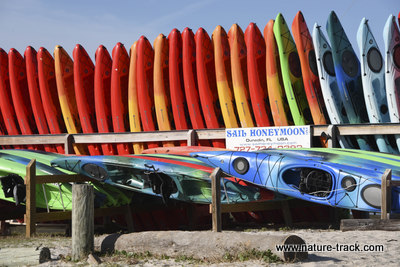 The Dunedin Causeway out to Honeymoon Island is popular not only with birders and photographers, but kayakers and fishermen as well.
Honeymoon Island is a great place to spend a day. It costs $8 to enter, but once there you can walk a two-mile-long trail or loop around the entire island on the beach. We found a lot of birds, especially ospreys.  There are more nesting ospreys here per square mile than anywhere in Florida, possibly in the world.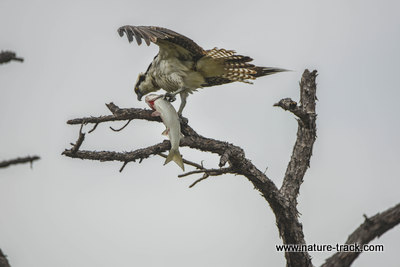 This osprey struggled with this fish for about 10 minutes.
Honeymoon Island State Park has a sister park, Caladesi State Park, which you can only reach by boat. A ferry leaves Honeymoon Island about every half hour starting at 10 a.m. with the last one leaving Caladesi about 4 p.m. It costs an adult $14 for a round trip ticket. Why go to Caladesi? I don't know, since we didn't make it over there, but they claim it has one of the best beaches in the world.
 We worked our way down the coast stopping at several other county parks. One in particular, was Wall Springs Park in Pinellas County. It is only a about 15 minutes north of Tarpon Springs and we heard about it by talking to a gentleman on Honeymoon Island. It has several nice boardwalks with ocean views and a couple of decks overlooking a freshwater pond. There is also a 40-foot tower but it was under renovation so we didn't get to go up it. It may have just been the beautiful morning we were there, but we really enjoyed this little park. It was a good reminder that some of the best places to go are the county parks, of which there are a lot.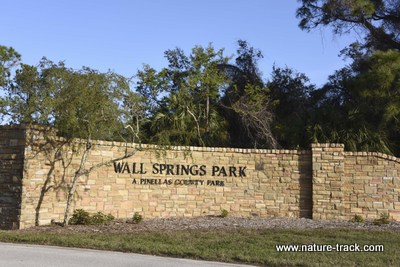 Wall Springs has a lot of boardwalks and pathways to walk and photograph from.
We spent much of one day at Fort De Soto State Park at the tip of Tampa Bay's peninsula. Fort De Soto is a nice state park with an old fort to explore, a large fishing pier, lots of ocean front and a small historical museum.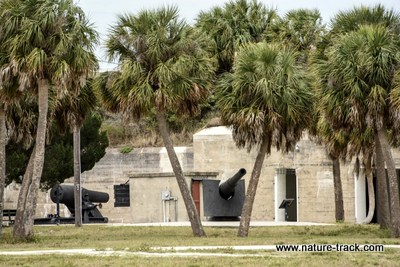 Fort De Soto stood guard at the entrance to Tampa Bay.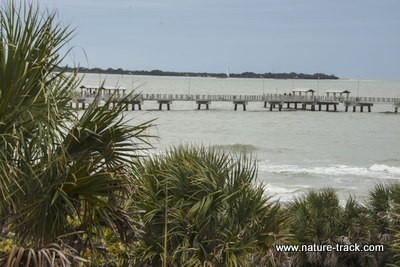 This fishing pier is a popular destination for For De Soto visitors. It is a good place to observe and photograph several species of birds as well.
Fort De Soto Park also has a nice campground. We inquired about camping there and found that it, like most campgrounds in Florida, is booked months in advance. Getting a site without a reservation is an iffy deal.
There happened to be an opening when we were there and we were tempted to snatch it up but I just wasn't thrilled with the place for some reason, possibly because it was a pretty busy park despite unseasonably cool weather. And even though it is on the Great Florida Birding Trail, we didn't find a lot of new birds.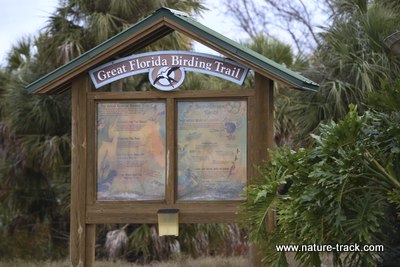 Just a word about the great Florida Birding Trail. The Great Florida Birding and Wildlife Trail is a network of 510 premier wildlife viewing sites across the state. We did find it very helpful in locating some out-of-the-way hotspots. Some of the information is dated, but if it is mentioned in the literature, it might be worth a look. Just pay attention to the seasons when viewing is best. What is great in the winter may be a bust in the summer and vice versa. Also, the hardcopy brochures are out of print. You can still print your own from the online version though. This website, www. http://floridabirdingtrail.com/ , is really helpful.