Valley of Fire State Park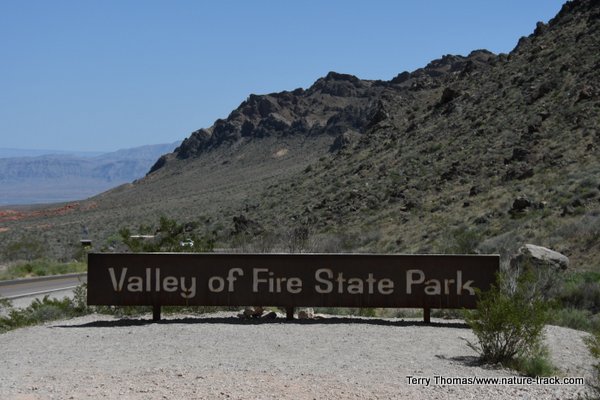 ---
While the rest of Eastern Idaho was suffering through wind advisories and April snowstorms, we were basking in 80 degree weather under beautiful blue skies. The skies were enhanced too, by the red sandstone hills that surrounded us in Valley of Fire State Park near Overton, Nevada.
I think many people consider most of Nevada to be a drive-thru state—nothing but boring desert to drive through, especially if the destination is Las Vegas. Well, take Exit 93 (29 miles west of Mesquite) toward Logandale and Overton and you may find a totally different world.
 Once past Overton, it is only seven miles to the turnoff to Valley of Fire State Park, a park aptly named. There is a $10/day fee to enter but it is worth it. Valley of Fire is full of canyons, arches, pockets, waves and wild shapes that all formed from sand dunes present when dinosaurs walked the earth.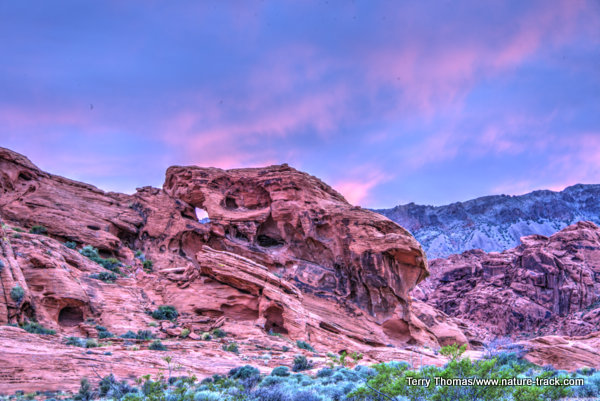 We arrived on Saturday, March 31, which this year was the day before Easter. Getting to the campground at about 11:00 a.m., we should have had no anticipation of getting a site. Indeed, the sign at the entrance said the campgrounds were full. With uncharacteristic optimism though, we decided to go see for ourselves. We pulled into Atlatl Campground (44 sites) and while Cathy was grabbing an envelope, a motorhome pulled up. The driver said he had just vacated site 7 and I could see from where we were it was still empty. We grabbed the site and paid our $20.00/night. By including our entrance fee receipt in the envelope, we deducted $10 off the first night (campers don't pay the daily entrance fee). This site was not an RV hook-up site but we didn't think we needed one for the extra $10/night.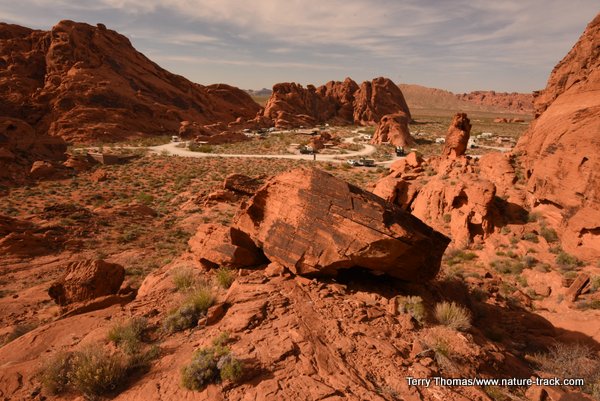 Let me talk about the camping here. There are showers, water at every campsite (although you can't hook up to it) and three restrooms. There is also an RV dump where you can also fill your fresh water tank. In Atlatl Campground, there is one area reserved for walk-in camping and a couple of handicap access sites. The sites are well spaced and we felt almost like we were dry camping by ourselves. That was true at night too, as it was the quietest campground I have ever been in. Since the park is only open sunrise to sunset, there is essentially zero traffic after sundown. Generator hours run until 10:00 p.m. but all were off by dark. After that, it was so quiet we felt we should whisper. It was one of the best campground experiences we have had, especially given that the campground was full every evening.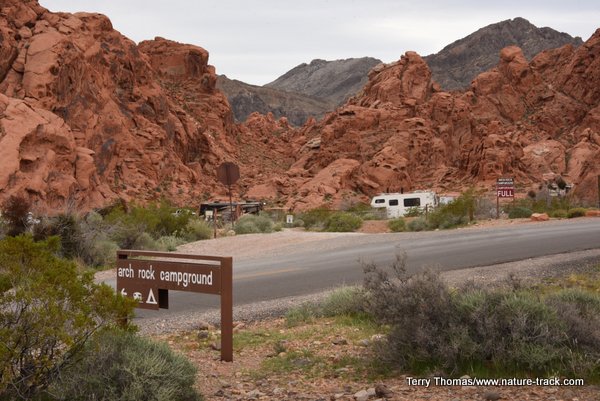 We took a walk through the Arch Rock Campground (29 sites) which is about a mile down the Scenic Loop Road from Atlatl Campground. It is a very nice campground too, but there are no RV hook-ups at all. It is tucked back into the rocks and is very secluded.
I should mention that there is also a group campsite near the scenic attraction known as the Beehives. This will accommodate quite a large group and is available for rent. Check at the Visitor Center for more information (702-397-2088 or parks.nv.gov/parks/valley-of-fire-state-park).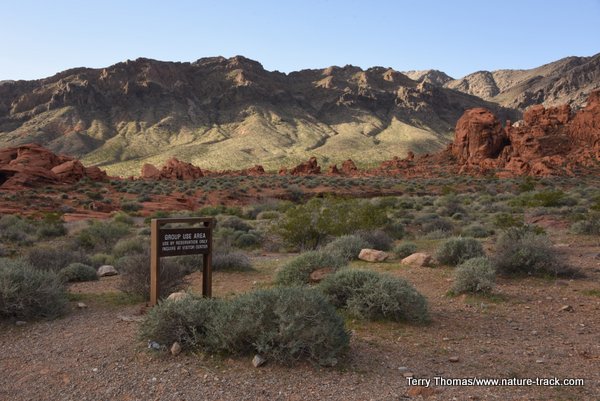 The road system at Valley of Fire isn't extensive. The main road runs from the east to the west entrances. It is 10.5 miles long. Then there is the White Dome Road which is 5.5 miles and dead ends at the White Dome parking area. Along that road there is the Fire Canyon road, another dead end about a mile long. The only other road is the Scenic Loop where the campgrounds are. It is two miles long.
The hiking system includes several short trails such as Mouse's Tank, Elephant Rock and Rainbow Vista, medium length trails like White Dome Loop (1.25 miles) and Fire Wave Trail (1.5 miles) and at least one long and apparently a bit challenging one that starts at White Dome and ends on the Valley of Fire Road, 4.5 miles distant. This trail involves some scrambling and may not be well marked. We took all the trails except the long one and even then we poked our nose down it for a quarter mile.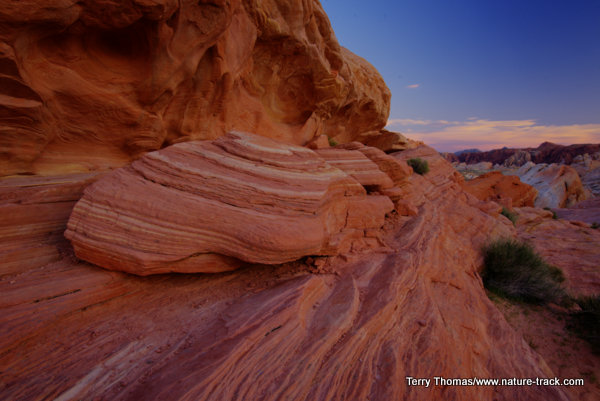 The best thing about hiking is that you can set off on your own up and down on these petrified dunes. Scrambling around and checking out a few of the thousands (and I am not exaggerating) of arches and caves was a lot of fun. 
Our first hike was into Mouse's Tank. A tank is a hole in the sandstone where water collects. You can just imagine how important these places must have been in the good ole' days. This one was named for an outlaw who used it as his hideout. It is less than a half mile walk, but between the canyon and the picnic area across the road, we saw more petroglyphs than we have seen in our lives, and that includes our visit to Petroglyph National Monument near Albuquerque, New Mexico. On the east side of the small canyon, there were literally hundreds of carvings, some impossibly high on the rock. These were scratched into the black patina called desert varnish. It was truly unbelievable. This must have been a highway or a meeting place for the ancient ones.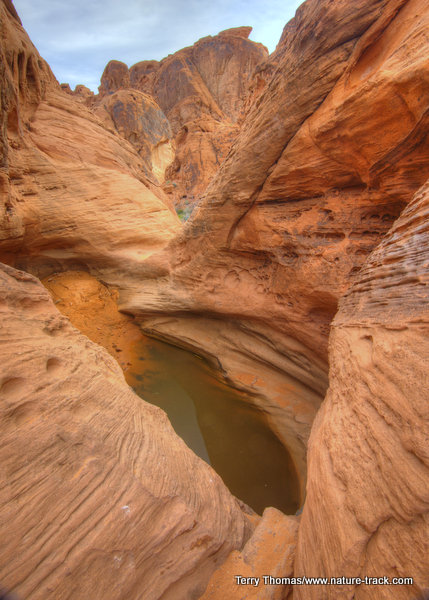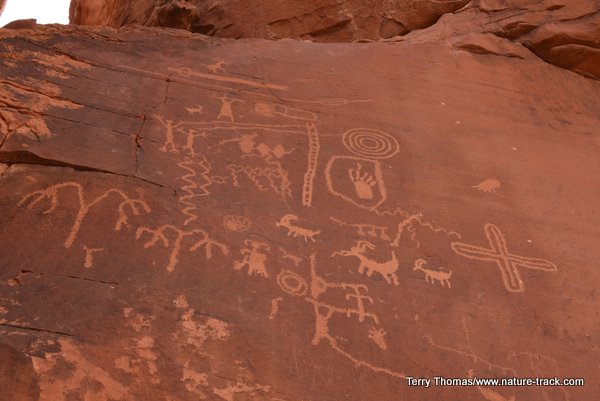 The second morning we hiked the short Rainbow Vista trail. This takes you to place where you can view Fire Canyon. This was a nice hike but didn't have the petroglyphs. Incidentally, we were out and about from sunrise and had trails virtually to ourselves until about 9:00 a.m. It pays dividends to get out early when it isn't hot.
We hiked White Dome Loop in the afternoon, hoping for some late afternoon photos. It turned out to be an easy hike. Just before you enter the short slot canyon at the bottom, you will see an old wall. A sign there tells you that Valley of Fire is often used for movies and such and that the wall is part of a set from a movie called, The Professionals. It was filmed in 1966 and starred Lee Marvin. We saw that movie three days later when we visited with my dad in Yuma and it was fun to recognize all the different places from Valley of Fire (it was also filmed in Death Valley and we recognized those places too). This is a pretty hike and well worth exploring some of the off-trail areas.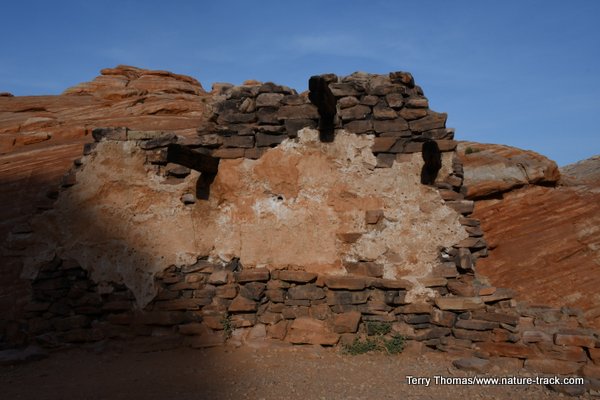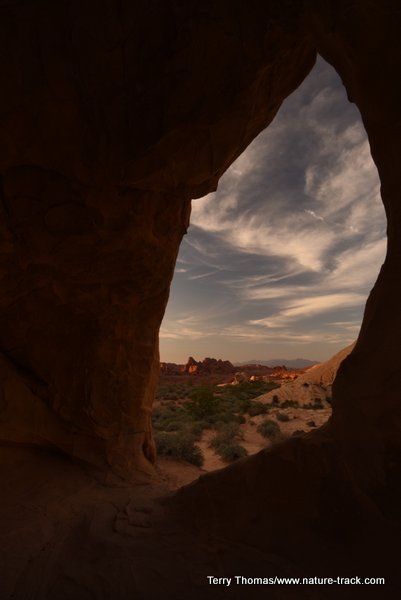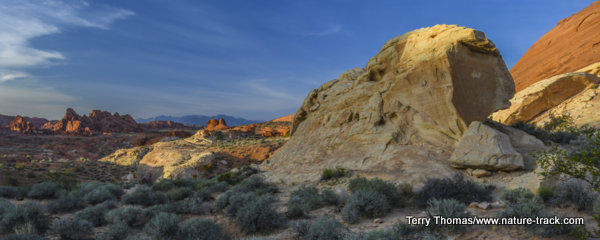 To actually get a good view of White Dome though, you need to take the short walk from Parking Lot 3 (yes, they are numbered). It dead ends above the White Dome parking lot and gives you a great view. I was there both at sunset and sunrise and they were both awesome.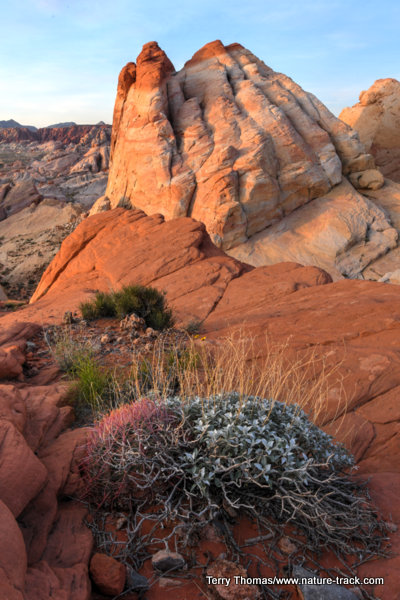 To hike the Fire Wave Trail, park at Parking Lot 3 and cross the road. This is about a three-quarter mile long hike out to some incredible candy-striped sandstone. It is by far the most popular hike in the park. It is a little more strenuous than the other hikes but it isn't bad.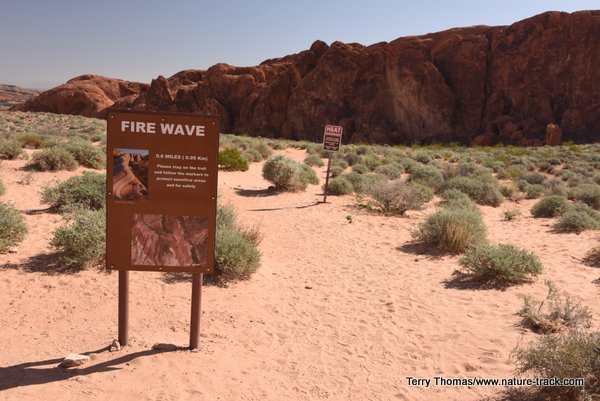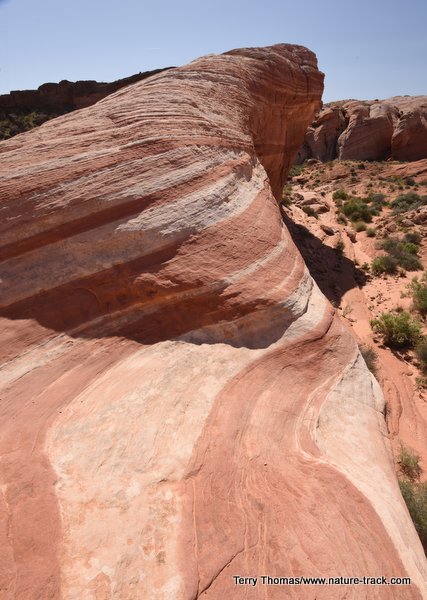 The Elephant Rock trail starts at the East Entrance. The trail is short but does continue west past the rock. This rock does look like an elephant and you will recognize it when you see it.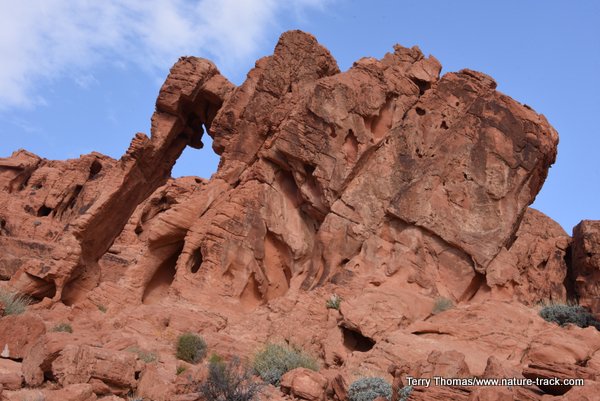 Flowers. We left Valley of Fire for four days in order to go to Yuma to visit my dad. We left our trailer at Overton Storage where the owner, Frank, bent over backward to accommodate us. We really appreciated that. Anyway, when we left, we could tell that the prickly pear and some of the chollas were close to blooming. I predicted that when we returned at the end of four days that they would be in awesome color. Wrong. They had progressed, but when we left for the north country on April 10th, the bloom had not happened. The creosote bushes were still in bloom and the big yellow flowers near the east entrance were done, but the cacti were still trying. I am thinking that at least this year, the bloom would probably peak between April 15 and April 25. There were a lot of plants there were budding besides the cactus too.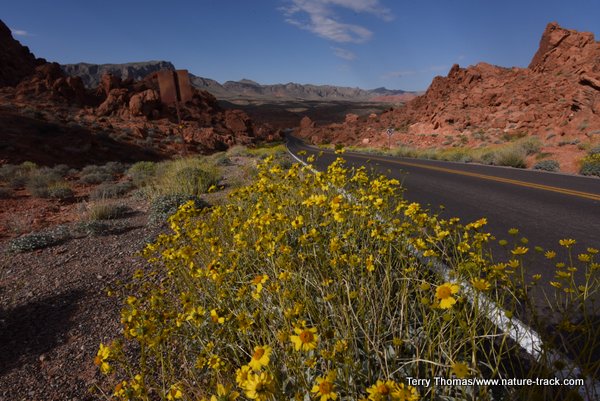 Wildlife. We saw more wildlife than I expected to. Desert bighorn sheep were easy to spot between the Scenic Loop and the west entrance most mornings. There were a couple of nice rams in the bunch and they weren't very shy. White-tailed antelope squirrels were just about everywhere and were a blast to watch. They provided a lot of campground entertainment, even during the warm afternoon. Birds weren't as plentiful as we had hoped but we did see Gambel's quail, a yellow warbler, cactus wrens and a few others. Lizards were everywhere and we got good at spotting the large chuckwallas sunning on the rocks. We missed seeing kit foxes and desert tortoises, but maybe next time.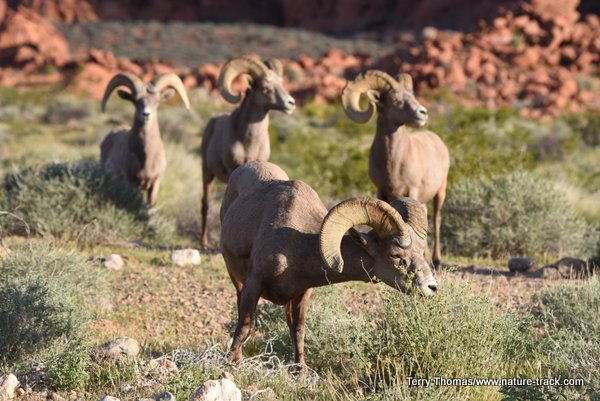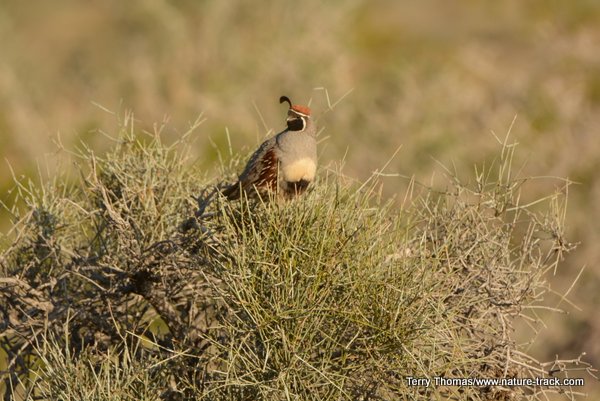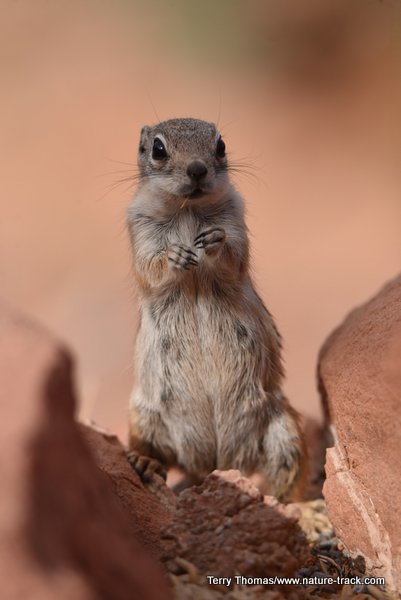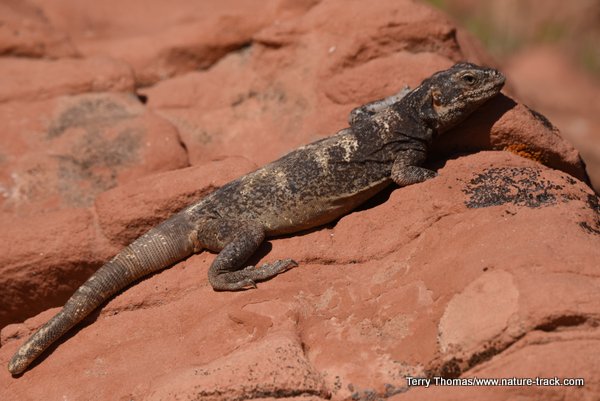 ---
Just so you know, it took us about 10 hours to get home. We were pulling the trailer and I refused to do more than 70 mph. We had to make a few pit stops but mostly drove straight through. Thank goodness we had an incredible Dean Koontz book, From the Corner of His Eye, to listen to. I would recommend it. Happy Trails!