Valdez Alaska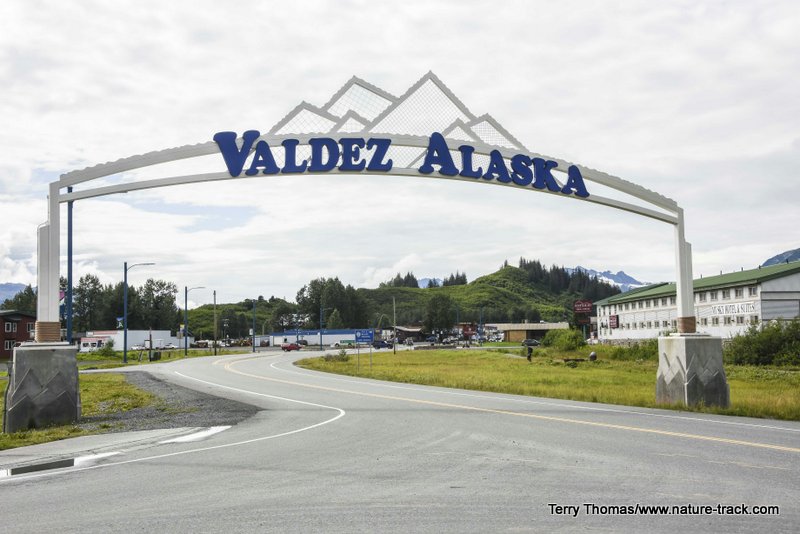 ---
We didn't start out with the idea of visiting Valdez, Alaska. It is a bit off the normal path to pretty much everything else we wanted to see, but after three different people told us how beautiful the drive was, we decided we might as well take a rainy day and go see for ourselves.
We moved from Rufus Creek at Nabesna on the north side of Wrangell-St. Elias NP to a state recreation area named Squirrel Creek Campground to be ready to travel up to Kennecott on the south side of the park. This put us within about 85 miles of Valdez, and since the next day was supposed to be rainy, we determined to head to Valdez to check it out.
A rainy day at Bridalveil Falls near Valdez. There are hundreds of waterfalls along this highway.
The rain part certainly came true the next morning. What we could see of the drive was certainly beautiful, but we couldn't see much. We stopped at Worthington Glacier and again at Bridal Veil Falls and checked out the Blueberry State Recreation Area campground at Thompson Pass. The falls were both very pretty and were some of the best of likely a hundred or more you can see from the road on a good day. Worthington Glacier is well worth a stop just to read all the educational materials if nothing else.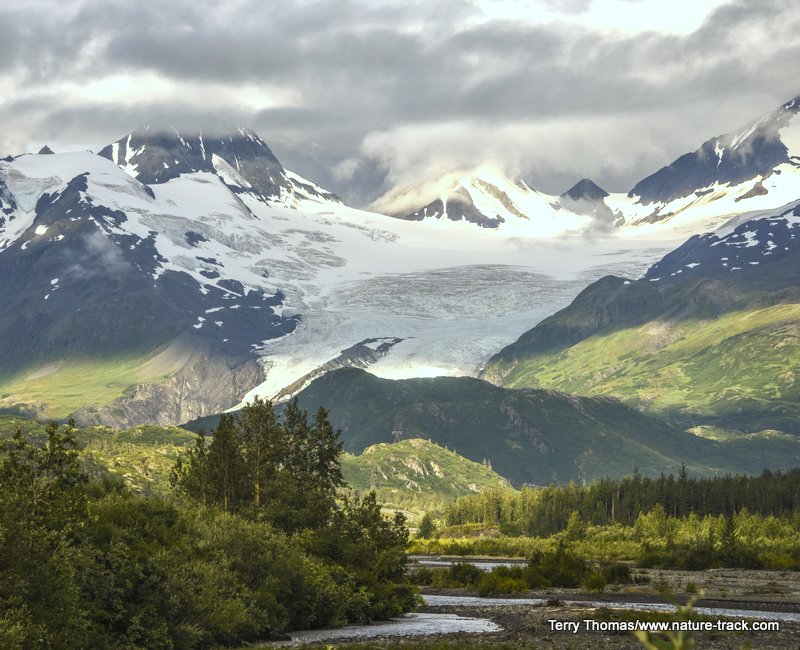 Worthington Glacier.
Blueberry campground was a pretty place with a small fishable lake and great views when the clouds are gone. Like Squirrel Creek state recreation area, the fee, at $20/night, is a little steep in my opinion. Other places the state park camping fee is $15/night. We have camped in Forest Service and National Refuge campgrounds that were $10/night with equal accommodations and with our Senior passes they are half price. I realize not everyone gets that discount but it makes a big difference for us. We did end up moving to Blueberry because there weren't any federal campgrounds nearby and we liked it despite the rain.
Valdez turned out to be a fun place to visit. A few miles north of city center, we turned down Dayville Road and out to the hatchery at Solomon Falls just across the bay from Valdez. There we watched a black bear come in and grab a salmon. We also saw thousands upon thousands of pink salmon. There were so many that we could have literally walked across the small bay on their backs. It was amazing. Bald eagles flew overhead, sea lions and sea otters patrolled the bay and thousands of gulls made an incessant racket, all because of the abundance of salmon.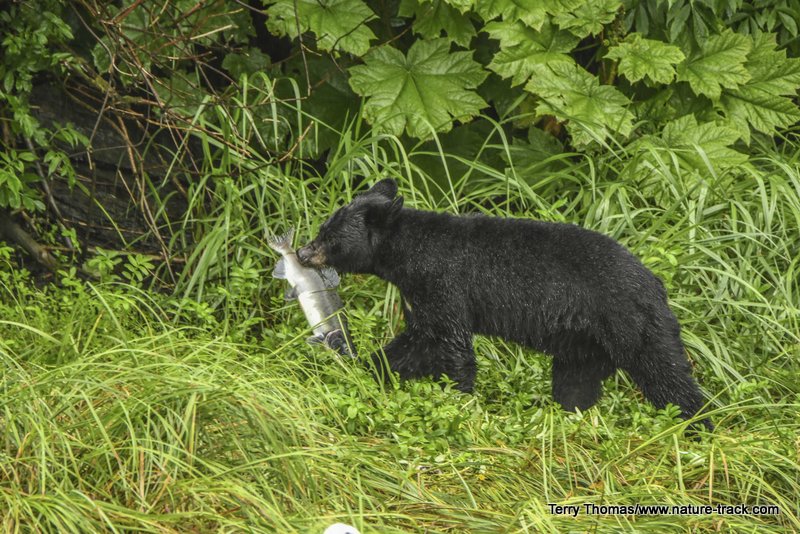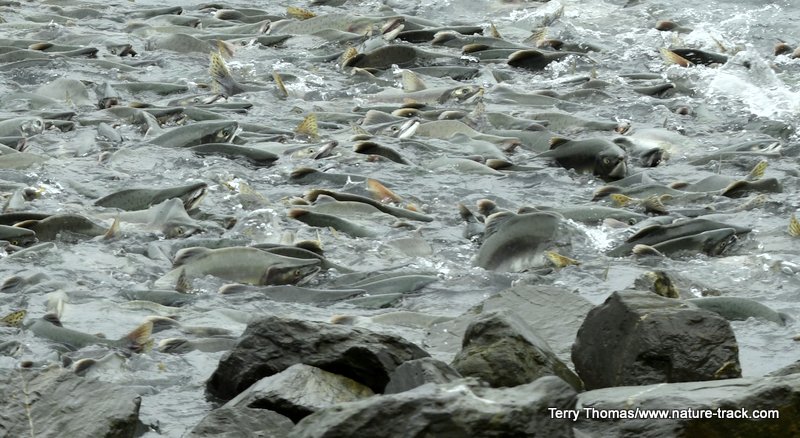 Thousands of pink salmon trying to find a place to spawn.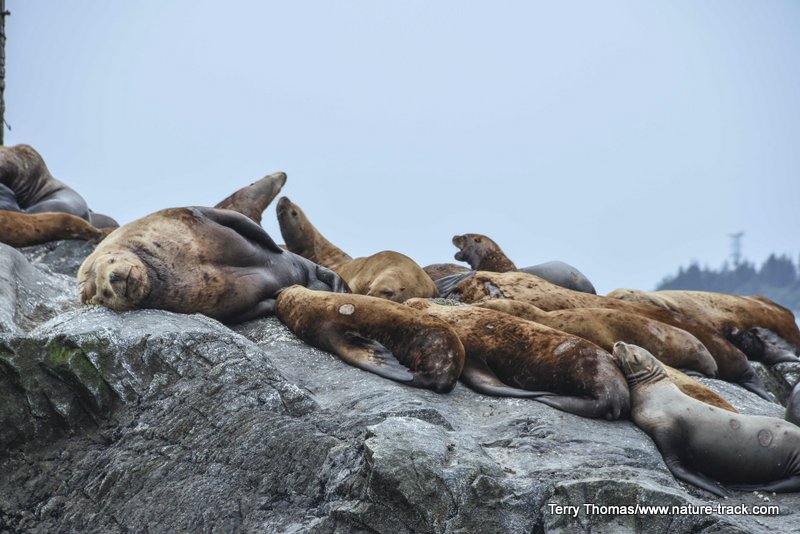 At the end of this road, just a couple miles past the hatchery, is the Alyeska Terminal, where the Alaska Pipeline ends its 800-mile run. Oil is loaded onto tankers at this facility and shipped south. We later saw long stretches of the pipeline when we drove to the Arctic Circle on the Dalton Highway and to within 200 miles of Prudhoe Bay, where the pipeline starts, so it was kind of cool to connect the dots.
Alaska Pipeline on Dalton Highway near Yukon River crossing.
We also stopped at the Chugach Forest Office which is on the highway between town and old Valdez. This visitor center is on a small stream and has a salmon viewing platform. Grizzly and black bears frequent the stream and can put on quite a show.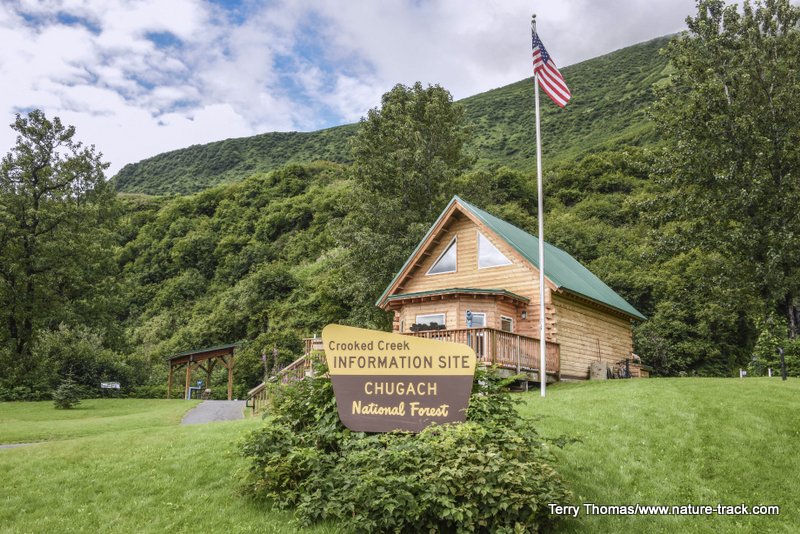 We had lunch at Alaska Halibut and Seafood House (probably not the exact name) in Valdez. It wasn't fancy by any standard, but it was reasonably priced and tasty so we went there again for dinner.
Old Valdez is where the town was on March 21, 1964 when a 9.2 earthquake and tsunami nearly wiped it off the map. The Army Corps of Engineers determined that the town was uninhabitable and required residents to move to a new site about five miles away. You can still see the old townsite and there are signs indicating what buildings occupied what sites. I was there in 1969, just after the town move was completed and much of the damage was still quite evident. I wish I could remember it better.
Old Valdez townsite.
Fishing is a big deal in Valdez. We were fortunate in that our friends, Alan and Julie Barnes, brought their boat down and took us salmon fishing, halibut fishing and shrimping out in the Port of Valdez and even further out in the Valdez Arm. We didn't have much luck but did finally get into a few silver salmon in the final hour of the day. We did get to see some beautiful country from the ocean side, watch sea otters swim and photograph sea lions, not to mention learn how to set shrimp baskets. Alan and Julie returned two weeks later and found the salmon fishing much better.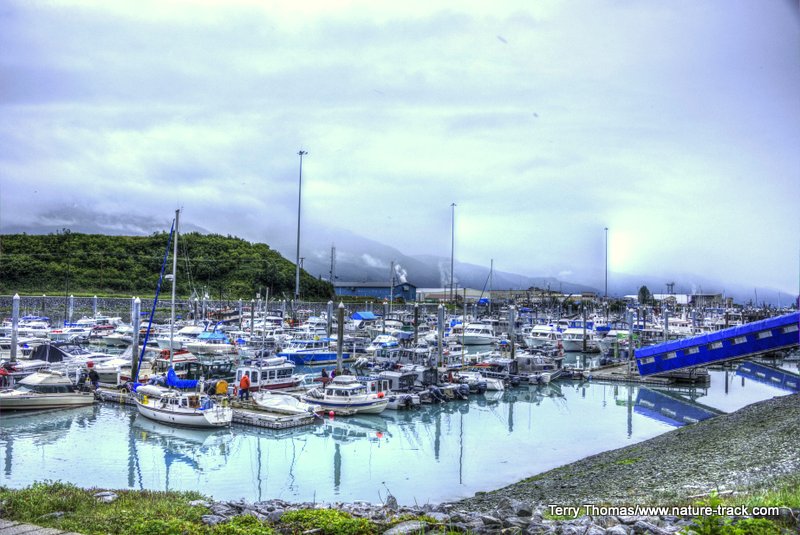 It was interesting to learn a little about tides. In the Valdez area, the tide can fluctuate by over 30 vertical feet. In addition to that, the tides can vary significantly from day to day. We were on a minus 3 day, which if I understand correctly, meant that the low tide would be three feet lower than a normal tide. That made it a bit harder to get the boat in the water.
Low tide stranded a lot of fish like this male pink salmon.
We took Alan and Julie to dinner at a Chinese place in Valdez. I don't remember the name, We just couldn't make ourselves do any serious shopping there. Gas was significantly less expensive out of town at a set of pumps that can be hard to see. They are located on the corner of Richardson Highway and the Airport Road, partially hidden behind trees on the northwest corner.
We are really glad we took the time to visit Valdez. Despite the rain, there was a lot to do and see and it is just a dang pretty place to hang out.