Southeast Arizona Birding
4 Great Places
---
Southeast Arizona has rave reviews as a birding destination. Since we were down in this direction anyway, we decided to check things out around the first of March. We camped at Las Cienagas National Conservation Area, a grassland of the Sonoran Desert and situated at about 4,000 ft ASL. It was actually a fairly cold place to camp as evidenced by the fact that nearby Sonoita got a foot of snow on February 22rd. It melted pretty fast, but as of March 7, grass is still brown and the trees, mostly mesquites except around the historic Empire Ranch, where cottonwoods grow, are still dormant. The cottonwoods have a green sheen to them so they are getting ready, but the other trees look dead.
This didn't seem to bode well for birding and I wasn't very positive about what we were going to find. However, there are four sites with excellent birding reputations and we were close enough that we could visit all of them in a day if we wanted.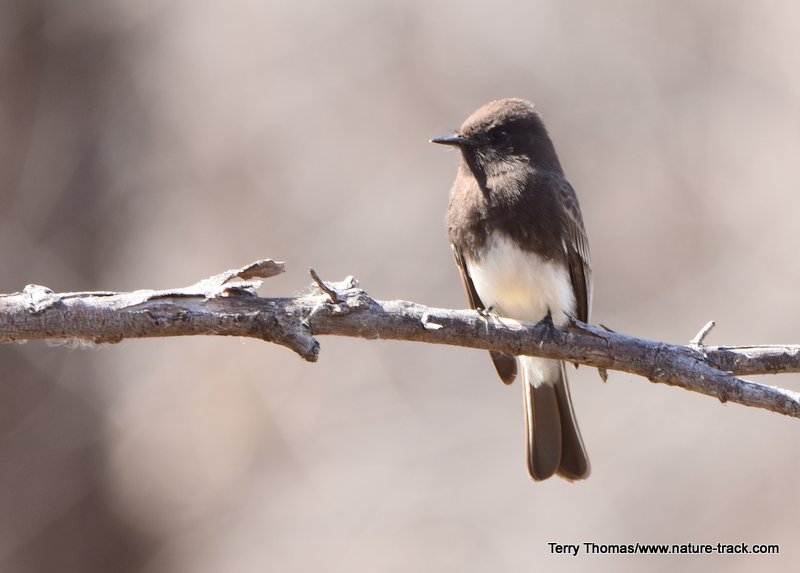 ---
Black Phoebe and Bridled Titmouse
The first place we tried was The Nature Conservancy's Patagonia Sonoita Creek Preserve. This is located in Patagonia and is easy to find. When in Patagonia, turn west (right if coming from the north) off Highway 82 on 4th Ave right at the tavern. In a few blocks, turn left at the Tee on Blue Heaven Road and go 1.5 miles. There is a small visitor center there and there is a charge, $8/person if I recall. TNC members get a $3 discount. Anyway, there are several trails to walk and the bird feeders at the visitor center are usually busy. The gates close promptly at 4:30 p.m. so this is not an evening birding destination. We didn't see a lot of birds on our walk but we did pick up a black phoebe and a bridled titmouse, both firsts for us.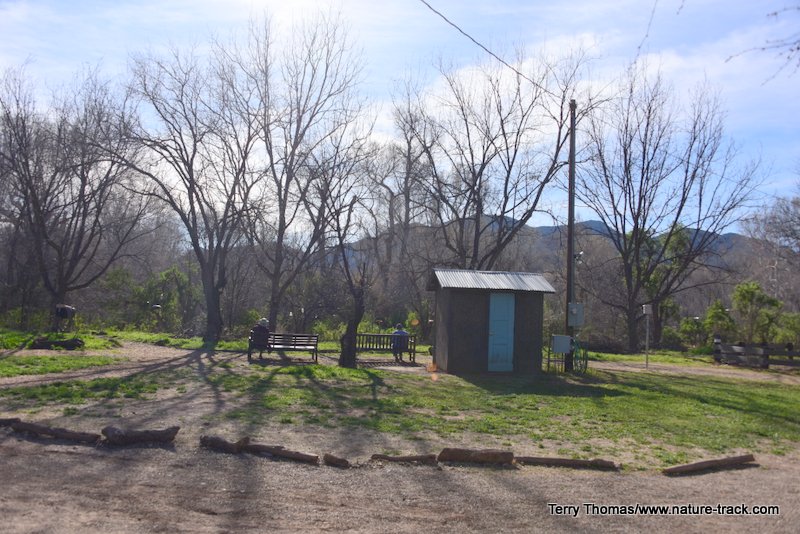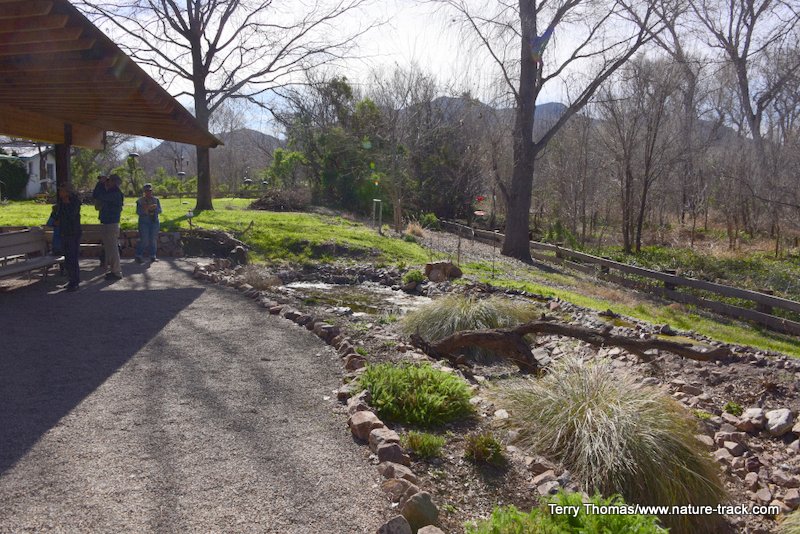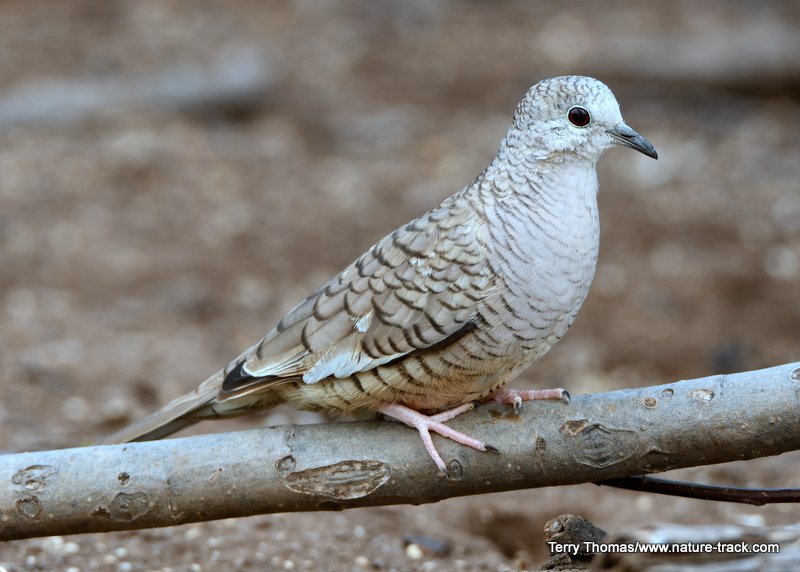 ---
Violet-crowned Hummingbird and Inca dove
---
Lark Sparrow and Ladder-backed Woodpecker
Back up the road you will have passed Paton's Hummingbird Reserve. This is a private residence that has been turned into a birding Mecca of sorts. It is open to the public and run by the Tucson Audubon Society. It is free, but donations are requested for the feed and the porta-potties. This is a pretty fun place with lots and lots of different birds. We are not very good birders but our first two hours there we ended up with 24 species, including: Gila and ladderback woodpeckers, blue grosbeak female, Bewick's wren, lesser goldfinch, broad-billed hummingbird, violet-crowned hummingbird (only place in the US you can see one), Anna's hummingbird, canyon towhee, curve-billed thrasher, fox sparrow, Gambel's quail, hooded oriole,  Inca dove, white-winged dove, lark sparrow, pyrrhuloxia, northern cardinal, Lazuli bunting, Lincoln's sparrow and hermit thrush. Most of these can't be seen in Idaho.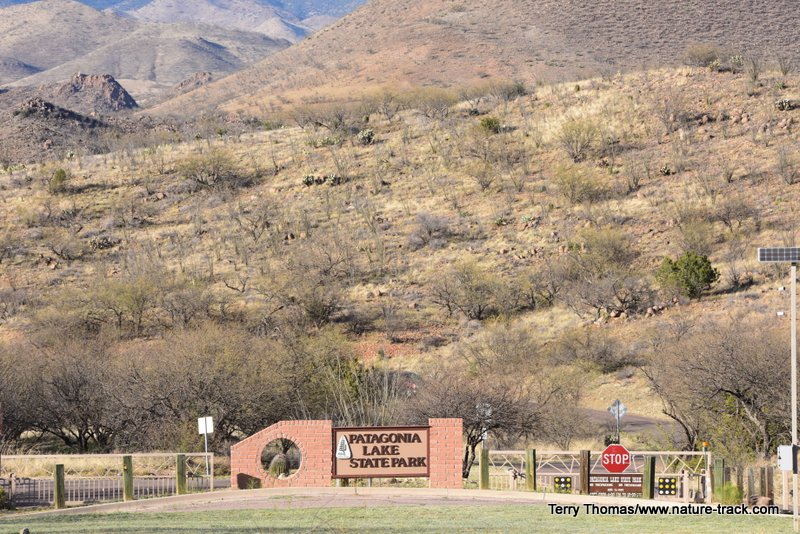 The third place we went to was Patagonia Lake State Park about seven miles south of Patagonia. This is a nice state park. It costs $15 per car on weekdays and $20 on weekends. There is a campground but you need to make reservations about a year in advance. They have boat tours to see the waterfowl but one of the guides told us that you can see them just about as well from the nature trail at the far end of the campground. One of the big draws to this location is that vermillion flycatchers are seen most days. We also saw many of the species that we saw at Paton's at birdfeeders set up at the beginning of the nature trail. We added in the waterbirds like bufflehead, ruddy duck, Neotropic cormorants, double-crested cormorants, Clark's grebes, pied-bill grebe and pin-tailed duck as we glassed the water.
---
Pyrrhuloxia and Northern Cardinal males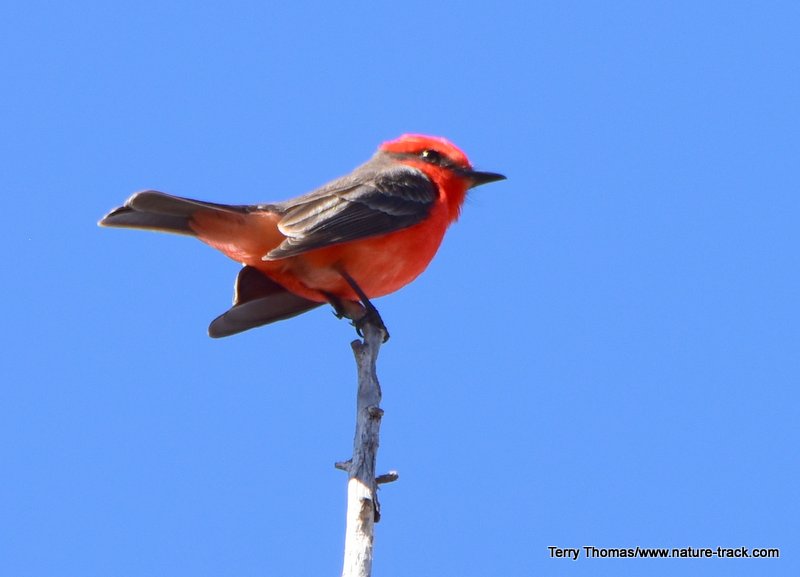 ---
Vermilion Flycatcher and Anna's Hummingbird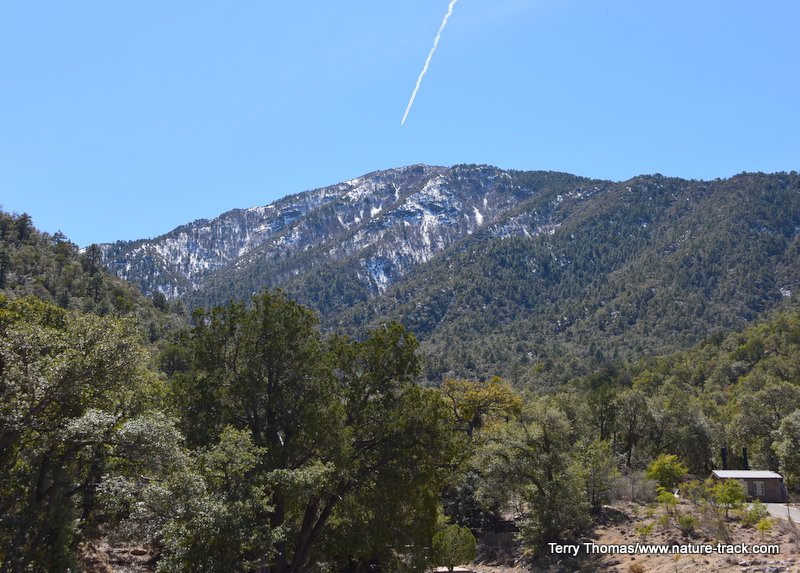 The fourth hotspot is called Madera Canyon a few miles from Green Valley, Arizona. From Las Cienagas or Sonoita, it takes about 1.5 hours to get there via Highway 82 and then cutting across to Interstate 19  north of Nogales. It is about 31 miles up Interstate 19 to Green Valley. Note that I-19 marks distance in kilometers not miles so the exits are numbered that way too. Once you get off the Interstate at Green Valley, follow the signs to Madera Canyon which is to the east.
If you are at Sonoita or Las Cienagas NCA, there is a gravel road that will get you there faster. It is not a smooth ride and not recommended for low clearance sedans, but the gravel portion is only 10 miles long. Access this road off of Highway 83 about eight miles north of Sonoita. 
Madera Canyon is a dead-end road that climbs steeply up from desert through several mountain habitats and ending at a trailhead at about 4,500 feet ASL. You can also hike to the top of Mt. Wrightson at 9,500 feet ASL. The changing elevations create a lot of birding opportunities as the habitat changes.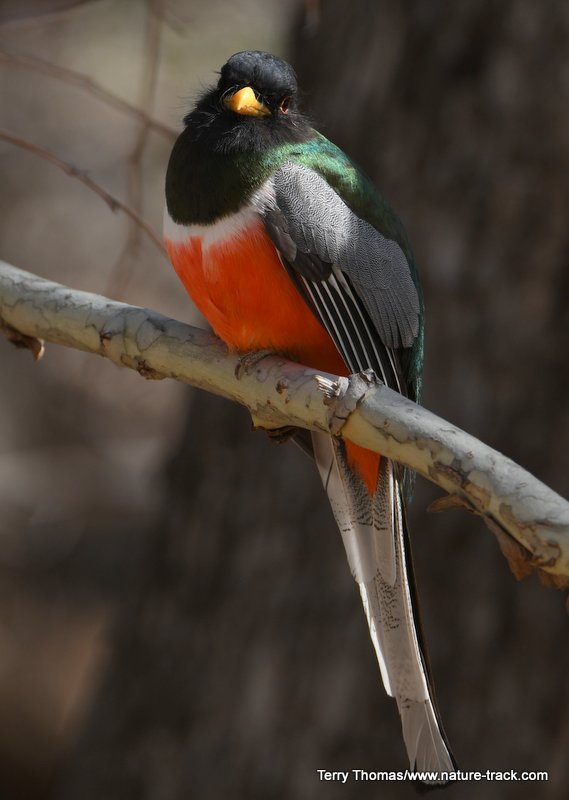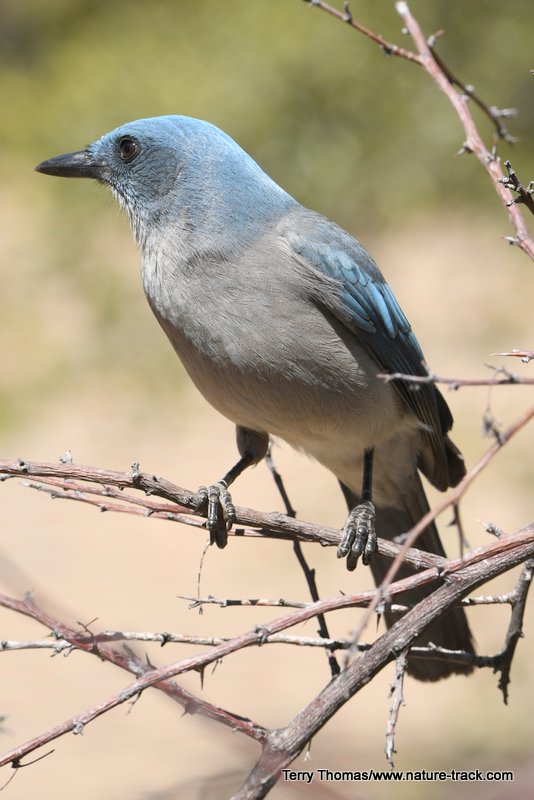 ---
Elegant Trogon and Mexican Jay
Madera Canyon has several claims to fame. The most famous is the elegant trogan, a fabulous medium-sized bird that can only be found in the US in southeast Arizona. There are only an estimated 60 pairs nesting in the US and just a few spend the winters here. We were lucky enough to see one male and had a good view of him for several hours. During the winter months he is pretty visible at the picnic area immediately across the road from the Bog Springs Campground road.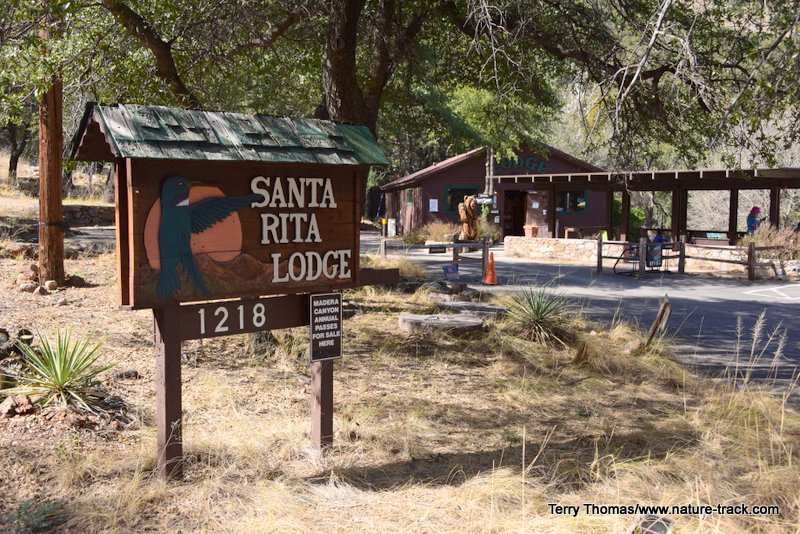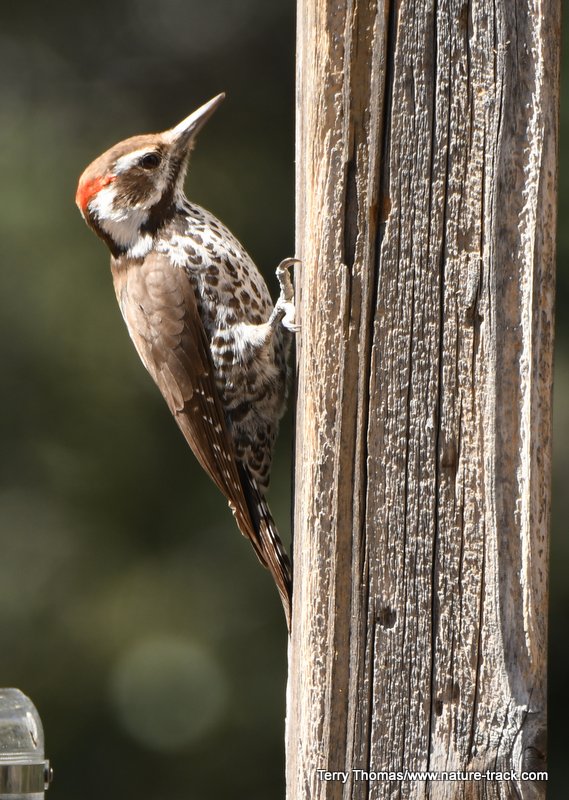 ---
Acorn Woodpecker and Arizona Woodpecker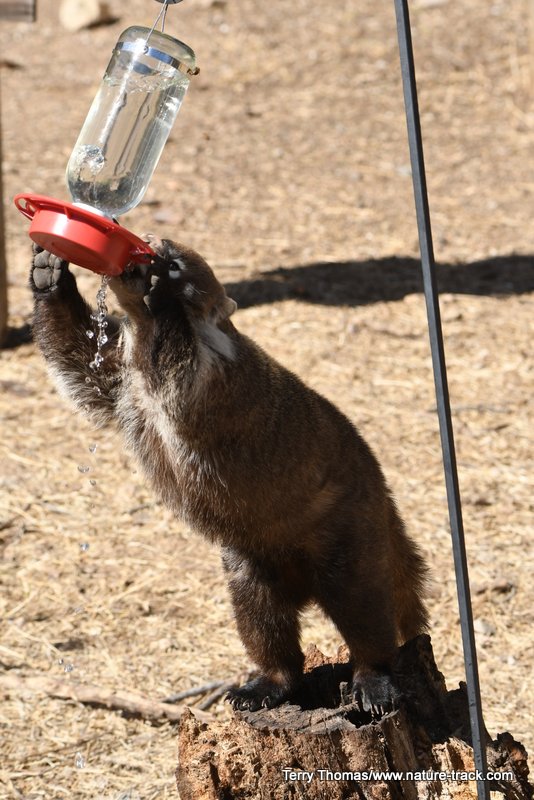 ---
Al, the coatimundi, gets his own feeder of sugar water at the Santa Rita Lodge feeder.
The Santa Rita Lodge in Madera Canyon is another birding destination. Like Paton's, they maintain a large number of birdfeeders and attract a lot of birds. They also request donations for the food. Unique to Madera Canyon for us were: acorn woodpecker, Arizona woodpecker, Mexican jay, yellow-eyed junco, turkeys, bridled titmouse and hepatic tanager. We even saw our first coatimundi, a raccoon-like mammal, this one was named Al, who came in and emptied a hummingbird feeder (set out just for him to keep him away from the other ones) by standing on his back feet, and tipping the feeder so he could drink from it.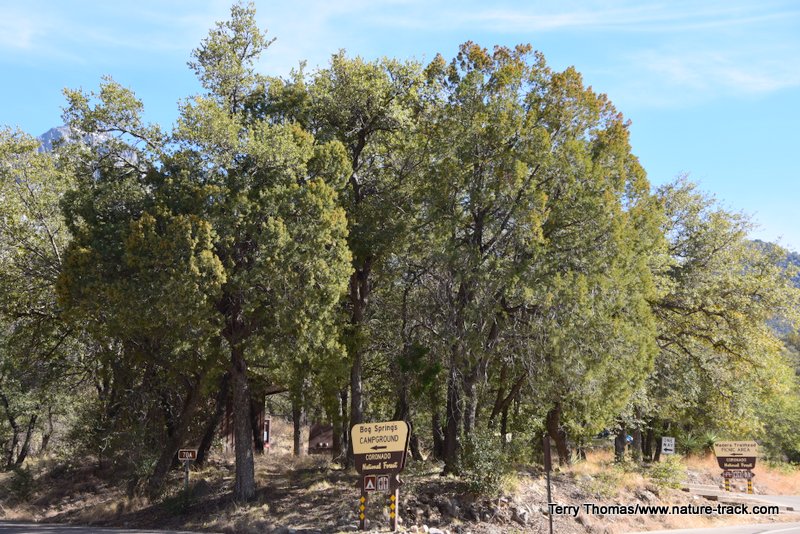 Staying in Madera Canyon can be spendy. Tiny cabins rent for almost $200/night during the peak birding season. There is a 13-unit Forest Service campground that is first come first served and there is dispersed camping at the bottom of the canyon at the road split. There is a Forest Service rental cabin called Kent Springs (sleeps 8 and costs $150/night) in the area as well, but it sounds like it is booked well in advance. Check it out at Recreation.gov.
We have heard of a number of other places down here that we are not going to be able to visit this go around. These four though can keep someone very busy. This will especially be true starting in late March as the migrants begin to arrive. If you get this way and like to bird, don't miss any of these places.