Soldotna Alaska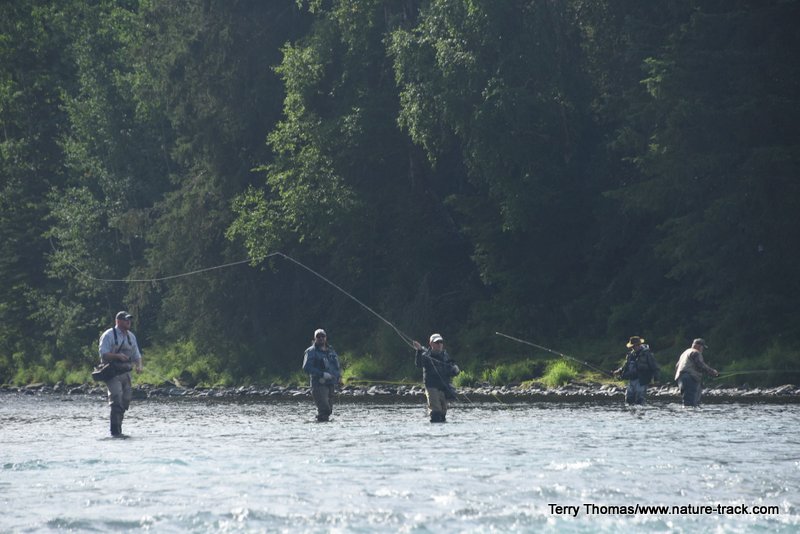 ---
Every coastal town in Alaska seems to claim the title of Salmon Capital of Alaska and Soldotna, on the Kenai Peninsula, is no different. Massive runs of chinook, coho, silver and pink salmon race up the Kenai River to ancestral spawning grounds. They attract hoards of fishermen who chase them with a passion.
There is a lot more to the Soldotna area than salmon though. We came from Seward looking for a place to camp and found it on the Skilak Lake Loop on the Kenai National Wildlife Refuge. There are several campgrounds there, but Hidden Lake was by far the best. It cost $10 and with our Senior pass we stayed for $5/night. There were no hookups but it was pretty, clean and very quiet. The campground was never even half full during the time we were there. Several times, we were the only ones in our loop.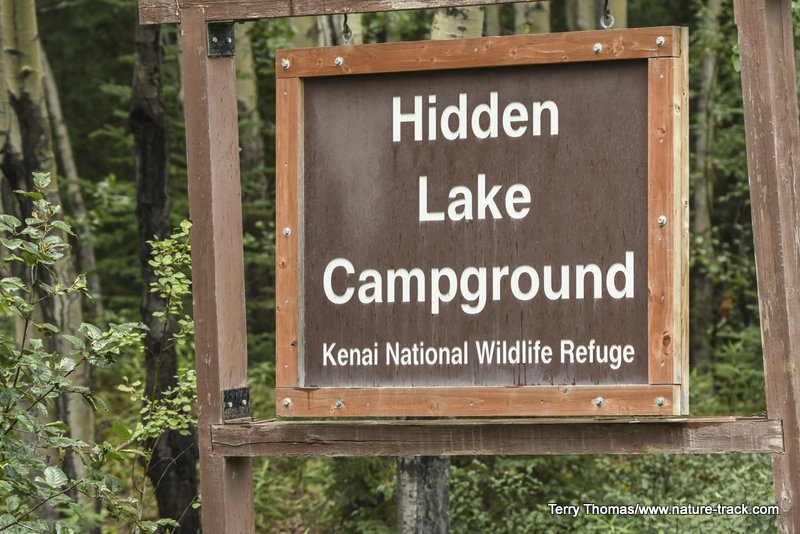 The first activity we tried was fishing on Hidden Lake. We went out in the inflatable kayak and had a good time, but the fish didn't bite. We enjoyed seeing and listening to common loons though and it was just good to get out on the water.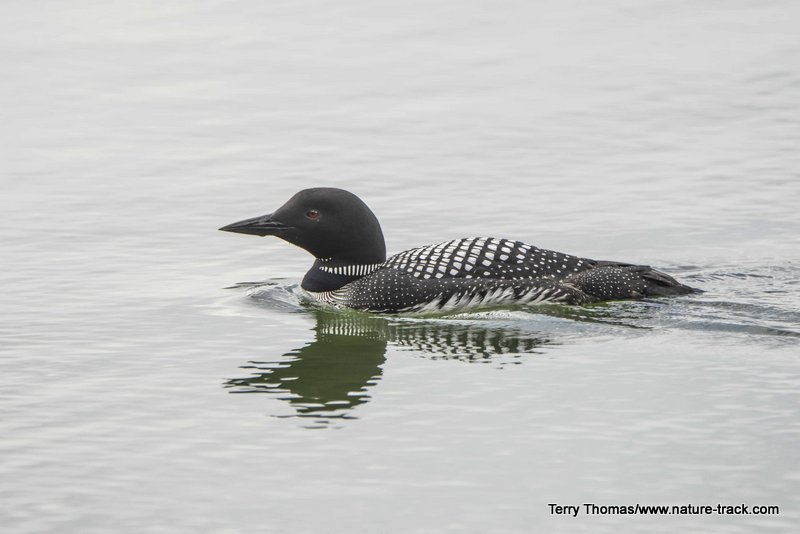 Hidden Lake is a spawning lake for coho and silver salmon and in coastal Alaska, that also means bears. We saw a cub of the year black bear one night as we pulled into the campground and several days later, a big boar grizzly poked his head out of the brush alongside the road in the same area. We really didn't discover the real bear bonanza for a couple of nights though. The outlet to Hidden Lake crosses under the road in a fish passage culvert (a huge culvert with a natural stream bottom).
The bears know this and fish this area routinely. We found that out when we were driving to camp from Soldotna and basically followed a sow grizzly and her two yearling cubs up the road. We met a lady, Heidi, from Soldotna who practically had names for these bears. She told us exactly where and how to view them at the culvert and also see others out on the Highway.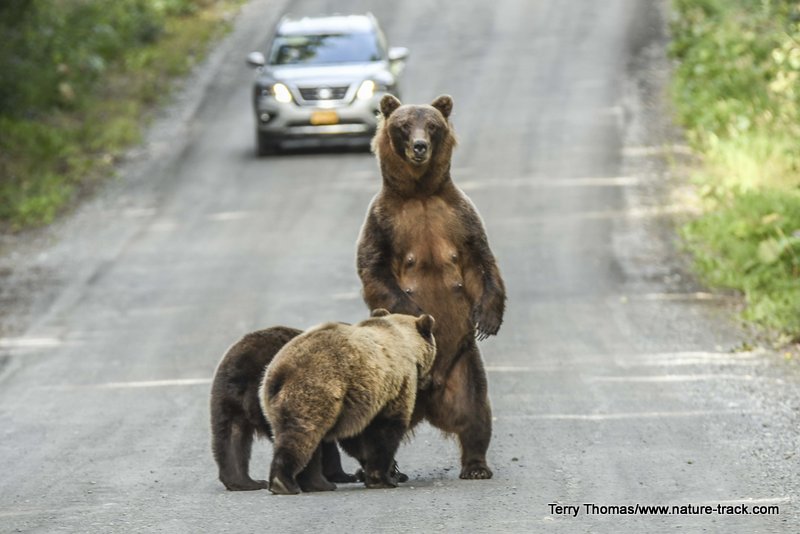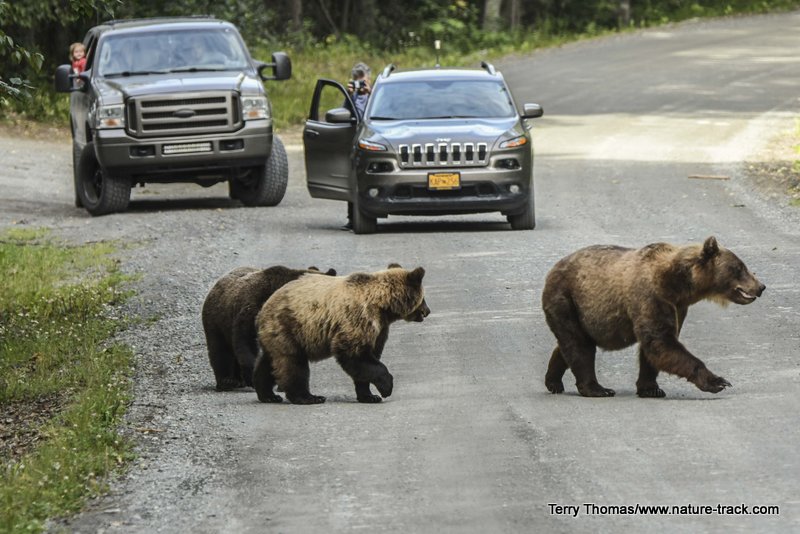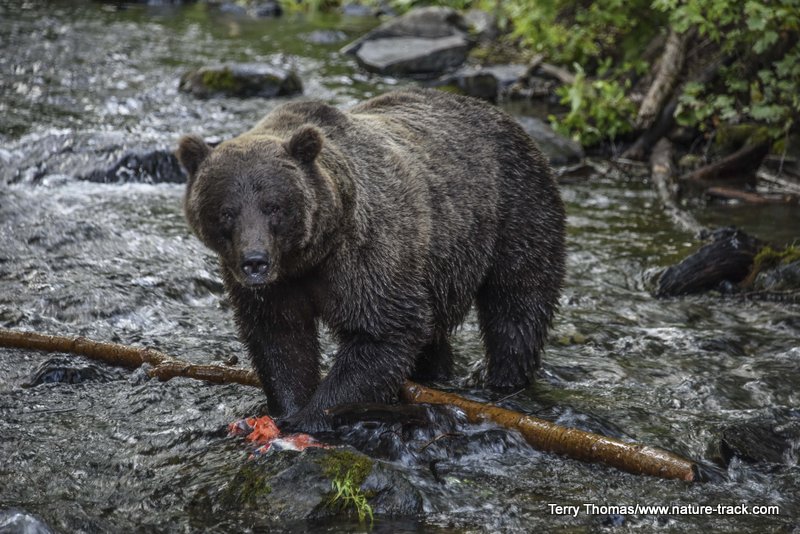 The Kenai National Wildlife Refuge started out as a National Moose Refuge, but changed its name when it was expanded in the 1980s. It covers a lot of ground and has a very nice visitor center with several trails in Soldotna. We went to the visitor center but it was raining hard so we didn't go for a walk, although we had done so several years previous.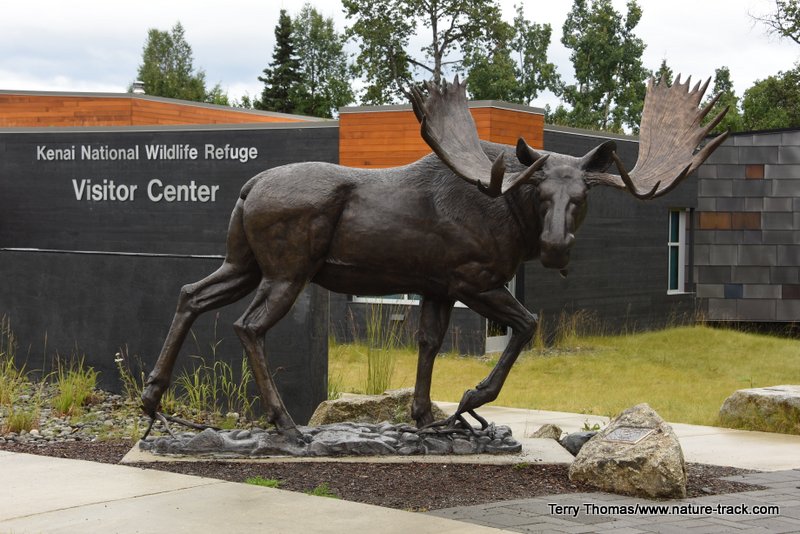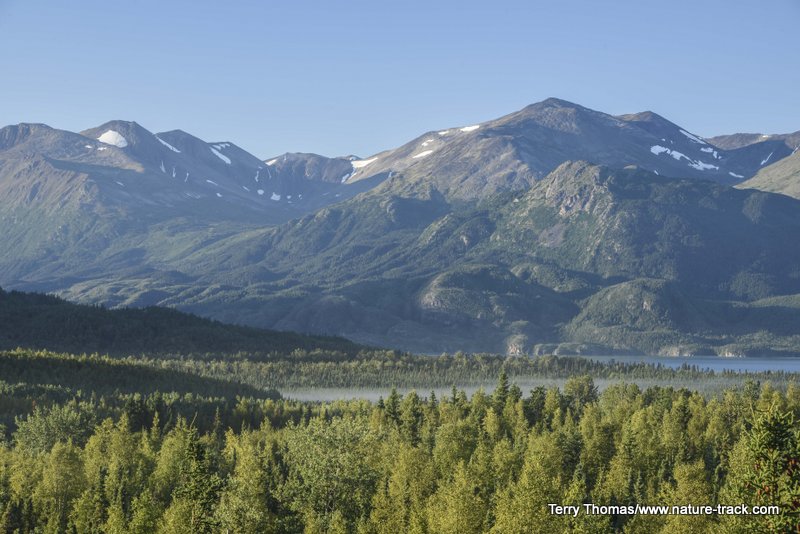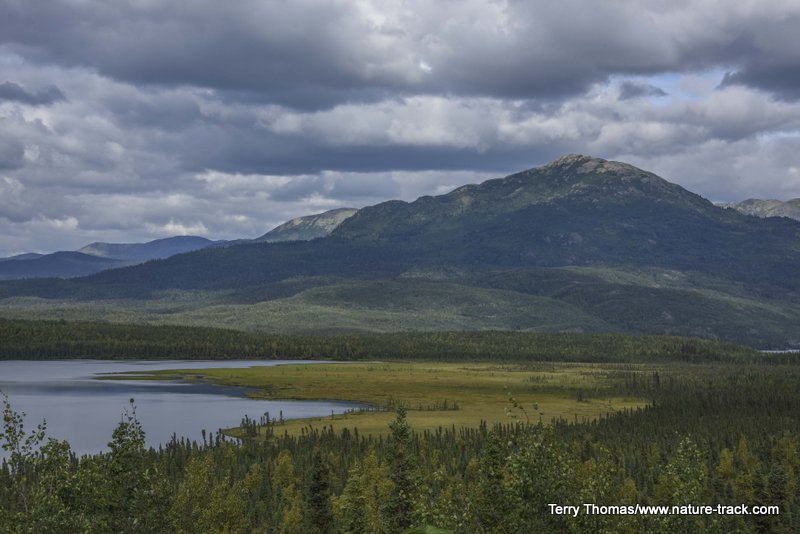 The weather report for our second day was for mostly blue skies, something that has been a rarity on this trip, so we opted to go to Coopers Landing and take a 14-mile guided float trip on the Kenai River. We got to see the river from that unique perspective and was worth the cost of about $60 each for a three-hour float. It was a very nice diversion and good to have someone else do the driving for a change. For an additional fee, we could have gone gold-panning or fishing, but we had other things we wanted to do.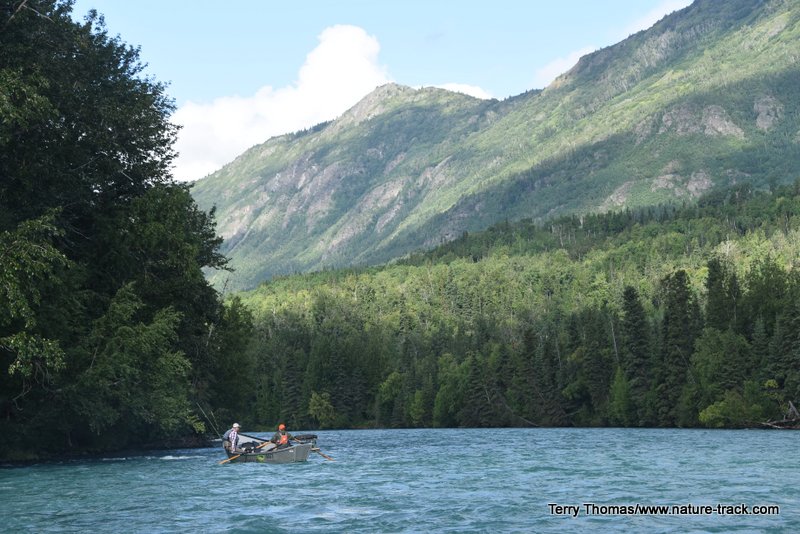 Soldotna has really grown up since I was there almost 20 years ago. There is about every big box store you would want. We even met fellow Idaho Falls resident John Henry there. The Kenai River runs through it and there is a big park, Centennial Park, where for a fee you can park and fish, camp, swim or otherwise enjoy the river.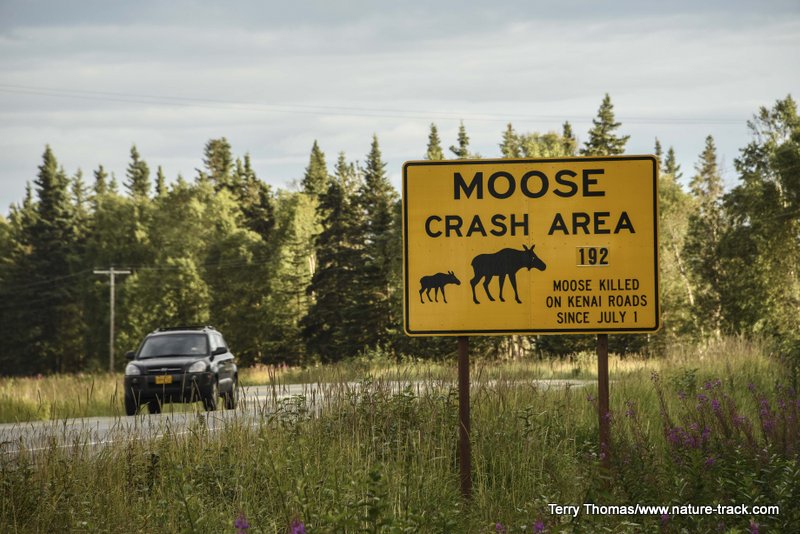 Thanks to John Henry too for cueing us in to the best thing about Soldotna—the Moose is Loose pastry shoppe. This place truly has some of the finest pastries anywhere and their business shows it. All day long, there is a line of patrons out the door and a matron walks up and down the line taking orders to facilitate things. They claim they do no advertising—it is all word of mouth. We talked to a fishing guide ahead of us in line who claims to visit there at least twice a day.
We were not immune to salmon fever though, and after talking to the guide, we decided to go fishing down at the Centennial Park. We paid our $8 fee for the day and drove down to the river. Cathy tied on a spinner and before I could even get my own line set up, she was yelling, "fish on!" After some coaching, she landed her first pink salmon, a male of about seven pounds. All the Alaskans thought she was crazy, but she insisted on keeping it to eat that night. All in all, we each landed 3-4 salmon, all pinks. There was one fellow though, who was catching them three times as fast using a number two Blue Fox spinner with a blue bell, which, of course, I did not have. As a quick note, those fishing for silver salmon seemed to mostly be using bait on set lines.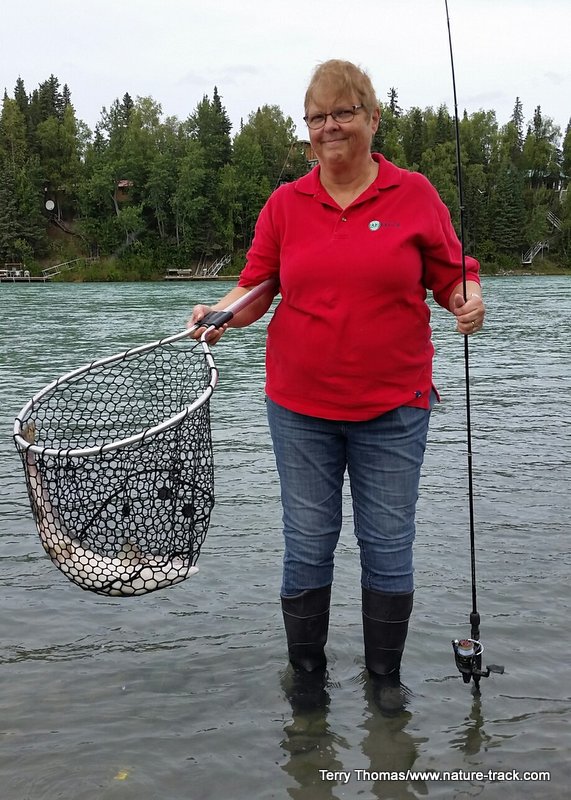 We cooked up that salmon on the grill that evening and found it to be quite tasty. It was not nearly as firm as the silver salmon we caught in the Valdez Bay, but it was good. We even ate the rest of it the next night and enjoyed that too. We were surprised we could finish off such a large fish in a couple of meals but we did.
We drove north up to Captain Cook State Recreation Area at the very end of the road called the Kenai Spur Road which runs through the town of Kenai. There we caught the sunset over the ocean one evening. It was unusual to actually see the sun set as most evenings had been too overcast. The drive up was quite nice, with occasional views of Cook Inlet, oil derricks, ships and such. There isn't much for public beaches and the only one we could find was full of ruffians and hooligans. We didn't stay long.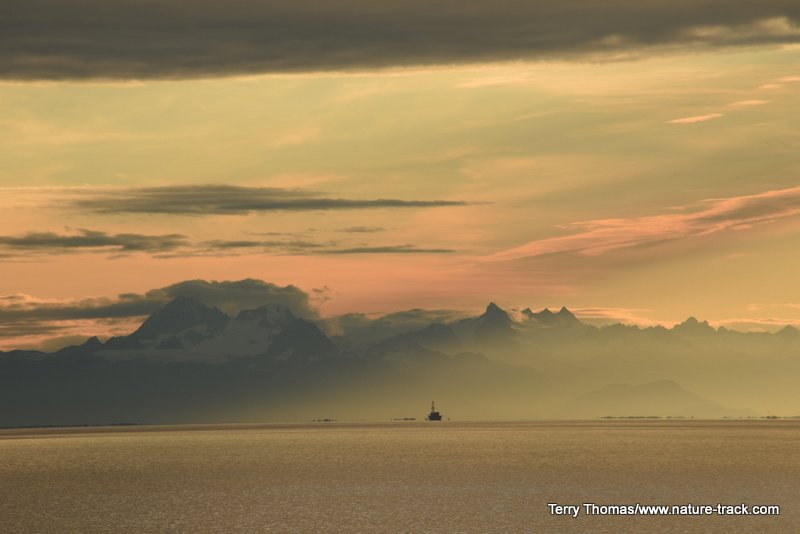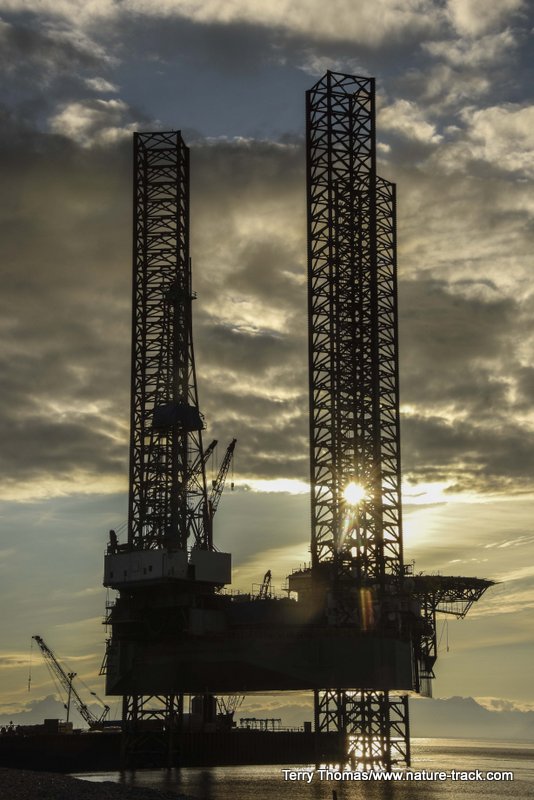 We hoped to get down to Homer and perhaps do a little halibut fishing or even go over to Lake Clark National Park across Cook Inlet and do some bear viewing, but the weather that day was pretty awful. Cathy has a colleague (Tanner) at work who did that in June and at one point had 20 bears in his line of sight.  This requires hiring a guide as access is limited and you can get there by boat or helicopter. Sound expensive? Yup, but we were told by another Alaska visitor that it was well worth it.  We have been to Homer before and were looking forward to spending a day or two there, but not in the rain.