Seward Alaska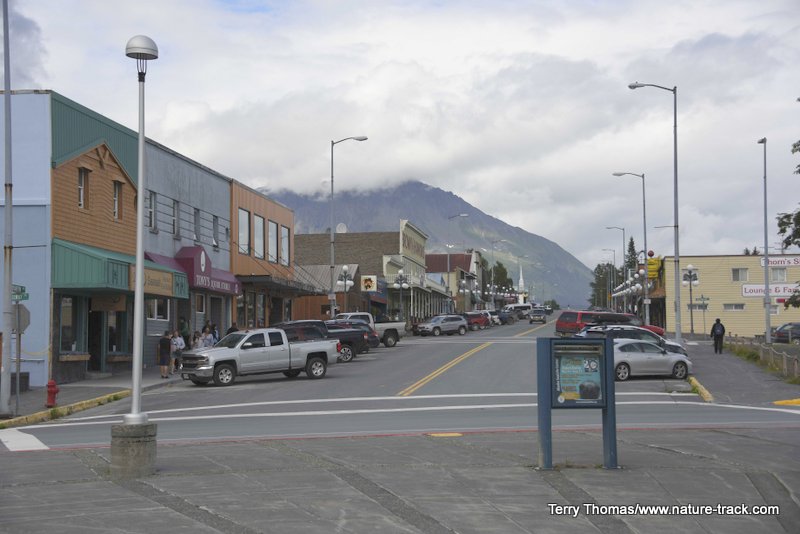 Downtown Seward, AK
---
We have been to Seward, AK twice before and I always have liked it. This time was no different despite near relentless rain. It is a beautiful setting on Resurrection Bay and there is a lot to see and do.
Seward is about 130 miles from Anchorage and in a sedan it is just a two and a half hour drive. Pulling a trailer, it is about an hour longer. It is a stunningly beautiful drive though (if you can see it) and is worth every minute.
We hadn't made the junction at Tern Lake by 8 p.m. so we stopped at a Forest Service campground called Bertha Creek. It was small but there were plenty of available spaces and with our senior pass, it was only $4.00. We didn't even unhitch the trailer, just did a little leveling and went to bed.
Tern Lake was our first stop. This is a beautiful little lake that has spawning salmon, waterfowl and occasionally moose and bears. When the weather is right, there are beautiful reflections if you go to the picnic area on the east side.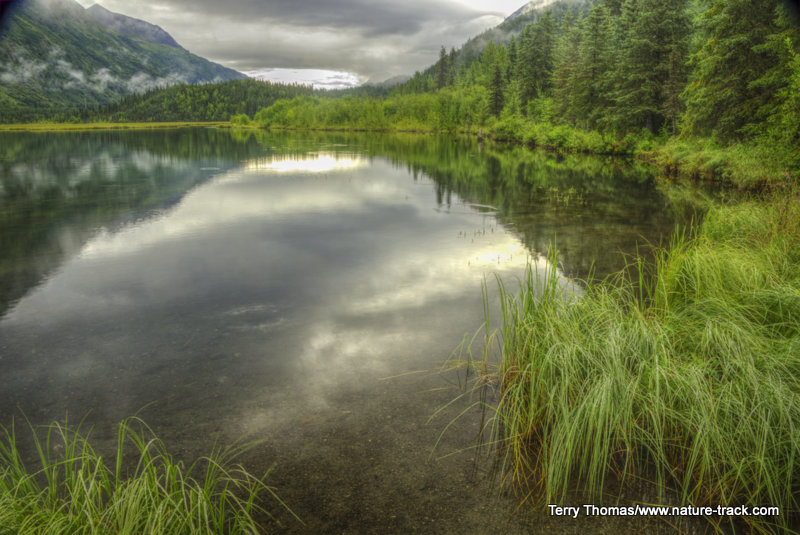 Tern Lake is at the junction of two highways. Coming from Anchorage, go left to Seward and right for Soldotna.
When we finally got to Seward, we decided to use the city-provided camping right on the ocean front. There was plenty of space and it cost $25/night without hookups. Power cost another $10/night. It is pretty much like a parking lot and if you don't like that, you can go on down the road a few miles to Lowell or you can camp in the park across the street (same price) where there are trees. We checked out the city-provided campground five miles out the Nash Road but it was less than appealing. Apparently, we weren't the only ones who thought so as there was no one camped there.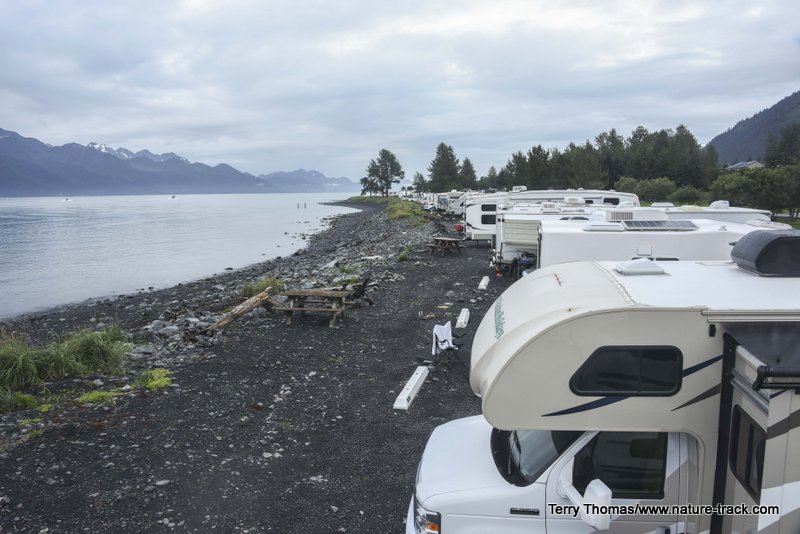 Nash Road is still a nice drive and gives you a great view of Resurrection Bay and Seward. There is also access to the beach in one location. This really isn't much of a beach in the sand castle sort of way. We went out at low tide and wandered along a tidal shore more than a mile long.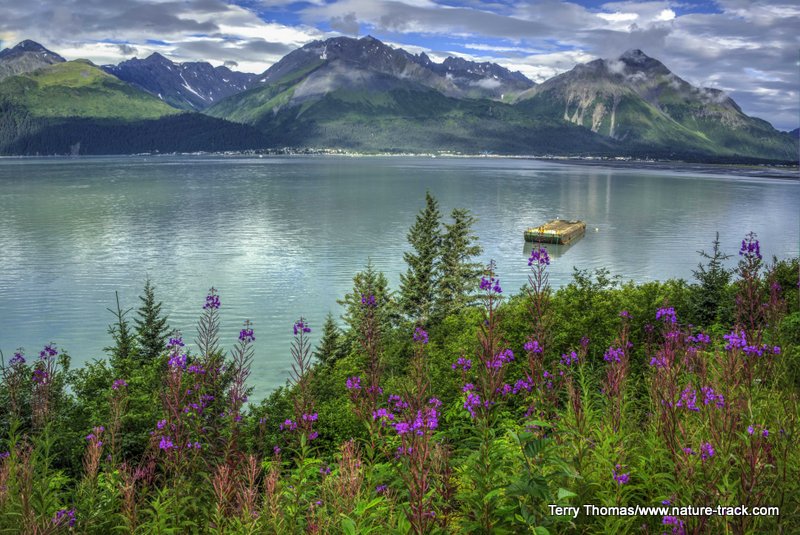 Seward can be seen across Resurrection Bay.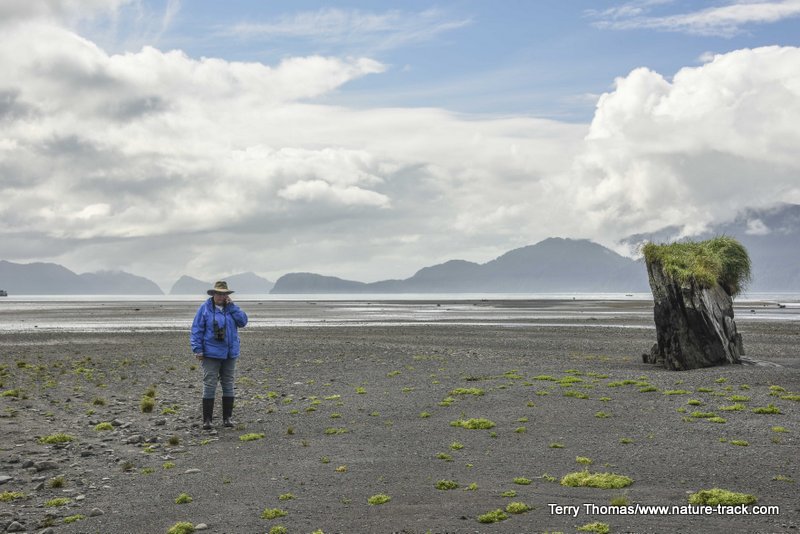 Cathy walks on a miles wide tidal flat off Nash Road.
Seward is home to the Alaska Sea Life Center aquarium and we spent several hours there. With our senior and AAA discounts it cost around $20 each. This was a decent aquarium and I thought the seabird area was the highlight of the show. We learned a lot about what really goes on in the ocean and that was worthwhile too.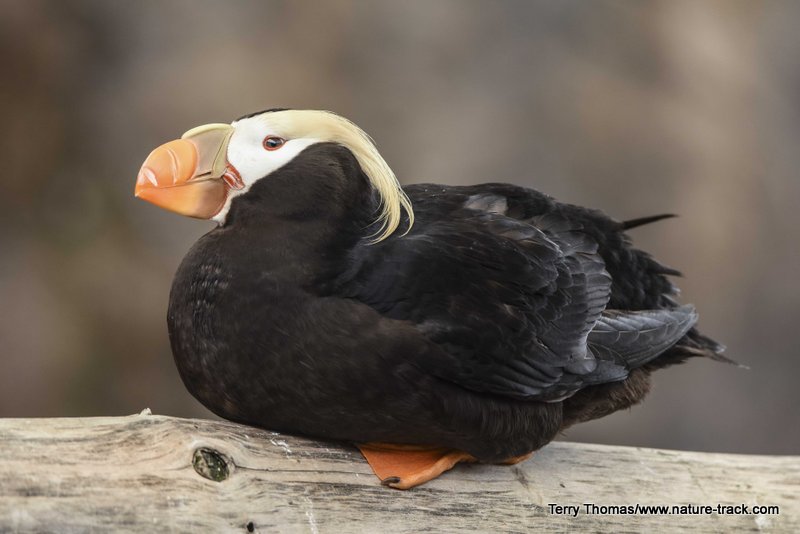 Tufted Puffin at the Alaska Sea Life Center.
There are many different boat tours at Seward. You can take an all-day excursion to see the glaciers of Kenai Fjords National Park, whale watching, small boat wildlife viewing, sea kayaking, salmon and halibut fishing and more.  These have doubled in price since my first visit to Seward 20 years ago and we decided they were too spendy for us, especially with the rainy weather.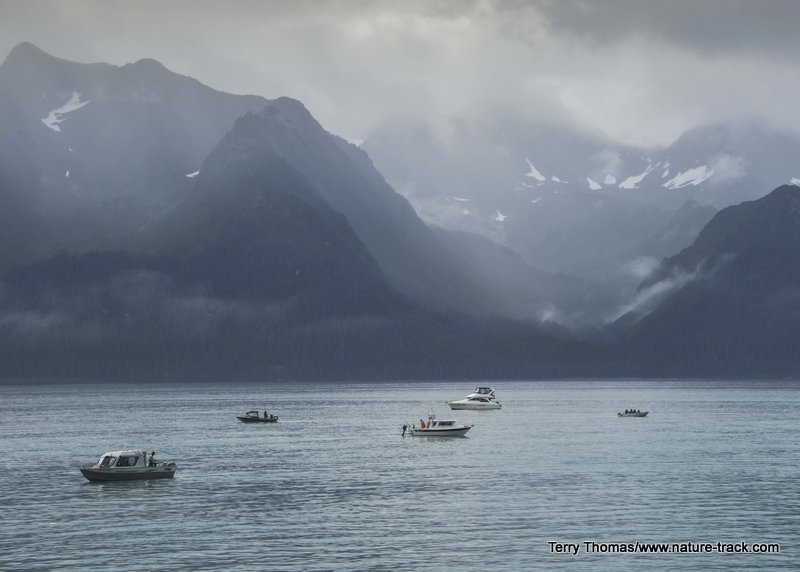 Fishermen try for silver salmon near Lowell Point a few miles south of Seward. You can drive there to a state recreation area in just a few minutes.
We did go to Kenai Fjords National Park to visit the Exit Glacier, about 10 miles from Seward. This glacier is well named as it is melting fast. They have signs indicating where it was in a given year and it was shocking to see how fast it has retreated. It is about a mile-long easy hike to the glacier and well worth it, but the best view of the glacier is actually from the road going in.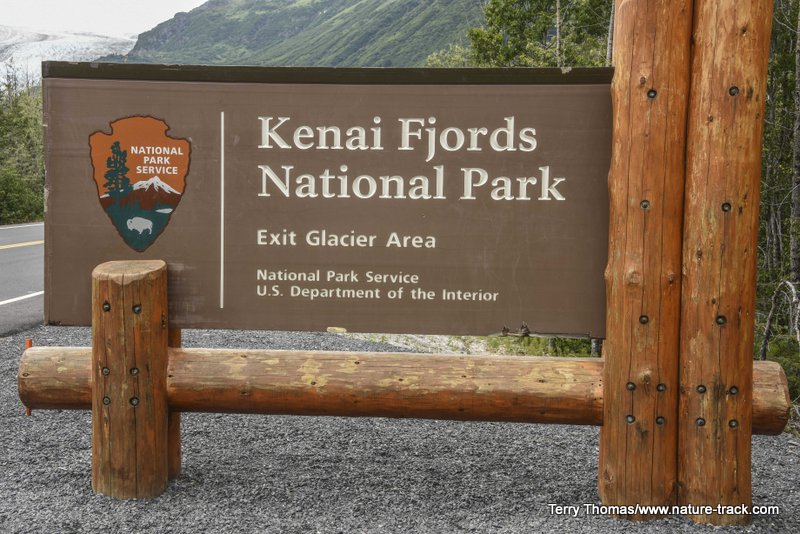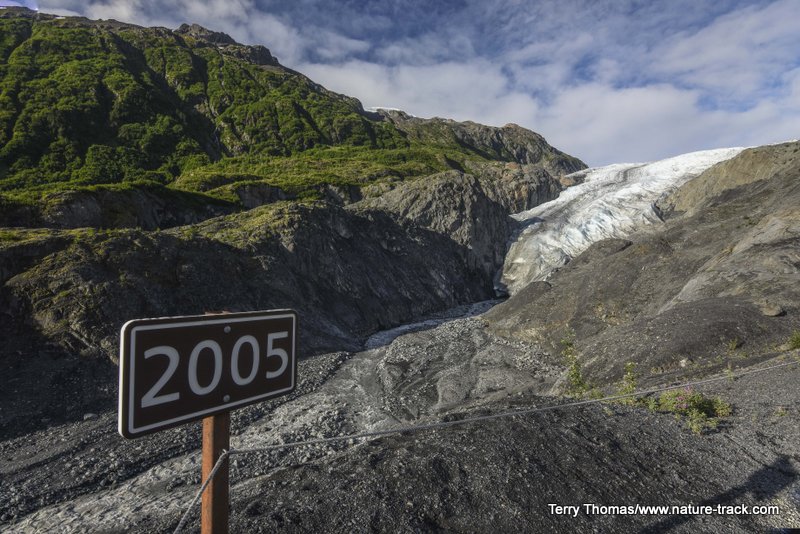 Just 13 years ago, Exit Glacier extended to the 2005 sign. 
Seward is a beautiful place that should be on your list if you head to Alaska. Many cruises make Seward a destination as well. We saw two different cruise ships in the four days we were there. Expect rainy weather though, just about any time during the summer.