Seeing Red and Yellow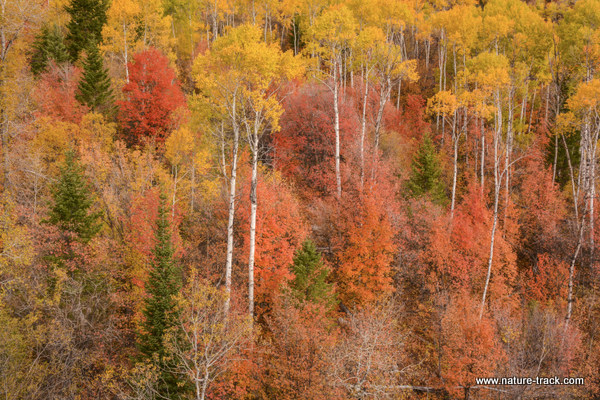 Fall color is a glorious way to end summer and to welcome in the monochromes of winter.
For the next six weeks, we have the wonderful opportunity to live under the illusion that summer will never end. We will see all the signs of the approach of winter, but we can happily ignore them through the glory days of autumn.
Changing leaves are perhaps the best indicator of autumn and one of the best parts of the season. The yellow-gold of aspens, willows, serviceberries and cottonwoods and the deep reds and oranges of the maples, ashes and chokecherries are the colors of Eastern Idaho's banner.
For the past several years, I have kept track of the march of leaf color between Idaho Falls and Jackson. My records show that leaf peeping starts now in eastern Idaho and western Wyoming.  The display will progress quickly, and by the third week of October, will mostly be gone, especially if we get an early storm.
For starters, maples along Highway 26 from Antelope Flat to Alpine, Wyoming, have already dressed in red for the occasion. While the maples are a worthy show in themselves, when combined with yellowing aspens the display is a real winner. However, maples turn much earlier than aspens, and lose their leaves sooner, so timing is everything. As of last week, aspens were just beginning to turn there, so enjoy it before the 15th of September or risk missing the best of the show.
Mid to late September is the best time to visit Oxbow Bend in Grand Teton National Park. The aspens will be in full color and the cottonwoods will be changing too, with just enough green left to keep the yellow from overpowering the senses. Arrive at sunrise to capture the morning light and the reflections of Mount Moran and the colorful trees in the perfectly calm waters and you will know you've glimpsed paradise.
Teton Valley is also great for a color fix. Color peaked around October 7th last year, then declined quickly.  I suggest starting on the south end via Highway 31 and Pine Creek Pass. Drive north to Tetonia, then work your way to Ashton via Highway 32. You may want to visit the Squirrel area while there. This route also offers spectacular views of the Tetons.
If you have a bit more time, try Highway 34 from Soda Springs to Freedom, Wyoming. Aspen and maple stands are strewn across much of the landscape. In fact, most of the far southeast corner of the state is a real winner this time of year.
Finally, consider the 218 Road above Kelly Canyon Ski Resort. If you follow this gravel road long enough, you will eventually end up on Highway 33 near Newdale. This drive winds through mountains at first, then drops into farming country with aspen stringers and eyebrows lining every field. It is a beautiful drive and color on the north side won't peak until after October 10th. Don't try it if the road is wet.
Cottonwoods take a little longer to change. My notes indicate that the view of the river corridor from Clark Hill rest area will be best after October 5th. Color may not peak there until October 15th although Grand Teton Park cottonwoods may change up to three weeks earlier.
As with all windshield adventures, start with a full tank of gas so you can explore at will. Most of these routes are paved, but be prepared should you venture off the blacktop. Be safe and enjoy summer while you still can!
---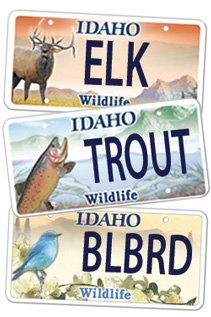 Wildlife License Plates
Idaho Wildlife license plates provide essential funding that benefits the great diversity of native plants and wildlife that are not hunted, fished or trapped—over 10,000 species or 98% of Idaho's species diversity. Game species that share the same habitats (such as elk, deer, antelope, sage-grouse, salmon, trout) also benefit from these specialty plates.
No state tax dollars are provided for wildlife diversity, conservation education and recreation programs. Neither are any revenues from the sale of hunting or fishing licenses spent on nongame species. Instead, these species depend on direct donations, federal grants, fundraising initiatives—and the Idaho Wildlife license plates.
Both my vehicles have Bluebird Plates. I prefer the bluebird because the nongame program gets 70 percent of the money from bluebird plates, but only 60 percent of the money from elk and trout plates - 10 percent of the money from elk plates supports wildlife disease monitoring and testing programs (to benefit the livestock industry) and 10 percent from cutthroat plates supports non-motorized boat access.
Incidentally, in 2014, the Idaho Legislature denied the Department of Fish and Game the ability to add new plates or even to change the name of the elk and cutthroat plates (very specific) to wildlife and fish plates, a move that would have allowed for changing images occasionally and generating more revenue. It would seem that they believe that we Idahoans don't want a well funded wildlife program. Go figure.