Travel Acquaintances
Fleeting friendships on the road are one of the joys of travel and can enhance your experience in many ways. If the Bear Lady hadn't offered up her secrets, we may never have seen this grizzly fishing right below the road.
---
We were taking full advantage of a rare sunny afternoon near Fairbanks, Alaska. As we raced around, we checked out a trailhead (and the associated restroom) that seemed popular. I was standing outside the truck when a big bear of a man with a mop of unruly silver hair and an even more impressive silver beard approached.
He went right to a sign that was laying down near the restroom and checked the contents, looking to see if he needed to pay a fee to park there. A conversation quickly ensued and Craig, no last name needed he said, turned out to be articulate and pleasant to visit with. In a gentle voice he talked of subsistence living in Alaska where sharing with neighbors is integral to the process. He spoke with reverence about berry picking, the purpose of his trip that day, describing his favorites, Alaska blueberries, as Nirvana found.
What started out as a perfunctory, "hi, how ya doin," quickly expanded into a pleasant half hour discussing everything from rose hips to the state of the union. Craig, an artist, talked about life in Fairbanks during the pipeline boom and the changes he has seen in the ensuing 40 years as a transplanted Alaskan. For a few minutes, a connection, and even friendship, was formed that enriched our lives. When we parted, I left him a card and he promised to contact me.
That night the sky was still clear and we headed out at midnight to see the Northern Lights. We pulled into a pre-scouted location and joined another photographer who immediately began to joyously share his experiences over the past several years enjoying the show in the night sky. With his help, I was soon taking tolerable photos of Aurora Borealis while he explained to Cathy the physics of the phenomena. When he left, he wished us a safe trip and we realized we didn't even know his name. About that time, I checked my phone and found I had three texts from Craig, encouraging us to get out and look at the Northern Lights because they were putting a terrific show. At one a.m. he had not forgotten us.
On the Copper River side of the state, we encountered Dr. Shirley Johnson, a chemist and geneticist who was riding her bicycle around Alaska. And I mean all of it. She had already ridden from the Arctic Ocean to Dawson City on Yukon's Dempster Highway and was now on her way back to Fairbanks (over 200 miles) to visit a friend before retracing her route back to Valdez. She camped alone, rode alone and thoroughly enjoyed every minute. She joined us for a breakfast of pancakes, and we reveled in her stories and pleasant company. As we watched her ride off, we recognized that we would likely never see her again, but that chance encounter was a real highlight.
I was reminded of yet another encounter, this time with a lady Cathy nicknamed the Bear Lady. We were driving down the Skilak Loop Road on the Kenai Peninsula and noted a truck stopped in the road ahead of us. In Yellowstone that would mean someone had spotted something. On the Kenai, as like as not, it meant someone stumbled into a thin band of cell service and they were checking their texts. As we eased up, we saw a grizzly sow and two half-grown cubs sauntering down the road. We played leap-frog with the truck until the bears disappeared into the timber. Then the driver, Heidi, came back to talk with us. She had seen these bears before and knew exactly where they were going—to fish a culvert just a little way up the road. We moved ahead to the culvert and with her explaining exactly what would happen, waited for the bears, which showed up precisely as Heidi predicted. Then she told us of a place on the highway where we could always see a bear in the evening and sure enough, she was right.
Throughout our travels, we have found time and again, that one of the most enjoyable aspects of life on the road has been the people we have engaged with. Whether they are fellow tourists or long-time natives, their stories, advice and shared appreciation for nature have brought a sense of wonder and expectation and has temporarily turned this recalcitrant recluse into a social butterfly. I wouldn't have it any other way.
---
Help Idaho Wildlife
When we traveled across the state in October 2017, most of the vehicles we saw using the wildlife management areas did not have wildlife plates. Buying wildlife plates is a great way for non-hunters and hunters alike to support wildlife-based recreation like birding.
C'mon folks, let's help Idaho's wildlife by proudly buying and displaying a wildlife license plate on each of our vehicles! 
See below for information on Idaho plates. Most states have wildlife plates so if you live outside Idaho, check with your state's wildlife department or vehicle licensing division for availability of state wildlife plates where you live. 
And tell them that you heard about it from Nature-track.com!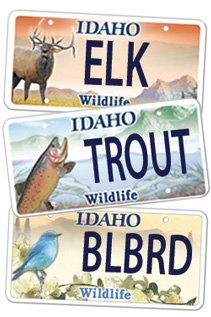 Wildlife License Plates
Idaho Wildlife license plates provide essential funding that benefits the great diversity of native plants and wildlife that are not hunted, fished or trapped—over 10,000 species or 98% of Idaho's species diversity. Game species that share the same habitats (such as elk, deer, antelope, sage-grouse, salmon, trout) also benefit from these specialty plates.
No state tax dollars are provided for wildlife diversity, conservation education and recreation programs. Neither are any revenues from the sale of hunting or fishing licenses spent on nongame species. Instead, these species depend on direct donations, federal grants, fundraising initiatives—and the Idaho Wildlife license plates.
Both my vehicles have Bluebird Plates. I prefer the bluebird because the nongame program gets 70 percent of the money from bluebird plates, but only 60 percent of the money from elk and trout plates - 10 percent of the money from elk plates supports wildlife disease monitoring and testing programs (to benefit the livestock industry) and 10 percent from cutthroat plates supports non-motorized boat access.
Incidentally, in 2014, the Idaho Legislature denied the Department of Fish and Game the ability to add new plates or even to change the name of the elk and cutthroat plates (very specific) to wildlife and fish plates, a move that would have allowed for changing images occasionally and generating more revenue. It would seem that they believe that we Idahoans don't want a well funded wildlife program. Go figure.