Protecting Historic Structures from Wildfire
Aluminized structure wrap can save buildings, signs and equipment from fire when firefighters cannot be there.
---
I had never thought about how to protect historic structures from wildfire until I saw it in action on the upper Selway River. A 5,000-acre wildfire in the Selway-Bitterroot Wilderness was threatening historic guard stations along the river as well as signs and other infrastructure. I guess I just assumed that if the fire was bad enough, it would just claim these structures.
However, when we rounded a bend in the road, we met up with a fire crew doing something that seemed to be out of a B science fiction alien movie. The crew was actively wrapping what looked like tinfoil around a sign and securing it with tape. As we proceeded down the river, we found that every sign, horse trough and loading ramp was similarly covered.
The next morning, we drove to the end of the road at Paradise and crossed a wooden bridge. All along the way we were seeing hoses, pumps and sprinklers that ran up and down the road, snaked into camping areas and covered the bridge. As we later drove the Magruder Corridor, we saw the same thing, only this time the wrapping included the entire historic cabin at Horse Heaven.
We guessed that it was fire protection, but we had no idea how effective it was or whether or not it was something new and untried or well tested. Finally, we found a crew babysitting a small lightning-caused blaze on the Frank Church River of No Return Wilderness side of the road. As we pulled up, the crew chief ambled over and squatted down to look into our window. We talked about the fire they were watching then asked about the wrapping and hoses.
He explained that the wrap, while tinfoil like, is really a Kevlar sheeting, similar to the material that firefighters use as emergency fire shelters only thicker. It isn't cheap. A roll 5x200 feet, contains 1,000 square feet of material and costs upwards of $828 plus shipping. Even a small cabin may take two or three rolls and the material must be securely anchored with staples and a special tape so that the winds generated by fire don't tear it off.
I asked the crew boss if this was new technology, and he replied that the Forest Service has been doing this for 25-30 years. That would indicate that the procedure is a sound one. According to one source, an historic cabin in an Oregon National Forest that was built by the CCC in 1933 has been saved from the ravages of wildfire multiple times in the past using this wrap.
At home, I looked up the company, Firezat, that makes this material (called aluminized structure wrap) to see what they had to say. According to the site, "studies have indicated that 80 percent of wildfire structure ignitions are the result of burning embers and radiant heat." They claim that, "Fire Shields block 96% of radiant heat and 92% of convective heat, plus defeat firebrands blown by the wind." That is substantial and I was skeptical until I watched a university-conducted study where a structure protected by the wrap was subjected to a "wildfire". It was impressive. The fire roared through with a steady wind and when the flames burned out, the structure was still there.
As for the hoses, the purpose of the water is to raise the relative humidity and fuel moisture in an area, making it much more difficult for the fire to advance through the area, thus hopefully protecting the cultural and historical resources.
With the recent scare many people living around the base of Island Park's Sawtell Peak experienced regarding wildfire, I found this information to be timely. For the aluminized structure wrap, it is also notable that this product is available to the public and is reusable many times (although, Heaven forbid that someone might have to protect their home more than once). It is expensive, but with the cost of rebuilding these days, it may be cheap insurance in the long run.
---
Help Idaho Wildlife
When we traveled across the state in October 2017, most of the vehicles we saw using the wildlife management areas did not have wildlife plates. Buying wildlife plates is a great way for non-hunters and hunters alike to support wildlife-based recreation like birding.
C'mon folks, let's help Idaho's wildlife by proudly buying and displaying a wildlife license plate on each of our vehicles! 
See below for information on Idaho plates. Most states have wildlife plates so if you live outside Idaho, check with your state's wildlife department or vehicle licensing division for availability of state wildlife plates where you live. 
And tell them that you heard about it from Nature-track.com!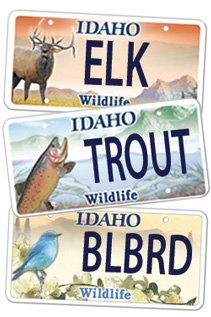 Wildlife License Plates
Idaho Wildlife license plates provide essential funding that benefits the great diversity of native plants and wildlife that are not hunted, fished or trapped—over 10,000 species or 98% of Idaho's species diversity. Game species that share the same habitats (such as elk, deer, antelope, sage-grouse, salmon, trout) also benefit from these specialty plates.
No state tax dollars are provided for wildlife diversity, conservation education and recreation programs. Neither are any revenues from the sale of hunting or fishing licenses spent on nongame species. Instead, these species depend on direct donations, federal grants, fundraising initiatives—and the Idaho Wildlife license plates.
Both my vehicles have Bluebird Plates. I prefer the bluebird because the nongame program gets 70 percent of the money from bluebird plates, but only 60 percent of the money from elk and trout plates - 10 percent of the money from elk plates supports wildlife disease monitoring and testing programs (to benefit the livestock industry) and 10 percent from cutthroat plates supports non-motorized boat access.
Incidentally, in 2014, the Idaho Legislature denied the Department of Fish and Game the ability to add new plates or even to change the name of the elk and cutthroat plates (very specific) to wildlife and fish plates, a move that would have allowed for changing images occasionally and generating more revenue. It would seem that they believe that we Idahoans don't want a well funded wildlife program. Go figure.