Fall River

At 130 feet, Terraced Falls is the highest waterfall on the Fall River. Cave Falls is much wider though with a vertical drop of 20 feet.
The tributaries that become Fall River cavort off the Pitchstone Plateau in southwest Yellowstone National Park starting as a broad network of streams. Like a braid of hair, they coalesce with the outlet of Beula Lake and the Fall River begins to wander like a deer through the southern edge of the Park. The river flirts with the Park boundary near Grassy Lake but never leaves the Park until after it is joined by the Bechler River and tumbles over Cave Falls.
Mountain men called Fall River the Middle Fork of the Snake. The Hayden expedition named it Falls River in 1872 a name still used on many maps and road signs. Locals, however, call it Fall River and in 1997 the U.S. Board on Geographic Names changed the official name to Fall River at the request of Idaho.
Falls or Fall, the name aptly describes this wild and beautiful river. It drops 3800 feet in 64 miles, nearly equivalent to the elevation change between Salmon, Idaho and the Pacific Ocean. The river alternates between a multitude of wild constricted cascades and broad falls that plunge off lava ledges, and sleepy waters slipping quietly through willow-lined meadows and finally, farm fields. Named falls like Terraced, Rainbow, White Angel and Cave are intermingled with many more unnamed cascades in this area of the Park known as "Cascade Corner."
The Fall River is as wild as a river can be. For 30 miles, from the canyon mouth to its headwaters, Fall River is paralleled by less than 2 miles of road. Further, within these 30 miles, there are only a handful of places where the river can be accessed even by trail. An explorer will have to navigate large chunks of otherwise trackless terrain to see waterfalls such as White Angel and Rainbow Falls.
Even though there are almost 11 miles of river on National Forest with limited access and includes the beautiful Sheep Falls (not to be confused with Sheep Falls on the Henrys Fork), the most remote river section is in the Park.
Starting with Cave Falls, there are exactly four places in a 20 mile stretch where you can hike on an established trail and encounter the river. One is via the Fish Lake trailhead. The other three are on the Grassy Lake road and lead to Terraced Falls and a backcountry campsite accessible from two converging trails.
For 40 miles, the river is almost untouched. But once Fall River leaves its canyon and enters farming country, it is immediately put to work. The first irrigation diversion is 39 miles from where the streams twist together to form the Fall River.  Six additional diversions siphon off water before its confluence with the Henrys Fork at Chester, near St Anthony.
Besides an accurate and beautiful description, there might be one other reason why this awesome river is named Fall or Falls River: once you discover it, you can't help falling in love with it.
---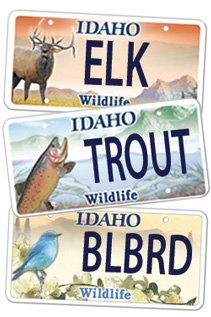 Wildlife License Plates
Idaho Wildlife license plates provide essential funding that benefits the great diversity of native plants and wildlife that are not hunted, fished or trapped—over 10,000 species or 98% of Idaho's species diversity. Game species that share the same habitats (such as elk, deer, antelope, sage-grouse, salmon, trout) also benefit from these specialty plates.
No state tax dollars are provided for wildlife diversity, conservation education and recreation programs. Neither are any revenues from the sale of hunting or fishing licenses spent on nongame species. Instead, these species depend on direct donations, federal grants, fundraising initiatives—and the Idaho Wildlife license plates.
Both my vehicles have Bluebird Plates. I prefer the bluebird because the nongame program gets 70 percent of the money from bluebird plates, but only 60 percent of the money from elk and trout plates - 10 percent of the money from elk plates supports wildlife disease monitoring and testing programs (to benefit the livestock industry) and 10 percent from cutthroat plates supports non-motorized boat access.
Incidentally, in 2014, the Idaho Legislature denied the Department of Fish and Game the ability to add new plates or even to change the name of the elk and cutthroat plates (very specific) to wildlife and fish plates, a move that would have allowed for changing images occasionally and generating more revenue. It would seem that they believe that we Idahoans don't want a well funded wildlife program. Go figure.