Master Naturalists to the Rescue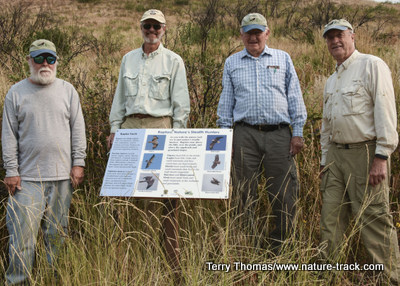 From left: Bob Nitschke, Tony Appelhans, Dave Godfrey and Bob Anderl with one of 17 signs they installed last Thursday. Not shown: Roger Mayes, Sheri and Don Weber, and Mike Zacher.
---
Bob Anderl got out of his truck last Thursday morning at the Sand Creek Ponds (Sand Creek Wildlife Management Area) north of St. Anthony and immediately set to work organizing his group of seven volunteers. They were there to complete a project they had started almost three years previous to refurbish the nature trail around the ponds.
This was no small job. The nature trail is over 20 years old, and while the Department of Fish and Game keeps the trail mowed, the signs that describe the habitat had faded to the point of being unreadable. The manager had neither the money or the manpower to replace the signs so he approached the Upper Snake Chapter of the Idaho Master Naturalists for help.
Typical of this group, the Master Naturalists jumped at the chance to take on such a significant project. Bob, a retired nuclear physicist, assumed leadership for the project and prepared a grant application requesting funding from the Idaho Fish and Wildlife Foundation. The proposal was to re-design and re-build 18 signs and add half a dozen "you are here" signs to ease navigation on the nearly three-mile-long trail.
While they waited to hear about the grant, three master naturalists designed the new signs. With the help of Idaho Department of Fish and Game and numerous field trips to become familiar with the area, they determined topics and then developed the message for each sign. Even most of the photographs used on the signs were donated by the group.
Once the grant was approved, the signs were ordered. Then several skilled members manufactured new metal brackets to attach to the existing posts and boards to back the signs. When everything was complete, they gathered once again to assemble to signs to the boards and brackets.
So, here they were, about to complete the project by installing the signs on the posts. Bob grouped the signs according to area and two teams grabbed tools and their respective signs and set out. Each sign took only a few minutes to install, belying the true effort behind each sign, and by noon the job was complete.
I asked Bob to estimate how much time has been invested in this project. Without much hesitation, he guessed perhaps 1,000 hours of volunteer time. That is the full-time equivalent of half a year for an employee yet these people did it for free.
There are seven Idaho Master Naturalist chapters across the state. It is a program supported by Idaho Department of Fish and Game but all resource agencies benefit from their work. For instance, while Bob and crew were installing the signs at Sand Creek Ponds, another large group from the Upper Snake Chapter was helping the Forest Service restore beaver habitat in Island Park. The previous day, I accompanied two Master Naturalists as they completed a waterbird survey on Deer Parks WMU.
It isn't hard to become a Master Naturalist. Two good friends of mine were trained as Master Naturalists by the Upper Snake Chapter this past winter. They learned a lot about Idaho's natural world and they have since begun to work on their 40 hours of service required to complete their induction into the chapter.
I can't say enough good about the Master Naturalist program. Just a month or so ago I was grousing about the nature trail around the Sand Creek ponds, not realizing that a solution was already in progress.  These are people who really know how to give back to the natural world we all love and enjoy.
Help Idaho Wildlife
When we traveled across the state in October 2017, most of the vehicles we saw using the wildlife management areas did not have wildlife plates. Buying wildlife plates is a great way for non-hunters and hunters alike to support wildlife-based recreation like birding.
C'mon folks, let's help Idaho's wildlife by proudly buying and displaying a wildlife license plate on each of our vehicles! 
See below for information on Idaho plates. Most states have wildlife plates so if you live outside Idaho, check with your state's wildlife department or vehicle licensing division for availability of state wildlife plates where you live. 
And tell them that you heard about it from Nature-track.com!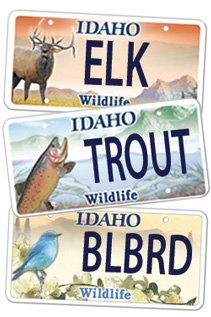 Wildlife License Plates
Idaho Wildlife license plates provide essential funding that benefits the great diversity of native plants and wildlife that are not hunted, fished or trapped—over 10,000 species or 98% of Idaho's species diversity. Game species that share the same habitats (such as elk, deer, antelope, sage-grouse, salmon, trout) also benefit from these specialty plates.
No state tax dollars are provided for wildlife diversity, conservation education and recreation programs. Neither are any revenues from the sale of hunting or fishing licenses spent on nongame species. Instead, these species depend on direct donations, federal grants, fundraising initiatives—and the Idaho Wildlife license plates.
Both my vehicles have Bluebird Plates. I prefer the bluebird because the nongame program gets 70 percent of the money from bluebird plates, but only 60 percent of the money from elk and trout plates - 10 percent of the money from elk plates supports wildlife disease monitoring and testing programs (to benefit the livestock industry) and 10 percent from cutthroat plates supports non-motorized boat access.
Incidentally, in 2014, the Idaho Legislature denied the Department of Fish and Game the ability to add new plates or even to change the name of the elk and cutthroat plates (very specific) to wildlife and fish plates, a move that would have allowed for changing images occasionally and generating more revenue. It would seem that they believe that we Idahoans don't want a well funded wildlife program. Go figure.