Secret Yellowstone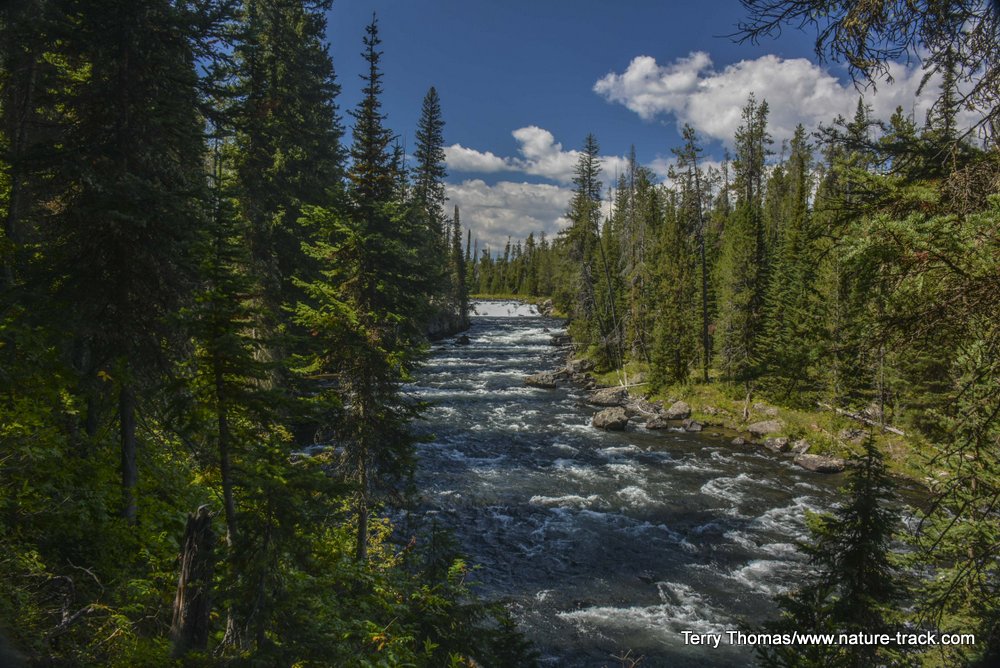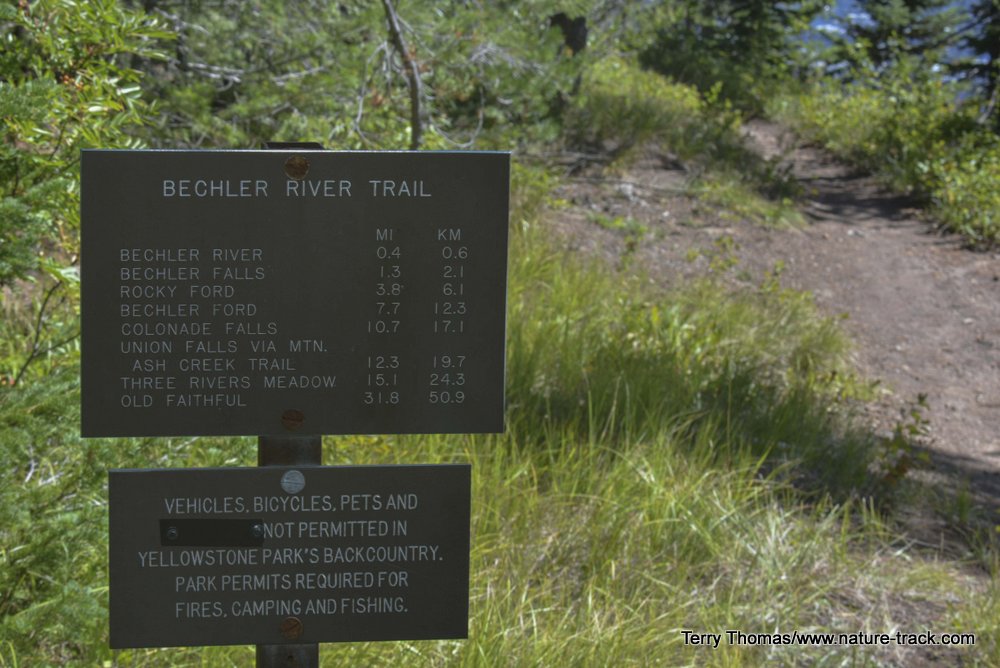 Bechler River in the southwest corner of Yellowstone, is the key to accessing some of the Park's best backcountry. Hikes can vary from just a few hours to several days or more.
---
When I started making annual September pilgrimages to Yellowstone over 35 years ago, it was a very different world. I had no problem getting a campsite at Madison or Mammoth, even coming in late in the evening. Traffic throughout the Park was light and if you saw wildlife, you stopped and enjoyed it, along with perhaps a dozen other people. Rangers were patient and if you didn't happen to pull your vehicle completely outside the white line, you didn't risk a tow and a ticket.
Last week we spent a morning in Yellowstone. We hoped an early start would give us a leg up, but a ranger was at the ticket booth at 0630 and cars were lined up several deep at both windows. As we drove through the park, looking for a bull elk to photograph, we were beleaguered with signs stating: Use Pullouts to View Wildlife. These pullouts were usually small, holding only a few cars. If there was any wildlife to view, they were always full and frustrated rangers shooed away everyone else. Many otherwise perfectly acceptable shoulder areas where you could get completely off the road were blocked with log barricades. We had wanted to camp but had found that both Grant and Madison campgrounds were completely booked. In fact, at some point in the past 20 years, Madison had converted to reservation only.
By noon, all the parking areas to places like Norris Geyser Basin were full and people walked up to half a mile from overflow parking. Busloads of Asian tourists overwhelmed restrooms and viewpoints. It just wasn't fun, and I wondered for the hundredth time if it was time to cross Yellowstone off my list of places to go.
We dropped south out of the park and headed west on the Grassy Lake Road (aka Reclamation Road) along the south border of the park, connecting Flagg Ranch to Ashton, about 47 miles away. It was beautiful and my wife suggested that sometime maybe we could camp along the Grassy Lake Road. I reminded her that in places it is a very rough road, one I would not like to take the RV on.
That was my first surprise. It had been five years since we had driven the Grassy Lake road and in the interim, someone had significantly improved it. It is still gravel, with occasional potholes, but I could see myself pulling the trailer across it now.
My second surprise was less a surprise than a reminder. This end of the Park is nothing like the popular core. There were no vehicles at the trailhead into Beula and Herring lakes which are several miles inside the park. The Cascade Creek trailhead held two vehicles. Further down by Loon Lake, the Fish Lake trailhead was nearly deserted as well.
Cave Falls road is the only other access point to the south end of Yellowstone. From here you can hike up the Fall or Bechler rivers, visit the Bechler Ranger Station or hike into Union Falls, a 25-mile round trip. While these areas are a bit more popular, they are still nothing like the madness of Yellowstone's interior. And granted, to really enjoy the south side, you will have to get out on your feet or ride a horse.
The interior of Yellowstone is being loved to death and that is sad to see. However, it is great to realize that with just a little effort, you can still experience the Park in a much more pristine environment.
---
Help Idaho Wildlife
When we traveled across the state in October 2017, most of the vehicles we saw using the wildlife management areas did not have wildlife plates. Buying wildlife plates is a great way for non-hunters and hunters alike to support wildlife-based recreation like birding.
C'mon folks, let's help Idaho's wildlife by proudly buying and displaying a wildlife license plate on each of our vehicles! 
See below for information on Idaho plates. Most states have wildlife plates so if you live outside Idaho, check with your state's wildlife department or vehicle licensing division for availability of state wildlife plates where you live. 
And tell them that you heard about it from Nature-track.com!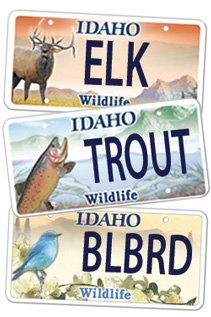 Wildlife License Plates
Idaho Wildlife license plates provide essential funding that benefits the great diversity of native plants and wildlife that are not hunted, fished or trapped—over 10,000 species or 98% of Idaho's species diversity. Game species that share the same habitats (such as elk, deer, antelope, sage-grouse, salmon, trout) also benefit from these specialty plates.
No state tax dollars are provided for wildlife diversity, conservation education and recreation programs. Neither are any revenues from the sale of hunting or fishing licenses spent on nongame species. Instead, these species depend on direct donations, federal grants, fundraising initiatives—and the Idaho Wildlife license plates.
Both my vehicles have Bluebird Plates. I prefer the bluebird because the nongame program gets 70 percent of the money from bluebird plates, but only 60 percent of the money from elk and trout plates - 10 percent of the money from elk plates supports wildlife disease monitoring and testing programs (to benefit the livestock industry) and 10 percent from cutthroat plates supports non-motorized boat access.
Incidentally, in 2014, the Idaho Legislature denied the Department of Fish and Game the ability to add new plates or even to change the name of the elk and cutthroat plates (very specific) to wildlife and fish plates, a move that would have allowed for changing images occasionally and generating more revenue. It would seem that they believe that we Idahoans don't want a well funded wildlife program. Go figure.