Magruder Corridor
Looking north across the Magruder Corridor into the Selway-Bitterroot Wilderness.
---
When Christopher Lowery killed Lloyd Magruder in his sleep with an axe one night in 1863, he had no idea that his murderous act would secure both of them a place in Idaho history. Lowery, along with his two conspirators, had the ignominious distinction of being the first "legal executions" in the Idaho Territory one year later. As for Magruder, that is a different story.
For Magruder, a freighter whose wagons hauled goods between Virginia City, Montana Territory and Lewiston, Idaho Territory, the story continues today. The site of his death and those of four of his employees, was memorialized as the Magruder Massacre Site, and the route he followed across the Bitterroot Mountains became known as the Magruder Corridor.
Today, the Magruder Corridor has become a backcountry road, connecting Conner, Montana (just south of Darby, Montana) with Elk City, Idaho. Since I worked in that area as a Conservation Officer at the beginning of my career with Idaho Department of Fish and Game, I have always wanted to drive that route, and last week, my wife and I finally checked it off the bucket list.
The fascination of this route is that for 52 miles, from Nez Perce Pass to Poet Creek campground, it is a narrow corridor between the 2.3-million-acre Frank Church River of No Return Wilderness to the south and the 1.2-million-acre Selway-Bitterroot Wilderness to the north, a 101-mile (according to the Forest Service, but it is 120 miles from Darby to Elk City) that follows ridgelines and offers incredible views of both. The road, originally constructed by the Civilian Conservation Corps during the 1930's, is little different today than it was then.
Coming from the south, take Highway 28 through Salmon and over Lost Trail Pass to Conner. From Idaho Falls, it will take around four hours. From there, follow the West Fork of the Bitterroot and follow the signs for Forest Road 468. The road will be paved past Nez Perce Pass, but will eventually change to gravel on the Idaho side.
The Magruder Ranger Cabin is a Forest Service rental ($100/night. Reserve through Recreation.gov), but was unavailable so we camped at Magruder Crossing where a bridge crosses the Selway River. From this point, it is 78 miles to Elk City, 35 of which is high elevation. Speaking of camping, it is actually fairly limited along this route until you get to Poet Creek campground, 25 miles east of Elk City. Much of the road traverses steep slopes with few places to pull off, much less camp. You can find campsites and several have vault toilets, but water is pretty much non-existent with the exception of a couple of very small springs. 
After the bridge, the Magruder Road immediately begins to climb out of the Selway and by the time you reach the first camping area at Observation Point, you are on top of the world. The views are spectacular and you are in one of the most remote areas in the Lower-48. Don't expect cell service, so be well prepared. It's a good idea to inquire at Red River Ranger District for current road conditions and weather forecast,208-842-2245.
This is a rugged road, not suited for sedans, motorhomes or trailers. If you meet oncoming traffic, someone may have to back up for long distances before finding a wide spot suitable for passing. We drove it in a day in a small SUV with all-wheel-drive and did just fine, but it wasn't wet either. We did it in about five hours, but next time I will plan on camping somewhere near Horse Heaven or Dry Saddle. With more time, we could hike to the manned Salmon Mountain Lookout or historic Burnt Knob Lookout or to several mountain lakes.
I wish we had had more time to explore the road, but this visit was just a scouting effort. When we return, it will be for a week and we will spend more time exploring across the top as well as both ends of the road.
---
Help Idaho Wildlife
When we traveled across the state in October 2017, most of the vehicles we saw using the wildlife management areas did not have wildlife plates. Buying wildlife plates is a great way for non-hunters and hunters alike to support wildlife-based recreation like birding.
C'mon folks, let's help Idaho's wildlife by proudly buying and displaying a wildlife license plate on each of our vehicles! 
See below for information on Idaho plates. Most states have wildlife plates so if you live outside Idaho, check with your state's wildlife department or vehicle licensing division for availability of state wildlife plates where you live. 
And tell them that you heard about it from Nature-track.com!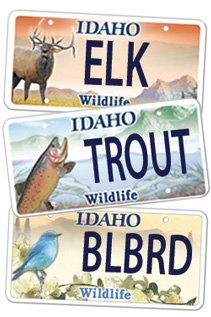 Wildlife License Plates
Idaho Wildlife license plates provide essential funding that benefits the great diversity of native plants and wildlife that are not hunted, fished or trapped—over 10,000 species or 98% of Idaho's species diversity. Game species that share the same habitats (such as elk, deer, antelope, sage-grouse, salmon, trout) also benefit from these specialty plates.
No state tax dollars are provided for wildlife diversity, conservation education and recreation programs. Neither are any revenues from the sale of hunting or fishing licenses spent on nongame species. Instead, these species depend on direct donations, federal grants, fundraising initiatives—and the Idaho Wildlife license plates.
Both my vehicles have Bluebird Plates. I prefer the bluebird because the nongame program gets 70 percent of the money from bluebird plates, but only 60 percent of the money from elk and trout plates - 10 percent of the money from elk plates supports wildlife disease monitoring and testing programs (to benefit the livestock industry) and 10 percent from cutthroat plates supports non-motorized boat access.
Incidentally, in 2014, the Idaho Legislature denied the Department of Fish and Game the ability to add new plates or even to change the name of the elk and cutthroat plates (very specific) to wildlife and fish plates, a move that would have allowed for changing images occasionally and generating more revenue. It would seem that they believe that we Idahoans don't want a well funded wildlife program. Go figure.