Mount Rainier National Park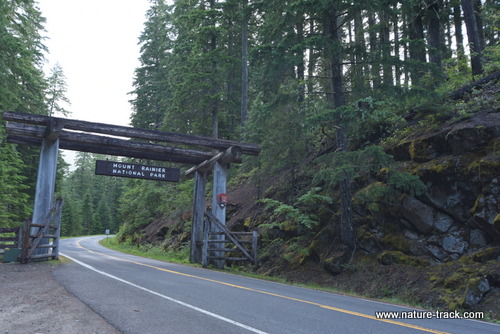 Our visit to Mount Rainier National Park was really a sandwich visit. We had an extra couple of days built into a cruise to Alaska and decided to spend one of them exploring what we could of Rainier. I was curious if we could really catch the flavor of the park in a single day. I have talked to a lot of people who do the same thing in Yellowstone and often marveled at what they didn't get to see. Would Rainier be any different?
We arrived at Packwood, Washington, just a few miles outside the park, a little before sunset and decided to drive up toward Sunrise Point to get oriented. Once we figured out where to go we turned around and checked in to the Packwood Motel. It wasn't fancy, but it was the best price around and it was serviceable. 
The next morning we headed out early, grabbing a "healthy" breakfast at an all-night gas/food mart on the east end of town. I should point out that this was the 15th of June, just a week shy of the summer solstice so getting up to catch the sunrise really was early! We headed up to Sunrise Point and got our first surprise of the day: the final approach to Sunrise Point and the Visitor Center there were still closed for the winter season and wouldn't open until July. Oops. Should have done a little more homework.
For a little while Mount Rainier was playing hide and seek in the clouds and we actually caught a glimpse of the summit once. We should have appreciated that moment more because it was the last time we saw the mountain all day. Apparently, that isn't an uncommon situation. Seeing the mountain is less likely than not seeing it on any given day.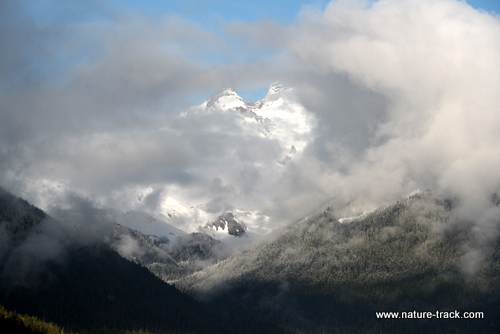 We believe that this is Mt. Rainier. The top peak is still hidden but at least we saw the mountain!
Mount Rainier is considered an active volcano that one day will erupt again. The last time was in 1894 and who is to say when the next will be? For now, 26 glaciers cool its flanks and the peak is never snow free.
After spending a few hours in the Sunrise area, we headed back to town to jump on the Longmire to Paradise road. We drove through some beautiful temperate rainforest full of hemlocks, cedars, alders and ferns. I hate to use trite descriptions, but I am at a loss to describe the moss. It was everywhere, wrapping like a shawl around tree trunks and covering every horizontal surface like a thick shag carpet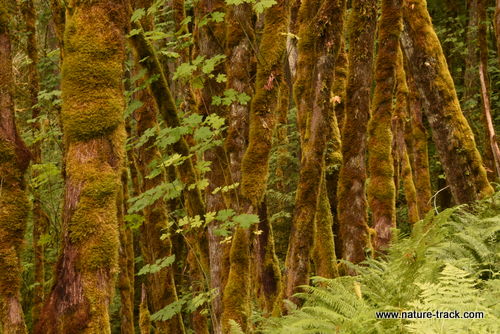 At Longmire we stopped at the Stone Creek Inn to photograph a few black-tailed deer bucks. Blacktails look like whitetails for the most part. The biggest difference, as can be expected, is in the tail. That of a black-tailed deer is smaller and black on the outside.
We asked the owner how much a cabin cost to rent and found it reasonable. I have forgotten the exact amount but I believe it was around $125 and the cabins will sleep six.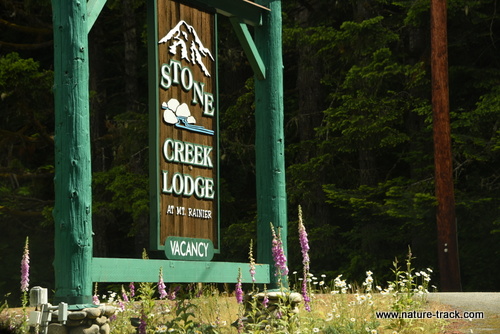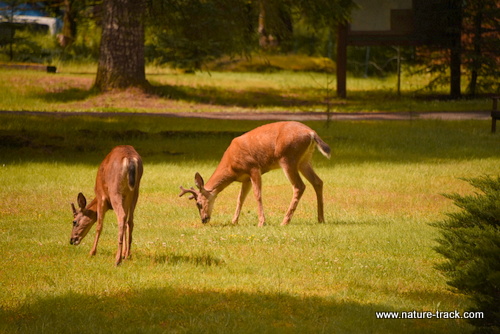 Up the road a few miles we stopped at a nature trail and walked through the old growth rainforest. It was actually pretty cool. You will have to watch for this trail as it isn't well signed. It is on the left side of the road if you are going up.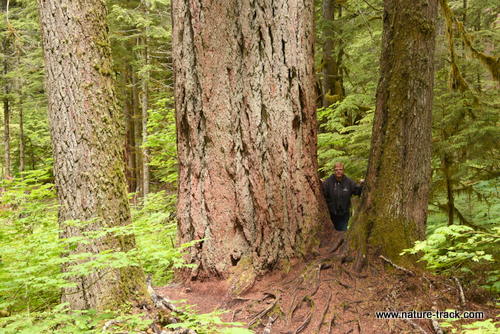 Cathy stands next to an old-growth tree. Some of the trees in this forest are behemoths. It is surprising they survived the axes of a century and a half ago.
One of the most iconic photographs in the park is that of the Christine Falls bridge that spans Van Trump Creek. There was road construction starting right there so it was actually convenient to stop and spend a little time photographing this bridge and a very friendly Stellar's jay.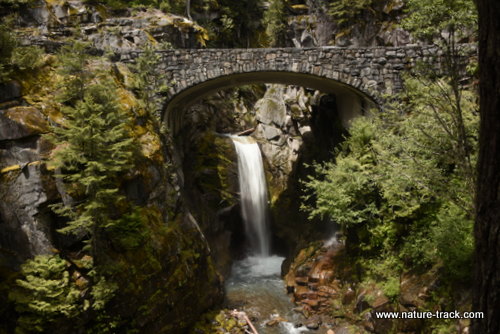 Christine Falls framed by the stone highway bridge.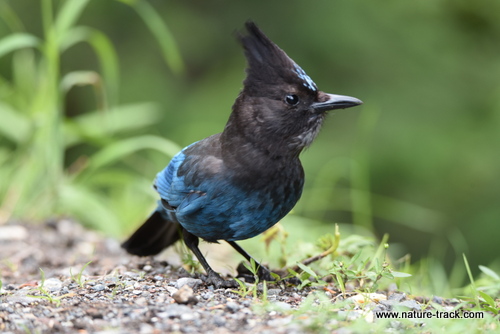 This Stellar's jay entertained my camera until Cathy finally dragged us both away.
After Christine Falls, we stopped at Narada Falls, another pretty place. This one requires a short walk (one-quarter mile or less) down a steep trail. You end up close to the falls but not at the base. It is worth the hike. A strong neutral density filter will allow you to capture the water as a moving blur which I think adds interest.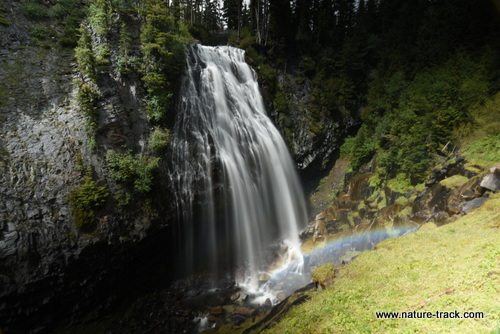 From there we pressed on to Paradise, a historical area with a visitor center, inn, mountaineering shop and more. For about 100 years Paradise has been catering to people who wanted to recreate in the shadow of Mount Rainier. At one time there was even a tow rope for skiers there. This is also the jumping off point for climbers and hikers. Trails lead through alpine meadows full of wildflowers and astounding views of the peak of Rainier.
For us though, Paradise was still a place trying to wake from a long winter. It had snowed the night before and about a foot of snow was still trying to melt off and it was a bit on the chilly side. The Paradise Loop, a one-way scenic drive was still snowed in.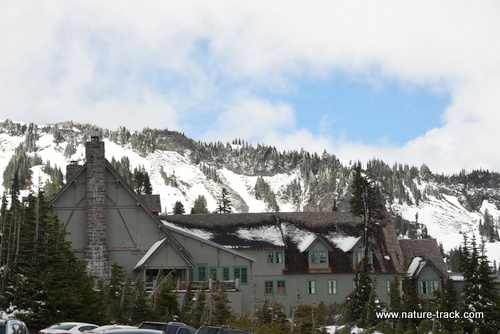 Paradise Inn is an historic structure. Rooms start at around $100 per night if you are willing to use a common shower room.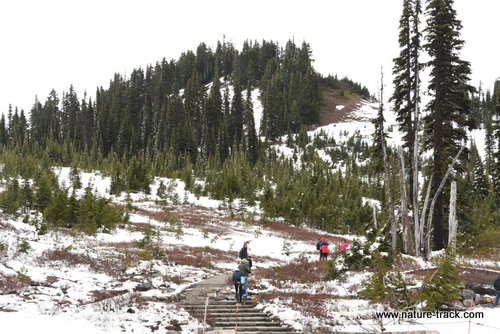 Trails lead from Paradise to what eventually will be flower-filled fields. 
What was most interesting to me was the change in vegetation and even season the further up we climbed. From the temperate rainforest at Longmire, we steadily climbed through increasingly coniferous forest until we reached Paradise. At Paradise was the beginning of the alpine tundra, with treeline looming not far off. Summer was beginning in the rainforest, but the alpine tundra was still weeks away from rising from the crush of winter.
When we left Paradise, we headed down toward Box Canyon. This is an interesting slot canyon carved millennia of glacier melt and seasonal moisture. It wasn't formed through glaciation in the normal sense even though evidence of glacier action was evident in the scratched bedrock. This canyon was formed by the cutting force of water. It is nearly 150 feet deep and only 15-20 feet wide in most places. It was also a very interesting challenge to photograph because try as I might, the photos came out looking like waterfalls instead of a stream.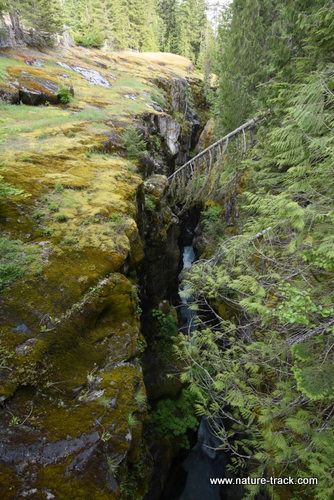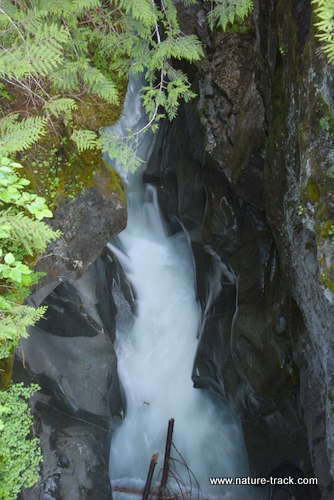 Box Canyon is definitely a place to spend a little time. Unlike much of the park, this canyon was not created by glaciers but rather by water.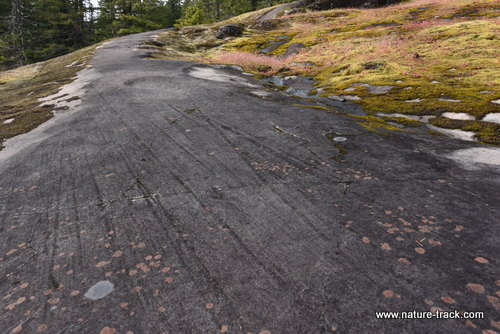 Deep striations in the bedrock at Box Canyon show the power of a moving glacier.
After a long day, we finally made it back to town just before sunset and grabbed dinner at a nearby restaurant. I had to wonder then, did we accomplish what we set out to do? Were we able to capture the flavor of the park in a day?
In short, yes, I think I now know what Mount Rainier National Park is about. I do think that our snapshot visit was hampered by the early season and by simply not having enough time to see and do everything. If the mountain had been visible, if the trails from Paradise had been filled with flowers, I don't think we could have even have come close to seeing it all or even getting a taste. Our 15-hour day was pretty packed just exploring, mostly behind the windshield, what we did see.
So, where is Rainier, how do you get there and when is the best time to go? First things first. Rainier is in Washington, about 1.5 hours east of the Seattle/Tacoma area. Being that close to a major urban area, it is understandable that things can get crowded in the park. We thought that the middle of June would be perfect but if I return, it will be in the latter part of July. Fighting the crowds will just be part of the experience.
We drove over through Ontario and Burns Oregon, up through Yakima, Washington. It took us about 12 hours of driving time. We specifically wanted to approach from the east (Stevens Canyon entrance off of Highway 123) because we had been told that coming from the west you must compete with all the Seattleites and traffic can be very heavy. It may take an hour or more to get through the gate and I don't have that kind of patience. However, we did go through the west entrance at Nisqually near Longmire and it wasn't busy at all. But then it was June not July or August.
There appears to be a lot of dispersed camping available on the east side as well. We didn't get a chance to go look for ourselves so you will want to check on that, but there is a lot of National Forest there.
We came home through Spokane, Coeur de Alene and Missoula and found that it was about the same time. I enjoyed both routes and would recommend doing both, especially if one or both are new to you.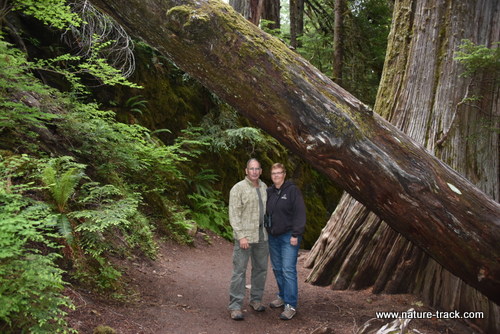 Our next post will be Olympic National Park in a day.