Olympic National Park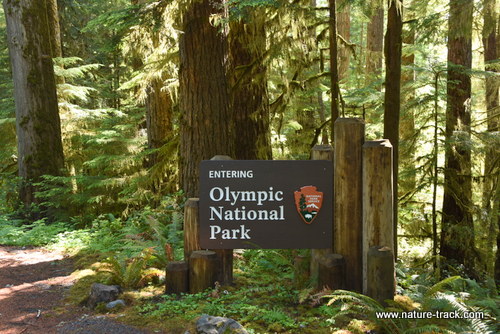 If our visit to Mount Rainier National Park seemed like a whirlwind, our next day's journey to Olympic National Park west of Seattle was even more frenetic. Actually, frenetic really isn't right—what was it? A bunch of windshield time because of the distances involved.
We left our motel in Packwood about daylight, hoping to get through the Seattle area before the morning traffic. At about 0800 we stopped at Elma at a café called the Rusty Tractor Family Restaurant. It had some pretty good reviews on Trip Advisor but I found it a bit on the expensive side and just okay on the food. I don't think I would stop there again, but that's just me.
We stopped to hike to the reportedly largest living western cedar in the world on the north shore of Lake Quinault. It was a short and interesting hike but the tree wasn't all that impressive. Maybe I was expecting too much or something. I kind of think I was expecting it to look majestic like a redwood, but really, it just looked old and tired, trying to hang onto life.
Largest Western Red Cedar
We finally made it to Olympic National Park around noon. Olympic is an interesting park in that it is in several pieces. We reached the coastal strip first and spent a little time looking at the campgrounds and the beaches. We watched ships on the ocean, looked at the lighthouse on Destruction Island (from a distance) and watched people beachcomb as the tide was out. This was definitely an impressive spot, a place where we would like to return to and camp for a week or so. We had been advised by a ranger not to miss the town of La Push on the coast, but we were pushed for time and ended up skipping it.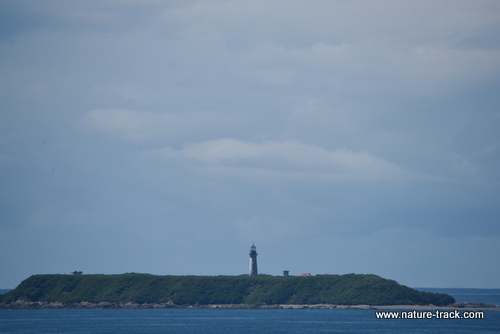 Destruction Island
The visitor center at the Hoh River was our next stop. Surprise! Until July it works on short hours and Thursday, the day we were there, was the closed day. There was one other visitor center at park headquarters in Port Angeles but we would not be able to make it there on time and still do a little hiking.
I was bummed at that because, first, I like visitor centers. I like to learn all I can about the park and I love the movies they have. Besides that, I have just started collecting the park medallions and really wanted this one for my collection. Some things just aren't meant to be.
We took a hike behind the visitor center though. It accessed  the aptly named Hall of Mosses. This was a short and very pretty hike made better by interesting interpretive signing and a Roosevelt cow elk. To the best of my memory, this is the first Roosevelt elk I have ever seen. Roosevelt elk are significantly larger than Rocky Mountain elk and that was obvious with this cow.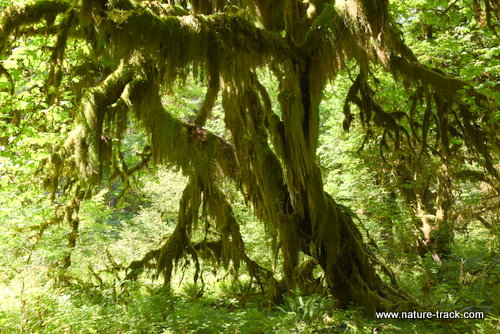 Hall of Mosses
Rain forest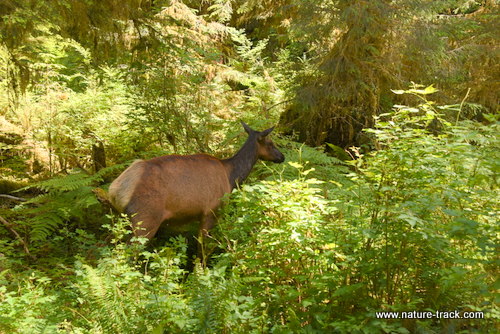 Roosevelt elk on Hoh River
As we drove north and east, we came to the Elwha River. This is the place where just two years ago a dam had been removed opening up miles of the Elwha River inside the park to spawning salmon. Unfortunately, after a couple of miles, this road was also closed and several kiosks explained the dam removal and the current safety issues at the site.
From there, we basically just drove around the outside of the park on Highway 101, ending back up in Seattle. We could see the Olympic Mountains from the north and east sides and that was pretty.
Weather-wise, we had about as perfect a day as can be imagined. Blue skies and warm temperatures greeted us everywhere we went. However, we have been told that our experience was not the norm. This is temperate rainforest and it rains up to 140 inches a year. The norm is for clouds and rain. Upper areas like Hurricane Ridge may receive 35 feet of snow each winter.
All in all, Olympic is yet another place I would like to spend much more time in. I would like to wander the beaches and hike the trails and spend more time just exploring the rainforest. I will make sure to take a rain jacket though.