Plans
Our plan: Hopscotch across the heart of America, reveling in a wonderful October vacation, timed to catch the peak of the changing colors in the east. Our boots would pick up mud at a national recreation area, four national parks, two national monuments and any national wildlife refuge that could be reasonably visited between Idaho Falls and Tennessee. We would camp along the way, taking advantage of national forest campgrounds whenever national park camping was impractical.
The federal government's plan: Make sure we could not do one single activity in the above plan. When Congress failed to ratify the budget and the government shutdown, we began to scramble. Not only were all of our stops now closed, but campgrounds were gated and even some of our routes were blocked. How do you even GET to Cody, Wyoming when you can't go through Yellowstone National Park?
New plan: Grandkids wait at the end of our journey so cancelling the trip isn't an option, nor is flying at this late date. We poured over maps and websites looking for alternatives. One day from departure and we are still undecided. It is not that we couldn't find suitable substitutes for federal lands. On the contrary, we have found so many alternatives that we must choose between them.
We started by staring bleakly at road maps.  It seemed like a daunting challenge to find something besides the national treasures we had planned to visit. We had determined to take scenic drives, identified by trails of little green dots paralleling some roads on most maps, as often as possible so we started there. We found we could still take scenic routes even though we couldn't travel park roads. In fact, we could take a number of them in almost any direction.
Next, we searched the internet and a few reference books for alternate places to stay. That wasn't hard either as there are plenty of private campgrounds on most of our routes. And dispersed camping on federal ground is still an option.
Finally, we needed to find awesome places to visit. We quickly found that every state we had the potential to visit has a state park system full of fascinating destinations and dozens of wildlife management areas. Almost everything we wanted to know about the state parks and wildlife areas was on their respective websites, including maps and directions, facilities such as campsites and hiking trails, and things to do and see. Our trip will still include visits to caves, hikes to waterfalls, wildlife and plenty of fall colors in a variety of settings, but they won't be on federal lands.
Lessons learned: We definitely love our national parks, monuments, national forests, wildlife refuges and all public lands available for us to enjoy and I can hardly wait for their joyous re-opening. However, in the meantime, there is still a lot of country available out there. And even if federal facilities are closed, rivers will still flow, elk will still bugle and leaves will still change because Nature never rests.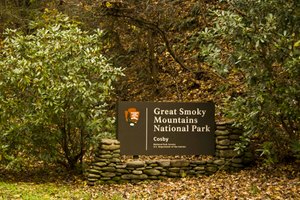 While national parks are closed until further notice, smart tourists can still enjoy nature by using state parks, wildlife management areas and similar places that ARE open.