Things Are Changing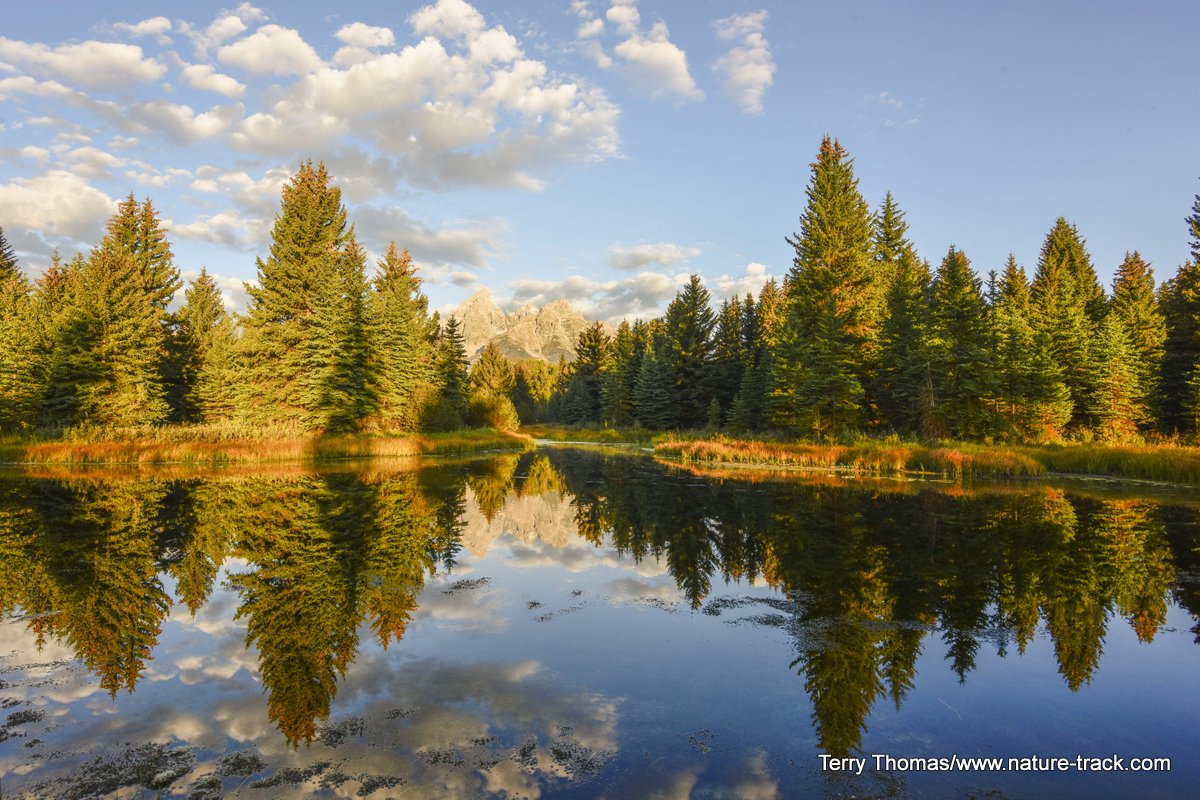 The views in the parks are still the same, but we'll be sharing the popular ones, like Schwabacher Landing, a lot more from now on.
---
About mid-September, we took a morning drive into Yellowstone, hoping to photograph some elk. After several hours, it was clear that the elk weren't going to cooperate and I was getting a bit bored. Against my wife's wishes, I started playing the license plate game, trying to note as many different states as I could. A few days later, we went to Grand Teton National Park through Yellowstone. I insisted on playing the game again as I find it so interesting to see where visitors are coming from. A week later, I played the game a third time in Grand Teton, insisting that we cruise all the parking lots. Within an hour, we could usually reach 35 states, but it took a bit of effort to get the rest.
I learned a lot from these games. Clearly, western states dominated in sheer volume, but with the exception of one state (Hawaii got a pass), every state in the lower 48 and even Alaska was represented. Delaware and West Virginia were only seen once, but Rhode Island was the only absent one. Also, it was almost impossible to determine an unfamiliar state when vehicles were moving. There are so many license plate designs (Montana alone must have three or four dozen different plates) that it was mindboggling and we could have missed Rhode Island.
What I really learned though, was that September, once a peaceful time in the parks, is almost as crowded as the summer months. Construction east of Old Faithful could back up hundreds of vehicles in minutes. At Jenny Lake in Grand Teton, parking extended out to the inner Park Loop road. The parking lots of every feature we saw in Yellowstone were all full by 10:00 a.m. Some of our favorite remote places had no available parking and the Moose-Wilson road was a nightmare. Campgrounds were completely full and available only by reservation.
Headed home, we came to a standstill east of Firehole Drive several miles from Madison Junction. The traffic coming into the junction from the north was also backed up. We assumed it was a bison jam, but as we finally worked our way down past the Madison Campground, we discovered that four cow elk were actually the cause of the miles-long vehicle stalemate. The elk were on the side of the road, and as each car passed by, it would stop and out would pop the cell phones from the windows. That is all it took.
So, what is the point of my whining? It is this: If you plan on going to the parks, there really isn't a shoulder season anymore. However, that doesn't mean that you can't find places that still don't have crowds. You just have to be a bit more creative, be willing to get out on your feet or drive a few bumpy roads. I no longer divulge places that I have found, but I can offer a few suggestions on how to find your own places.
First, study the park map carefully for places hidden in plain sight. Then, get a better map than what you receive at the entrance kiosks. You will find old roads and trails that the Park Service no longer promotes on these maps. Older trails may be a bit overgrown, but still passable. Out-of-date trail books can be invaluable for this. We found several places in this way just last week.
Getting off trail is permitted in most places, and this is another good way to discover new things. I love to wander up and down creeks and rivers where I almost never encounter another soul and discover some amazing things.
Check out any road that is not officially closed and walk those that are unless prohibited. Also, my wife points out that a lot of clues can be found on the roadside displays that most people just fly past. Picnic areas often hide short trails and wildlife.
Finding solitude in the new normal of park life is going to take some work, but it can be done. Just don't tell anyone you know from Rhode Island.
---
Help Idaho Wildlife
When we traveled across the state in October 2017, most of the vehicles we saw using the wildlife management areas did not have wildlife plates. Buying wildlife plates is a great way for non-hunters and hunters alike to support wildlife-based recreation like birding.
C'mon folks, let's help Idaho's wildlife by proudly buying and displaying a wildlife license plate on each of our vehicles! 
See below for information on Idaho plates. Most states have wildlife plates so if you live outside Idaho, check with your state's wildlife department or vehicle licensing division for availability of state wildlife plates where you live. 
And tell them that you heard about it from Nature-track.com!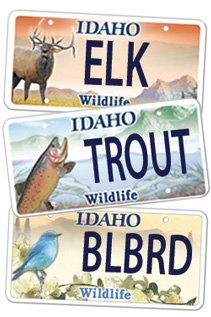 Wildlife License Plates
Idaho Wildlife license plates provide essential funding that benefits the great diversity of native plants and wildlife that are not hunted, fished or trapped—over 10,000 species or 98% of Idaho's species diversity. Game species that share the same habitats (such as elk, deer, antelope, sage-grouse, salmon, trout) also benefit from these specialty plates.
No state tax dollars are provided for wildlife diversity, conservation education and recreation programs. Neither are any revenues from the sale of hunting or fishing licenses spent on nongame species. Instead, these species depend on direct donations, federal grants, fundraising initiatives—and the Idaho Wildlife license plates.
Both my vehicles have Bluebird Plates. I prefer the bluebird because the nongame program gets 70 percent of the money from bluebird plates, but only 60 percent of the money from elk and trout plates - 10 percent of the money from elk plates supports wildlife disease monitoring and testing programs (to benefit the livestock industry) and 10 percent from cutthroat plates supports non-motorized boat access.
Incidentally, in 2014, the Idaho Legislature denied the Department of Fish and Game the ability to add new plates or even to change the name of the elk and cutthroat plates (very specific) to wildlife and fish plates, a move that would have allowed for changing images occasionally and generating more revenue. It would seem that they believe that we Idahoans don't want a well funded wildlife program. Go figure.