Multiplicity
Capitol Reef National Park in Utah was awesome last week but our short visit left me wondering what I had missed elsewhere.
---
The 1996 movie, Multiplicity, starring Michael Keaton as a stressed and overworked man who finds a way to clone himself so he can handle all his obligations, isn't the first or last to deal with the subject of cloning, but it caught me at a very busy and frustrating point in my life and I could immediately relate. It was supposed to be a comedy, some say Keaton's best, but to me, it was a serious work that set me to dreaming of being able to clone myself. Unlike the movie though, I wanted exact duplicates that can communicate telepathically and share experiences.
The crazy existence of a father with five teenagers and a challenging career while trying to start a business is largely behind me, and so my need for clones may seem to have dwindled, but I find that is not the case. It is just as intense as ever, and certain times of year it is even stronger.
That is because I find it so difficult to choose between the myriad of wonderful activities and opportunities before me. To choose one thing is to exclude all other possibilities. This is never clearer than when I am photographing wildlife in Yellowstone or Grand Teton National Park. The urge to constantly move on, hoping for that one magical encounter, keeps me driving when I should hike, or move on rather than wait out a sleeping bear, because, "there might be something better around the next bend."
Autumn is one of those seasons where deciding where to go on a given day or for a longer trip can nearly make me catatonic. A trip to Capitol Reef National Park was proposed by my sweetheart. Always a favorite place to go, but at what cost? Will I miss out on something in Island Park? Were we selecting the BEST place to spend our time?  We went to Capitol Reef and I tried not to agonize about other places we could have gone.
I once played a game of drawing 100, 200, 300 and 400-mile circles around my home in Idaho Falls to remind myself of all the opportunities that are reasonably near home. I repeated this exercise around my new home in Island Park and it was just as revealing. The 400-mile circle encompasses 125,600 square miles and includes all of Idaho, would need a passport in Canada, reaches central Oregon and Washington, embraces the Black Hills of South Dakota and ends just a smidgen north of Capitol Reef in Utah.  It includes all or at least a small portion of eleven states. Just limiting myself to that circle provides enough choices to make me tremble with indecision.
  The list goes on. The fishing in the fall is often awesome, but there is hunting to be done. When the fall colors peak, where should I go? When a fresh snow frosts the land, should I head to Yellowstone, Mesa Falls, or the South Fork?
Once I make a decision, I try hard to follow the admonitions, "Wherever you are, be there," and, "Immerse yourself in the moment," and for the most part, I can successfully do that, appreciating where I am at and what I am doing. However, when the fish aren't biting or the weather turns unpredictably south on a chosen path, sometimes that little worm of self-doubt wiggles in and I wonder what one of my other choices may have yielded. In those cases, maybe the world doesn't need extra copies of me running around, but I sure do.
---
Help Idaho Wildlife
When we traveled across the state in October 2017, most of the vehicles we saw using the wildlife management areas did not have wildlife plates. Buying wildlife plates is a great way for non-hunters and hunters alike to support wildlife-based recreation like birding.
C'mon folks, let's help Idaho's wildlife by proudly buying and displaying a wildlife license plate on each of our vehicles! 
See below for information on Idaho plates. Most states have wildlife plates so if you live outside Idaho, check with your state's wildlife department or vehicle licensing division for availability of state wildlife plates where you live. 
And tell them that you heard about it from Nature-track.com!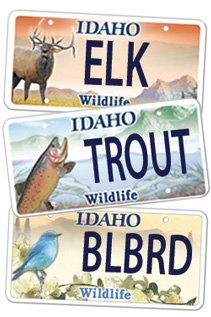 Wildlife License Plates
Idaho Wildlife license plates provide essential funding that benefits the great diversity of native plants and wildlife that are not hunted, fished or trapped—over 10,000 species or 98% of Idaho's species diversity. Game species that share the same habitats (such as elk, deer, antelope, sage-grouse, salmon, trout) also benefit from these specialty plates.
No state tax dollars are provided for wildlife diversity, conservation education and recreation programs. Neither are any revenues from the sale of hunting or fishing licenses spent on nongame species. Instead, these species depend on direct donations, federal grants, fundraising initiatives—and the Idaho Wildlife license plates.
Both my vehicles have Bluebird Plates. I prefer the bluebird because the nongame program gets 70 percent of the money from bluebird plates, but only 60 percent of the money from elk and trout plates - 10 percent of the money from elk plates supports wildlife disease monitoring and testing programs (to benefit the livestock industry) and 10 percent from cutthroat plates supports non-motorized boat access.
Incidentally, in 2014, the Idaho Legislature denied the Department of Fish and Game the ability to add new plates or even to change the name of the elk and cutthroat plates (very specific) to wildlife and fish plates, a move that would have allowed for changing images occasionally and generating more revenue. It would seem that they believe that we Idahoans don't want a well funded wildlife program. Go figure.