We Have It Good
There are only three national wildlife refuges in Ohio, including Ottawa, the largest at 6,858 acres. Together the three are smaller than Camas NWR near Hamer.
---
Somewhere between Toledo and Cleveland, Ohio, the John Denver song, Saturday Night in Toledo Ohio, was running through my head. Maybe you don't know that song, but it starts out, "Saturday night in Toledo, Ohio is like being nowhere at all...They have entertainment to dazzle your eyes, go down to the bakery and watch the buns rise!"
While I am sure this is an exaggeration, and one outdated by decades, the song rattled off my lips as we tried to find places to enjoy nature in a state that is over 86 percent privately owned. We looked hard to find little green spots on the Ohio map that indicated public places where we could birdwatch, take a walk or photograph.
Northern Ohio borders Lake Erie and one would think that wild country would abound. Indeed, northern Ohio is where you will find all three of Ohio's National Wildlife Refuges: Cedar Point, Ottawa, and West Sister Island. However, combined, all three are smaller than Camas NWR north of Hamer.
We checked out several state-run wildlife management areas, Metzker and Magee Marsh, the site of some of the best spring birding for warblers anywhere. Both were closed to the non-hunting public while hunters lucky enough to draw permits worked the marshes for ducks and geese. Since hunting license fees pay for the management of these areas, the Ohio Division of Wildlife isn't shy about letting hunters have it to themselves once in a while.
The Ohio Division of Wildlife has done a credible job securing hunting access in a state largely privately owned. They provide 306 areas of varying size where hunting of some sort is allowed. This list includes the 21 state forests ranging from 64,000 acres to 500 acres and totaling 200,000 acres. It also includes the only National Forest in Ohio, the 250,000-acre Wayne National Forest.
By comparison though, the Palisades District, one of seven districts of the Caribou-Targhee National Forest of eastern Idaho and western Wyoming, is 444,808 acres, of which 200,000 acres are in backcountry. Idaho claims all or part of seven national forests, totaling 20.4 million acres in Idaho, with another 12 million acres of BLM-managed land. Combined, that is four million acres larger than the entire state of Ohio, and it is federal public land!
Ohio does sport one national park. Cuyahoga Valley National Park is south of Cleveland and is reported to be quite beautiful. However, as with most public property here, it is difficult to get large blocks of land that aren't diced up by dozens of inholdings. It makes the park map look like a randomly patched quilt.
Metro parks are the vogue here. We visited one, Howard Marsh, where one thousand acres has recently been reclaimed from farm ground back into wetlands, ponds and forest habitat with boardwalks and trails for people to enjoy it. Purchase and development have cost the partners $13.8 million so far. That is a high pricetag to get back a thousand acres of habitat.
This isn't meant as a slam on Ohio. It is a beautiful state with many attractions and my sample-size is small. I am also reminded that Ohio was being settled before Lewis and Clark even thought about heading to the Rockies. Most of Ohio was in private hands long before Theodore Roosevelt developed the national forest system. Much of the East is similar.
I know I have written on this topic before, so this is simply a reminder of how good we have it in the west and what we stand to lose if public lands are privatized. Unless you are one of the very few who will benefit financially from such a debacle, we, the people, stand to lose a freedom that cannot be returned. We need to care for what we have and be SURE it stays in public hands.
---
Help Idaho Wildlife
When we traveled across the state in October 2017, most of the vehicles we saw using the wildlife management areas did not have wildlife plates. Buying wildlife plates is a great way for non-hunters and hunters alike to support wildlife-based recreation like birding.
C'mon folks, let's help Idaho's wildlife by proudly buying and displaying a wildlife license plate on each of our vehicles! 
See below for information on Idaho plates. Most states have wildlife plates so if you live outside Idaho, check with your state's wildlife department or vehicle licensing division for availability of state wildlife plates where you live. 
And tell them that you heard about it from Nature-track.com!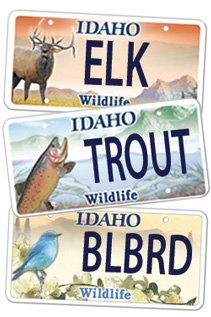 Wildlife License Plates
Idaho Wildlife license plates provide essential funding that benefits the great diversity of native plants and wildlife that are not hunted, fished or trapped—over 10,000 species or 98% of Idaho's species diversity. Game species that share the same habitats (such as elk, deer, antelope, sage-grouse, salmon, trout) also benefit from these specialty plates.
No state tax dollars are provided for wildlife diversity, conservation education and recreation programs. Neither are any revenues from the sale of hunting or fishing licenses spent on nongame species. Instead, these species depend on direct donations, federal grants, fundraising initiatives—and the Idaho Wildlife license plates.
Both my vehicles have Bluebird Plates. I prefer the bluebird because the nongame program gets 70 percent of the money from bluebird plates, but only 60 percent of the money from elk and trout plates - 10 percent of the money from elk plates supports wildlife disease monitoring and testing programs (to benefit the livestock industry) and 10 percent from cutthroat plates supports non-motorized boat access.
Incidentally, in 2014, the Idaho Legislature denied the Department of Fish and Game the ability to add new plates or even to change the name of the elk and cutthroat plates (very specific) to wildlife and fish plates, a move that would have allowed for changing images occasionally and generating more revenue. It would seem that they believe that we Idahoans don't want a well funded wildlife program. Go figure.