Ode to September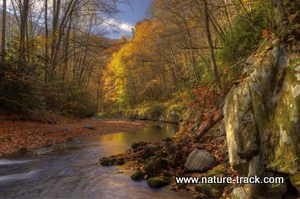 September is full of outdoor possibilities, beautiful leaves and bugling elk. It is the sunlight though that brings the magic to the show.
Like an exhaled breath on a chilly morning, September was here then gone. I tried, but I still could not avail myself of all her pleasures before she faded. Two days past and I am already missing her.
September is awesome because of the plethora of outdoor activities available, but it is more than that. Yet I have trouble deciding exactly what about September, more than any other month, that makes me glad to be alive.
As fast as it passes, September still walks at a lazy pace, loitering in summer's door before tentatively stepping through, as if in apology for the inevitability of the coming winter. The transition plays back and forth, summer today, cold tomorrow and back to summer. The gentle tug-of-war between the seasons is the best of both worlds, like a chocolate and vanilla ice cream swirl.  The stride quickens as October passes and by Halloween we will know that winter is near, but September is laid back and I love that leisurely mood.
I know others feel something different about September as well, yet they are really as lost as I am to explain what it is. A crispness in the air? What does that mean? I've been snowed on in July and frosted in August, yet these didn't feel like September. What then, makes September different?
I spent several Septembers in Central America and I did not get the same feeling as September here in the states. So there are certainly things that must be essential to a proper September.
Throughout September, summers' green drains from the leaves of trees, shrubs, forbs and even grasses. Left behind are hues of yellow, red and orange seen no other time of year. The show builds from just a tinge of color at the first of the month to a full artist's canvas by month's end. Certainly this show is part of what I love about September.
Frosty mornings followed by pleasant sun filled days absent of mosquitoes are another of September's unique pleasures. Coupled with haunting elk whistles lifting through the morning mist or the splash of a trout that sends rings across the quiet reflections on a mountain lake and September is worth the wait.
I think though, that sunlight is ultimately responsible. The Earth's slingshot ride around the sun positions our hemisphere where the sunlight of September strikes obliquely, not with the overhead pounding of the summer sun. It may be this angle of the sun that makes September feel unique, caresses the leaves to sleep and incites the elk to riot. We literally see the world in a different, sweeter light, making it seem new and especially alive.       
I've said it before. I would gladly trade March for a second chance at September.  I don't think I would tire of it and I might just have barely enough time to do many of the things that I want to do. Mostly though, I want to bathe in September's rich light a little longer.