Hunting Ethics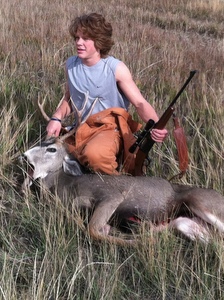 Photo courtesy of Ben Thomas 
Rylan Jackman proudly displays his first buck. He harvested it only after ensuring that he was not messing up someone else's hunt.
It was going to be an easy hunt. About a mile from home, a handful of elk had been having their way with a friend's corn field. They had been there all summer, but now the season was open. Better yet, there were several nice bulls in the group, and I had two sons wanting to elk hunt; one of whom had never killed a bull.
I talked to my sons about the hunt, encouraging them to take a look. Both thought about it but declined. What? Turn down a gimme hunt for a grainfed bull? What was up with that? It turns out that it wasn't the animals they were rejecting. Neither one wanted to trade the experience of chasing elk in the mountains—truly hunting—for an easy kill.
My oldest son recently passed on a black bear because, even though we watched it for almost an hour, we could never ascertain whether or not there were cubs involved. He really wanted to put a bearskin rug on his wall, but refused to accidentally orphan cubs. As the bear finally walked away, two observers told us they would have shot the bear anyway.
If it sounds like I am bragging on my boys, I am. I couldn't be more proud of the decisions that they make regarding hunting. But these stories are about something more—self-imposed ethics in hunting.
This past week my son Ben and I were hunting east of Idaho Falls. In the darkness of pre-dawn, we pulled up to our spot to find another truck parked there. After a short visit with the occupants it was determined that we were planning to hunt opposite sides of the hill and would not be in one another's way.
After a push through a deep canyon, we bumped into these same hunters on the road. They had returned to their vehicle shortly after sunrise and had driven down the side of the hill we were on. There, they had spotted four bucks.
When I asked them if they had gotten a shot, the dad, Marvin Jackman of Idaho Falls, told me they hadn't pursued them even though they knew exactly where they were. Why? I asked. Because, he responded, they were unsure of our plans and didn't want to mess up our hunt.
In today's competitive hunting world that sort of courtesy, concern and sportsmanship is almost unbelievable. I thanked him for his consideration but insisted that they return to the spot and hunt the deer. We hiked back over the hill and had the privilege of watching Marvin's son, Rylan, bag his first deer with a perfect shot.
Few other avocations are like hunting. Hunting requires a strong personal code of conduct because there aren't many rules governing behavior and, more often than not, there is no referee to stop the hunt and castigate the participant for mis-deeds. Hunters, by how they voluntarily choose to behave, will eventually make or break hunting in this country.