Transition Time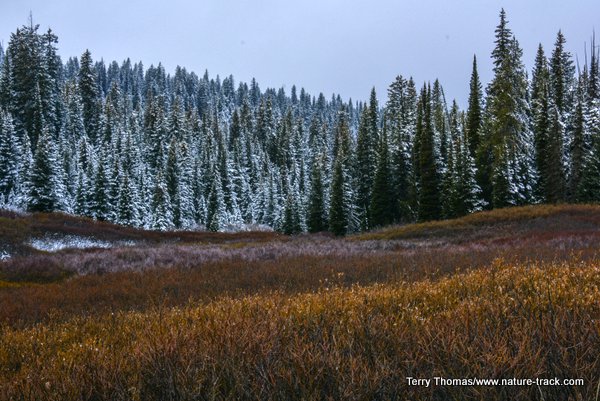 The transition between fall and winter is usually a process, marked by a give and take as the seasons vie for dominance.
---
I sat on my heels studying the tracks in the snow. It was two days after Thanksgiving and I was preparing for my last afternoon of elk hunting. The snow had suffered the ravages of warm weather and even rain, but the tracks and the gait still looked like those of a bear, but I couldn't determine whether is was a grizzly or black bear. I had expected that the bears would be in their dens by now and had to rummage around in my truck for a can of bear spray.
The tracks reminded me that as I write this, we are still in a transition. Winter isn't fully upon us but autumn's charms have receded to distant memories. It is a time when bone chilling nights are followed by uncertain days. They are blustery or calm, frigid to balmy, often within the same day. The highest peaks won't be snow free until next summer, but on the lower slopes and valleys, it's a tug-o-war. Snow may accumulate for several days and then melt and settle, even on north slopes, just as quickly. Two weeks ago, the snow on top of my elk hill was almost a foot deep, fresh and white and soft. Today it is half that, a stiff crunchy stuff that advertises my every footstep. And this despite half a dozen storms in the intervening 14 days. 
With the cold, ice has stilled the waters on shallow ponds and marshes, but the waves of larger lakes still lap the shores. It will just take a few cold days for the lakes to freeze but the faster water of hard charging rivers will stay ice-free and some waterfowl will take advantage of the open water all winter.
Each day the rope of time reels in a tiny bit more daylight as the northern axis of the earth continues to tilt away from the sun. It slices off just a minute or two daily until by autumn's close, we will have only 8 hours and 50 minutes between sunrise and sunset to get our daylight business done. The sun's southward slide won't end until December 21st with the official beginning of winter, but by then, the change in season will be apparent.
Despite the ephemeral snow, I deduced that elk have left the hill I hunt. Tracks are all old and heading in the same direction. They are on their way to Wall Creek, Montana for the winter.  Winter has already arrived on Yellowstone's Pitchstone Plateau and elk are heading toward winter ranges in Wyoming, Idaho and Montana, intent on getting across the passes before the snows plug them.
Most of our migratory birds left long ago for southern homes. Northern cousins have taken their place. Many new birds stop over for just a few days. Others, though, stay the winter, considering our world to be a Caribbean vacation compared to their arctic homes. There are also the birds such as the Clark's nutcracker who, like us, stay through the winter. 
In this between season, I can look back on a wonderful summer and fall, and look forward to the renewal winter brings. I know that the final long step into winter could happen any day. It might come with a single storm or a series of cold clear days that ice the lakes and ensures that the snow stays until spring. However and whenever it comes, it will be welcome, as change always is. 
---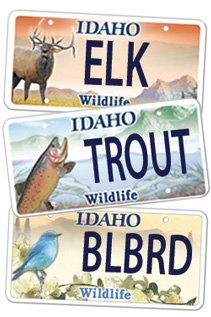 Help Idaho Wildlife
When we traveled across the state in October 2017, most of the vehicles we saw using the wildlife management areas did not have wildlife plates. Buying wildlife plates is a great way for non-hunters and hunters alike to support wildlife-based recreation like birding.
C'mon folks, let's help Idaho's wildlife by proudly buying and displaying a wildlife license plate on each of our vehicles! 
See below for information on Idaho plates. Most states have wildlife plates so if you live outside Idaho, check with your state's wildlife department or vehicle licensing division for availability of state wildlife plates where you live. 
And tell them that you heard about it from Nature-track.com!
Wildlife License Plates
Idaho Wildlife license plates provide essential funding that benefits the great diversity of native plants and wildlife that are not hunted, fished or trapped—over 10,000 species or 98% of Idaho's species diversity. Game species that share the same habitats (such as elk, deer, antelope, sage-grouse, salmon, trout) also benefit from these specialty plates.
No state tax dollars are provided for wildlife diversity, conservation education and recreation programs. Neither are any revenues from the sale of hunting or fishing licenses spent on nongame species. Instead, these species depend on direct donations, federal grants, fundraising initiatives—and the Idaho Wildlife license plates.
Both my vehicles have Bluebird Plates. I prefer the bluebird because the nongame program gets 70 percent of the money from bluebird plates, but only 60 percent of the money from elk and trout plates - 10 percent of the money from elk plates supports wildlife disease monitoring and testing programs (to benefit the livestock industry) and 10 percent from cutthroat plates supports non-motorized boat access.
Incidentally, in 2014, the Idaho Legislature denied the Department of Fish and Game the ability to add new plates or even to change the name of the elk and cutthroat plates (very specific) to wildlife and fish plates, a move that would have allowed for changing images occasionally and generating more revenue. It would seem that they believe that we Idahoans don't want a well funded wildlife program. Go figure.