Gratitude for Public Lands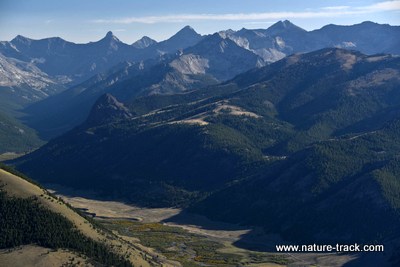 Plentiful public lands are a legacy left to us by forward-thinking men and women. It is a heritage we should be thankful for every day.
---
In the final winter of his presidency, Theodore Roosevelt was in a quandary. One of the first things Roosevelt did when he took office, was to give himself the authority to create national forests and reserves.  In March of Teddy Roosevelt's last term, Congress attached a rider to the agricultural appropriations bill rescinding the ability of the President to create forests and reserves in the six "Northwestern States".  Roosevelt felt compelled to sign the bill but realized he didn't have to sign it for eight days. During those eight days, with the help of Chief of the Forest Service, Gifford Pinchot, he created 22 more national forests to add to the 128 he had already established.
About this now famous coup, Roosevelt noted in his autobiography: "I signed the last proclamation a couple of days before (and) by my signature, the bill became law; and when the friends of the special interests in the Senate got their amendment through and woke up, they discovered that sixteen million acres of timberland had been saved for the people by putting them in the National Forests before the land grabbers could get at them."
What a gift that was. I have traveled a little in the eastern U.S. The east is full of beautiful wonderful places. But there is a paucity of public lands where a wanderer can venture and pitch a tent or hunt a deer without fear of landowner reprisals.  What little public land is there is treasured and highly sought after.
Our federal public lands are largely managed by four agencies. The Forest Service manages 193,000,000 acres. The Bureau of Land Management is responsible for 245,000,000 acres and the National Park Service oversees 94,000,000 acres. The U.S. Fish and Wildlife Service manages another 150,000,000 acres. That totals to about 672,000,000 acres which sounds like a lot. However, it is only 28 percent of this nation's surface area.
In states like Idaho, some argue that there is too much federal public land. I would counter that by suggesting all Idahoans spend a year or two in the East or perhaps in Texas, where the vast majority of the land is privately owned and publicly inaccessible before supporting that conclusion. That is the only way I know to fully gain an appreciation for the freedom our public lands afford us.
The goal of most conservation heroes like Roosevelt was not to put nature under a glass jar but rather the wise use of resources. In 1907 President Roosevelt stated, "To waste, to destroy, our natural resources, to skin and exhaust the land instead of using it so as to increase its usefulness, will result in undermining in the days of our children the very prosperity which we ought by right to hand down to them amplified and developed." Most federal lands are working lands, providing timber, grazing, ore and other resources.
As one who recreates almost exclusively on public lands, on this Thanksgiving Day I am eternally grateful to those who went before with the foresight and the courage to set aside vast chunks of real estate for us, the people.
---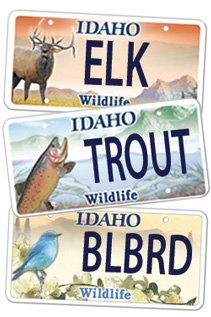 Wildlife License Plates
Idaho Wildlife license plates provide essential funding that benefits the great diversity of native plants and wildlife that are not hunted, fished or trapped—over 10,000 species or 98% of Idaho's species diversity. Game species that share the same habitats (such as elk, deer, antelope, sage-grouse, salmon, trout) also benefit from these specialty plates.
No state tax dollars are provided for wildlife diversity, conservation education and recreation programs. Neither are any revenues from the sale of hunting or fishing licenses spent on nongame species. Instead, these species depend on direct donations, federal grants, fundraising initiatives—and the Idaho Wildlife license plates.
Both my vehicles have Bluebird Plates. I prefer the bluebird because the nongame program gets 70 percent of the money from bluebird plates, but only 60 percent of the money from elk and trout plates - 10 percent of the money from elk plates supports wildlife disease monitoring and testing programs (to benefit the livestock industry) and 10 percent from cutthroat plates supports non-motorized boat access.
Incidentally, in 2014, the Idaho Legislature denied the Department of Fish and Game the ability to add new plates or even to change the name of the elk and cutthroat plates (very specific) to wildlife and fish plates, a move that would have allowed for changing images occasionally and generating more revenue. It would seem that they believe that we Idahoans don't want a well funded wildlife program. Go figure.