Migration Research Unlocks Mysteries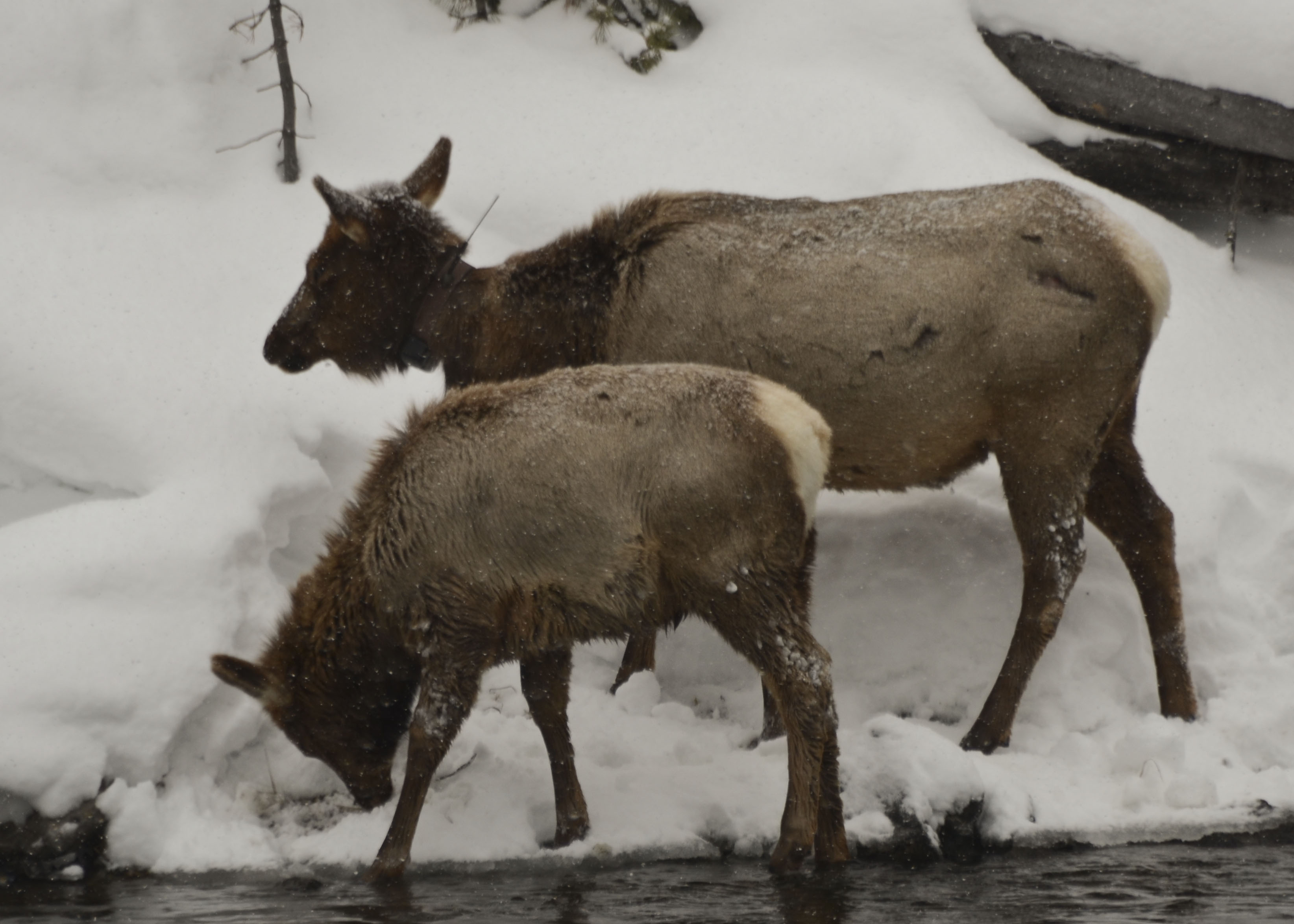 Increasing snow depth is usually what triggers migration for big game animals. Tracking collars like the one the cow is wearing help biologists identify migration corridors and winter ranges and often unusual movements and patterns.
---
Last week I stood on a hill near Henry's Lake. It was a cold clear day and the surrounding snow-covered peaks sparkled like diamonds in the sun. Far overhead, two wedges of trumpeter swans, white as the snowcapped peaks, honked in the brilliant blue sky. They were on a due south compass bearing heading to far off wintering grounds.
The snow around me was full of elk tracks heading in one direction. I could follow them with my binoculars as they disappeared over a ridge to the north and could see their trails spilling across a meadow at the foot of Mt. Jefferson to the south.
Research shows that in their travels, these particular elk will eventually link up with elk pouring out of Yellowstone's Pitchstone Plateau, and all will end up at Wall Creek Wildlife Management Area in Montana.
Migration has always been of interest to biologists and to conservation planners. However, data wasn't easy to obtain. In years past, biologists would put a VHF tracking collar on an animal and then have to climb into an airplane to track it. In rigorous studies, relocations would occur about once a week. At the end of the study, the researcher would have a very thin sketch of where that animal went while monitored. This was slow and expensive for not a lot of data.
Technological advances have changed the migration game and migration is one of the fastest growing research topics. Researchers now employ GPS technology with collars that communicate with satellites for highly accurate locations.
Depending on how the collars are programmed, they can provide all kinds of feedback from hourly locations to the animal's heart rate. Better yet, all this data is downloaded on demand right to the biologist's computer.  Once outrageously expensive, GPS collars and monitoring are now less expensive than VHF in most cases.
Whether VHF or GPS, it seems that every time researchers place tracking collars on animals there are surprises. One such case was a pronghorn antelope project that occurred near Carey. It was assumed that these animals would move south toward Shoshone to winter. But researchers were stunned when they discovered that they moved east, not south, and wintered near Howe at the bottom of the Little Lost.
An elk study, conducted in the Centennial Mountains and Island Park, discovered that some elk that summer in Idaho don't winter in the Sand Creek Desert. Rather, they head to winter range around Montana's Lima Reservoir.  
And no one would have predicted that some mule deer wintering on the Sand Creek Desert spend their summers around Jackson Lake in Grand Teton National Park and another, collared near Howe, would end up near Bozeman, Montana.
We tend to think of fall migration as a north to south thing. That certainly can be true, particularly with birds. However, migration for big game can be in any direction. For instance, elk and mule deer that winter at Tex Creek WMA actually migrate north to winter. The key is that the animals move to lower elevations regardless of the compass bearing.
Migrations can be long. The longest documented big game movement is a mule deer herd that migrates 150 miles between Jackson Hole to Rock Springs, Wyoming. Pronghorn from Jackson Hole winter near Big Piney, Wyoming, a distance of over 100 miles.
Idaho, Wyoming and Montana will each deploy up to 400 tracking collars this year. I can hardly wait to hear what new surprises researchers will uncover.
---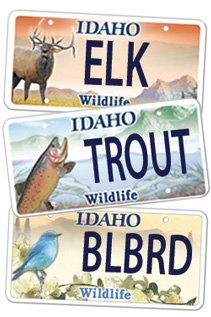 Wildlife License Plates
Idaho Wildlife license plates provide essential funding that benefits the great diversity of native plants and wildlife that are not hunted, fished or trapped—over 10,000 species or 98% of Idaho's species diversity. Game species that share the same habitats (such as elk, deer, antelope, sage-grouse, salmon, trout) also benefit from these specialty plates.
No state tax dollars are provided for wildlife diversity, conservation education and recreation programs. Neither are any revenues from the sale of hunting or fishing licenses spent on nongame species. Instead, these species depend on direct donations, federal grants, fundraising initiatives—and the Idaho Wildlife license plates.
Both my vehicles have Bluebird Plates. I prefer the bluebird because the nongame program gets 70 percent of the money from bluebird plates, but only 60 percent of the money from elk and trout plates - 10 percent of the money from elk plates supports wildlife disease monitoring and testing programs (to benefit the livestock industry) and 10 percent from cutthroat plates supports non-motorized boat access.
Incidentally, in 2014, the Idaho Legislature denied the Department of Fish and Game the ability to add new plates or even to change the name of the elk and cutthroat plates (very specific) to wildlife and fish plates, a move that would have allowed for changing images occasionally and generating more revenue. It would seem that they believe that we Idahoans don't want a well funded wildlife program. Go figure.