Melanism
---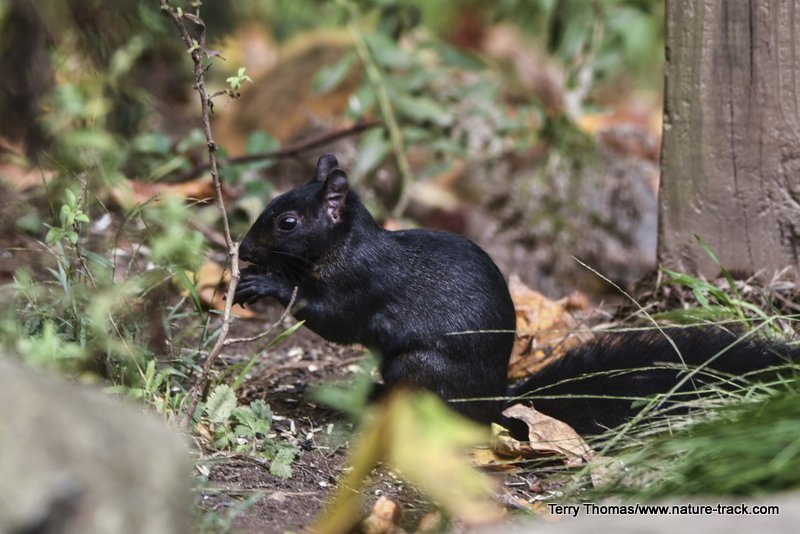 This melanistic gray squirrel was playing around a bird feeder in Wisconsin. The first time we saw one we thought it was quite rare. However, it seemed every woodlot had its contingent of black squirrels.
---
I was returning from Boise via Craters of the Moon one November afternoon several years ago. A few miles from Arco, I noticed three mule deer in the field alongside the road. It wasn't an unusual scene and I barely glanced at them as I drew closer. But when I realized what I was seeing, I couldn't get the truck stopped fast enough. The doe and one fawn were typical enough, but the other fawn was coal black.
By the time I got stopped and back to the deer, they had disappeared, leaving me holding my camera and dismally shaking my head. Another once-in-a-lifetime photographic opportunity lost. I have since seen photographs of black mule deer, but I don't have one of my own.
Solid black individuals in populations that are otherwise colored, is unusual, to say the least. It is called melanism and is basically the opposite of albinism, animals that lack any skin and hair pigmentation at all, yielding an all-white, pink-eyed animal.
In melanistic individuals, the dark pigment in the skin and hair, melanin, is turned up to high, overpowering normal pigments. It is interesting to note that depending on the species, this is the result of dominant or recessive genes. For instance, melanism in jaguars is conferred by a dominant allele. In the African leopard, it is a recessive allele. Both are called black panthers though and both are gorgeous cats.
In the east, where we just returned from, there is a melanistic form of a gray squirrel. These look a bit like small black housecats at first glance. These squirrels are quite popular, even where gray squirrels are less appreciated, and can be found throughout gray squirrel range.
All-gray squirrels that mate with other solid gray squirrels cannot produce black offspring. This goes back to the genetics of the equation. All-gray squirrels carry both alleles for grayness. Black squirrels may carry one or two of the melanistic alleles. If it has only one "mutant" gene, it will be brown-black. If it has both, it will be jet black.
Albinism is generally a handicap, making the individual easy to spot and kill. Melanism though, can have ecological advantages and it is easy to see why it may be retained genetically in a population. We all remember the story from high school biology of the pepper moth in Great Britain. As industrial pollution increased and blackened tree trunks, the melanistic form of the pepper moth became dominant as it blended better with the new reality of soot-covered trunks. As pollution tapered back off, the lighter form was favored and increased. Overall, the population survived the changes in the environment because of the "mutant" gene producing melanism.
The same is true for the gray squirrel. Some scientists believe that the black phase of squirrel was dominant before the virgin forests of the east were removed with settlement. The thinking is that these black animals were much better camouflaged in the deep dark forests than their gray brothers and sisters. When the forests were removed, the gray version gained the upper hand in the lighter brighter forests.
Many species of animals have melanistic individuals. This includes insects, birds, reptiles and many species of mammals and melanistic and normally colored litter-mates can co-exist.
The diversity of nature always amazes me and it is a reminder that given a chance, nature can find a way. I just hope I am ready with my camera the next time I see it.
---
Help Idaho Wildlife
When we traveled across the state in October 2017, most of the vehicles we saw using the wildlife management areas did not have wildlife plates. Buying wildlife plates is a great way for non-hunters and hunters alike to support wildlife-based recreation like birding.
C'mon folks, let's help Idaho's wildlife by proudly buying and displaying a wildlife license plate on each of our vehicles! 
See below for information on Idaho plates. Most states have wildlife plates so if you live outside Idaho, check with your state's wildlife department or vehicle licensing division for availability of state wildlife plates where you live. 
And tell them that you heard about it from Nature-track.com!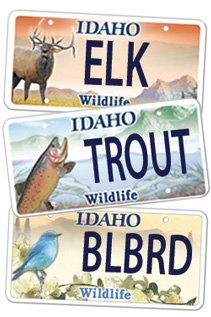 Wildlife License Plates
Idaho Wildlife license plates provide essential funding that benefits the great diversity of native plants and wildlife that are not hunted, fished or trapped—over 10,000 species or 98% of Idaho's species diversity. Game species that share the same habitats (such as elk, deer, antelope, sage-grouse, salmon, trout) also benefit from these specialty plates.
No state tax dollars are provided for wildlife diversity, conservation education and recreation programs. Neither are any revenues from the sale of hunting or fishing licenses spent on nongame species. Instead, these species depend on direct donations, federal grants, fundraising initiatives—and the Idaho Wildlife license plates.
Both my vehicles have Bluebird Plates. I prefer the bluebird because the nongame program gets 70 percent of the money from bluebird plates, but only 60 percent of the money from elk and trout plates - 10 percent of the money from elk plates supports wildlife disease monitoring and testing programs (to benefit the livestock industry) and 10 percent from cutthroat plates supports non-motorized boat access.
Incidentally, in 2014, the Idaho Legislature denied the Department of Fish and Game the ability to add new plates or even to change the name of the elk and cutthroat plates (very specific) to wildlife and fish plates, a move that would have allowed for changing images occasionally and generating more revenue. It would seem that they believe that we Idahoans don't want a well funded wildlife program. Go figure.