Nest Box Plans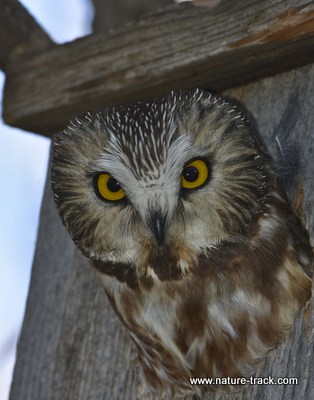 A female saw-whet owl pokes through the hole in her nest box. This same nest box design works for screech owls and kestrels too. 
Backyard birds can be finicky friends. Many species readily adapt to backyard life so long as their basic needs are met but they can be particular about those needs. One basic need is having a place to raise their babies. Since over 50 species of birds require nesting cavities, placing bird nest boxes can help them out. However, not just any box will do. Each group of species has special requirements that range from the size of the hole to the size of the box to the location of the box (open area, thick cover, near water, etc.) and even where the entry hole is located. Here you will find a number of resources to help you build a bird nest box that will find willing tenants.
The following website has a number of plans as well as lots of good advice for nest boxes:
 http://www.thebirdersreport.com/resources/nest-box-birdhouse-plans
Once you have birds using your nest boxes consider joining the Citizen Scientist effort to monitor nest success across the country. Find out more at: www.nestwatch.org
---
Saw-Whet Owl Kestrel and Screech Owl 
---
C'mon folks, let's help Idaho's wildlife by proudly buying and displaying a wildlife license plate on each of our vehicles!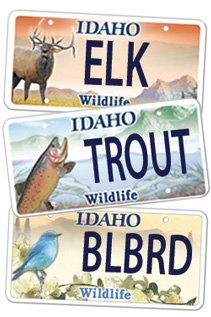 Wildlife License Plates
Idaho Wildlife license plates provide essential funding that benefits the great diversity of native plants and wildlife that are not hunted, fished or trapped—over 10,000 species or 98% of Idaho's species diversity. Game species that share the same habitats (such as elk, deer, antelope, sage-grouse, salmon, trout) also benefit from these specialty plates.
No state tax dollars are provided for wildlife diversity, conservation education and recreation programs. Neither are any revenues from the sale of hunting or fishing licenses spent on nongame species. Instead, these species depend on direct donations, federal grants, fundraising initiatives—and the Idaho Wildlife license plates.
Both my vehicles have Bluebird Plates. I prefer the bluebird because the nongame program gets 70 percent of the money from bluebird plates, but only 60 percent of the money from elk and trout plates - 10 percent of the money from elk plates supports wildlife disease monitoring and testing programs (to benefit the livestock industry) and 10 percent from cutthroat plates supports non-motorized boat access.
Incidentally, in 2014, the Idaho Legislature denied the Department of Fish and Game the ability to add new plates or even to change the name of the elk and cutthroat plates (very specific) to wildlife and fish plates, a move that would have allowed for changing images occasionally and generating more revenue. It would seem that they believe that we Idahoans don't want a well funded wildlife program. Go figure.