Wildflower Tours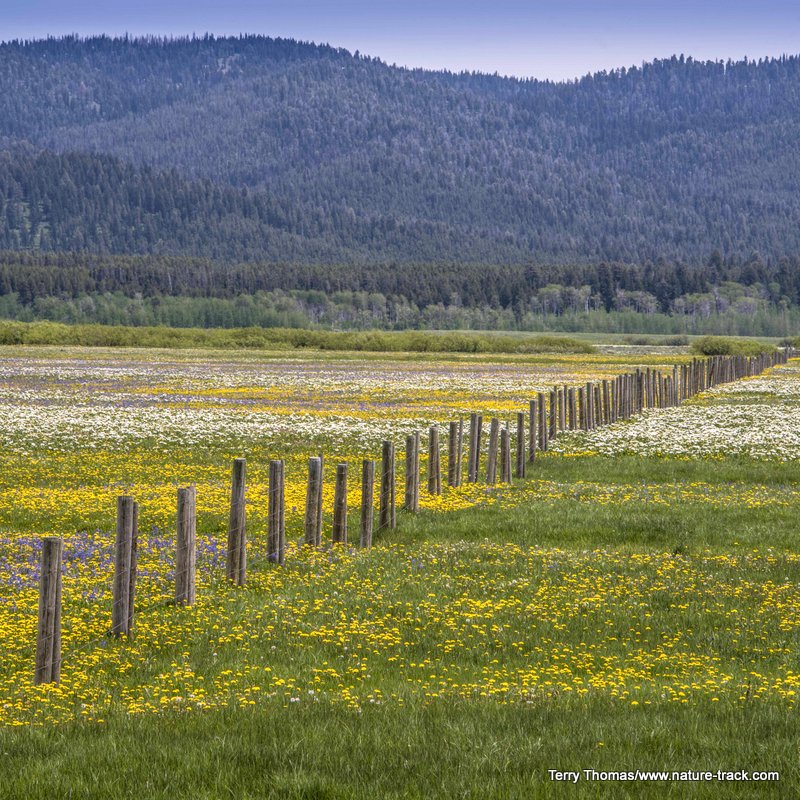 This image of Henrys Lake Flat graced the May 2019 Island Park calendar. Flowers on Henrys Lake Flat may be a little later blooming than flowers at Harriman, extending the wildflower show by several weeks.
---
For the past several years I have produced landscape calendars of Island Park. The images that always draw the most comments are not the amazing sunsets or the Henry's Fork or the awesome waterfalls there. The photos that get the most attention are always those that include fields of wildflowers.
It seems that even the most callous individuals are moved by the beauty that transforms a landscape when flowers are blooming en masse. I know that more than once, I have slammed on the brakes, risking life and limb, captivated by a field of flowers.
Like birds, my favorite wildflowers are usually the ones that mesmerize me at the moment. I am enthralled equally by lupine, fireweed, balsamroot, camas, mule's ear, asters, geraniums, yarrow and just about every other wildflower. I am especially taken by huge expanses with many species in bloom at once.
There are also individual flowers that are so intriguing that they cannot (and should not) be ignored. Monk's hood, columbine, larkspur and elephanthead come to mind as flowers that seldom form massive color swaths on the landscape but are simply breath-taking up close.
To be captivated by wildflowers you have to find them. Over the years I have tried to make note of where and when to find the best shows, and though timing can vary somewhat with each year, here are some general ideas.
Blooms typically start in the lower elevations and follow the receding snow. The wildflower palette is always changing and you can prolong the flower season for some species by just properly timing your visits to increasingly higher elevations.
In Island Park, flowering should begin by late May. Take the Mesa Falls road and check out some of the backroads off of it, including those that lead to the Warm River headwaters. Extensive blooms of mule's ear (white and yellow varieties), and balsamroot will spring up along Highway 20 in early June, providing some really stunning displays. Henrys Lake Flat will follow with mixed displays that will inspire. Be sure to drive as many backroads as you can and you will find many other treasures.
The flowers at Craters of the Moon have already started, but the peak of the season is mid-June. Then you can see dwarf monkeyflower and other species carpet the cinder fields, contrasting nicely against the dark rock.
In Grand Teton National Park, follow the flowers of the same species over time as the blooms start at the lower elevation south end of the valley and move northward. By the first of June, you should start watching for the beginning of the show on Antelope Flat and along the Park road. By Mid-June it should be in full swing. Flowering along alpine trails will continually change as the snow continues to melt. Mid-July to mid-August can be spectacular in the alpine areas.
Traveling outside our area will bring new surprises. While in Minnesota a few years ago, we were blessed to see our first Lady's Slipper orchid. These pink-bloomed beauties with tulip-like leaves grow in stunning groups that are too small for a landscape but will leave you spellbound as you rest in their presence.
While I love botany and wildflower biology, during the bloom time, I also like to set science aside and just appreciate the show that wildflowers provide. It fills me with gratitude and appreciation for the art of nature.
---
Help Idaho Wildlife
When we traveled across the state in October 2017, most of the vehicles we saw using the wildlife management areas did not have wildlife plates. Buying wildlife plates is a great way for non-hunters and hunters alike to support wildlife-based recreation like birding.
C'mon folks, let's help Idaho's wildlife by proudly buying and displaying a wildlife license plate on each of our vehicles! 
See below for information on Idaho plates. Most states have wildlife plates so if you live outside Idaho, check with your state's wildlife department or vehicle licensing division for availability of state wildlife plates where you live. 
And tell them that you heard about it from Nature-track.com!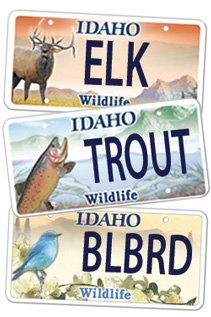 Wildlife License Plates
Idaho Wildlife license plates provide essential funding that benefits the great diversity of native plants and wildlife that are not hunted, fished or trapped—over 10,000 species or 98% of Idaho's species diversity. Game species that share the same habitats (such as elk, deer, antelope, sage-grouse, salmon, trout) also benefit from these specialty plates.
No state tax dollars are provided for wildlife diversity, conservation education and recreation programs. Neither are any revenues from the sale of hunting or fishing licenses spent on nongame species. Instead, these species depend on direct donations, federal grants, fundraising initiatives—and the Idaho Wildlife license plates.
Both my vehicles have Bluebird Plates. I prefer the bluebird because the nongame program gets 70 percent of the money from bluebird plates, but only 60 percent of the money from elk and trout plates - 10 percent of the money from elk plates supports wildlife disease monitoring and testing programs (to benefit the livestock industry) and 10 percent from cutthroat plates supports non-motorized boat access.
Incidentally, in 2014, the Idaho Legislature denied the Department of Fish and Game the ability to add new plates or even to change the name of the elk and cutthroat plates (very specific) to wildlife and fish plates, a move that would have allowed for changing images occasionally and generating more revenue. It would seem that they believe that we Idahoans don't want a well funded wildlife program. Go figure.