Family Fishing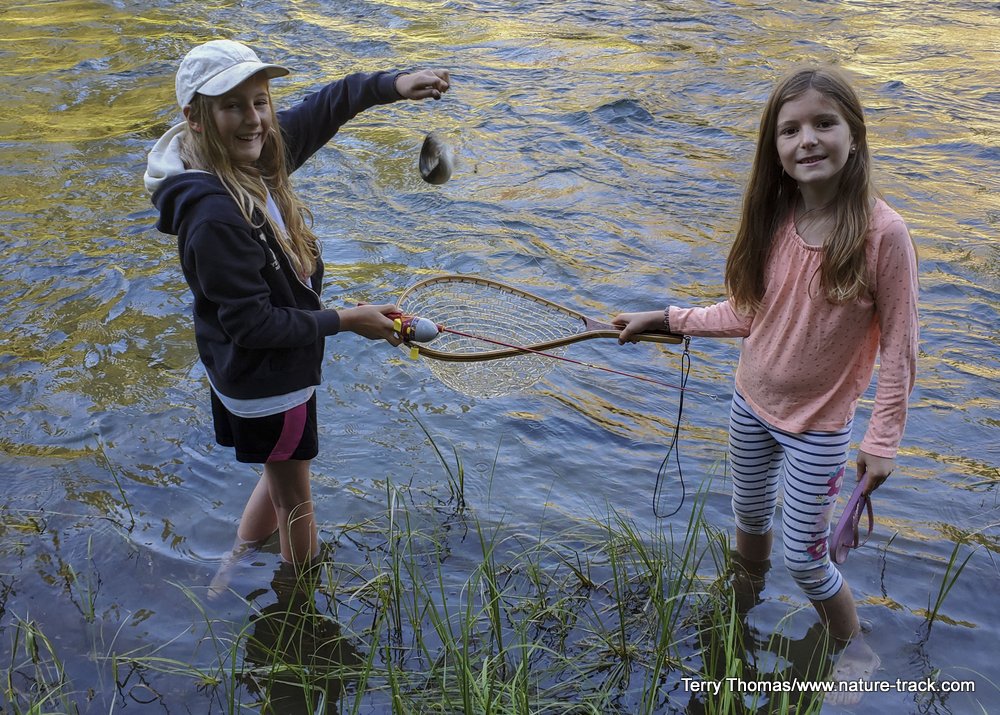 Fishing is an easy way to get kids excited about nature. They will always remember the first fish they catch and may develop a lifelong interest.
---
Despite Covid-19, it won't be long before fly fishermen begin to flock to the Henry's Fork and the South Fork of the Snake River. When Henrys Lake opens on Memorial Day weekend, it too will be full of fly fishermen flailing the waters with long colored lines attached to expensive poles and reels.
Fly fishing is a great form of outdoor recreation, a sport not dissimilar to hunting as it requires stealth, accurate casting and lots of practice. It differs from hunting in that dedicated fly fishermen are usually advocates of catch-and-release fishing and seldom harvest a fish.
Fly fishing is often impractical for families with kids, though. I remember photographing a fly-fishing father wading into the Henry's Fork at Last Chance, his young son, likely no older than 10 years old, clinging desperately to his wading belt. The father was only up to mid-thigh in the water but for his boy, the water nearly topped his waders. I assumed that this was part of a lesson in fly fishing, but it was clear that the boy wasn't going to do much fishing.
So, while fly fishermen are plying the waters, where should families go where the kids can learn to love fishing and be safe? As it turns out, there are plenty of places where families can enjoy fishing and keep a few fish too. It pays to get a copy of the current fishing regulations and do a little study, but here is a quick summary of when a child needs a fishing license. Anyone 14 years of age or older, needs a license. Resident children younger than 14 do not need a license and can keep their own limit of fish (not counted in with an adult's limit). This next one is a direct quote from the regulations: "Nonresident children under 14 years of age must be accompanied by the holder of a valid fishing license and their fish must be included in the license holder's limit in order to fish without a license, or they may purchase a nonresident license and have their own limit."
Okay, with the business out of the way, where can you go? There are several ponds in the Upper Snake Region that are designated for kids. One is Trail Creek Pond, just east of Victor. This popular pond was stocked seven times in 2019 and is sometimes supplemented with rainbow trout removed from the South Fork weirs and can have some big fish in it.
Island Park also has a small kid's pond, Stoddard Mill Pond, on the Yale-Kilgore Road just west of the Old Shotgun Road. This pond is a good place for kids to learn to cast as it is grassy on one side and there is a floating dock as well.
Idaho Department of Fish and Game also recommends waters that are particularly family friendly. In the Upper Snake Region, besides the two mentioned, IDFG recommends Ashton Reservoir, Becker Pond (Idaho Falls Ryder Park), Birch Creek (west of Mud Lake), East Harriman Fish Pond (off Highway 47), Jim Moore Pond (Roberts), Mackay Reservoir and Rexburg City ponds. All of these have general trout limits with no restriction on fishing gear. You can find out more about these and other waters by going to: idfg.idaho.gov/fish/family-fishing-waters.
Wherever you go, be sure to take kids fishing. It is a great way to teach them more about the outdoors, responsible behavior and patience (okay, that might be a stretch) and build memories to last a lifetime.
---
Help Idaho Wildlife
When we traveled across the state in October 2017, most of the vehicles we saw using the wildlife management areas did not have wildlife plates. Buying wildlife plates is a great way for non-hunters and hunters alike to support wildlife-based recreation like birding.
C'mon folks, let's help Idaho's wildlife by proudly buying and displaying a wildlife license plate on each of our vehicles! 
See below for information on Idaho plates. Most states have wildlife plates so if you live outside Idaho, check with your state's wildlife department or vehicle licensing division for availability of state wildlife plates where you live. 
And tell them that you heard about it from Nature-track.com!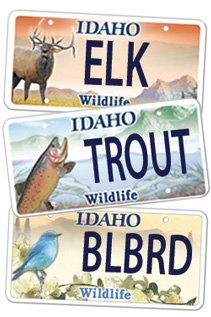 Wildlife License Plates
Idaho Wildlife license plates provide essential funding that benefits the great diversity of native plants and wildlife that are not hunted, fished or trapped—over 10,000 species or 98% of Idaho's species diversity. Game species that share the same habitats (such as elk, deer, antelope, sage-grouse, salmon, trout) also benefit from these specialty plates.
No state tax dollars are provided for wildlife diversity, conservation education and recreation programs. Neither are any revenues from the sale of hunting or fishing licenses spent on nongame species. Instead, these species depend on direct donations, federal grants, fundraising initiatives—and the Idaho Wildlife license plates.
Both my vehicles have Bluebird Plates. I prefer the bluebird because the nongame program gets 70 percent of the money from bluebird plates, but only 60 percent of the money from elk and trout plates - 10 percent of the money from elk plates supports wildlife disease monitoring and testing programs (to benefit the livestock industry) and 10 percent from cutthroat plates supports non-motorized boat access.
Incidentally, in 2014, the Idaho Legislature denied the Department of Fish and Game the ability to add new plates or even to change the name of the elk and cutthroat plates (very specific) to wildlife and fish plates, a move that would have allowed for changing images occasionally and generating more revenue. It would seem that they believe that we Idahoans don't want a well funded wildlife program. Go figure.