Ten-Month Sojourn
This campsite at Pahranagat Lake on Pahranagat National Wildlife Refuge in southern Nevada was free on a first come first served basis and served as home for about 10 days in April.
---
With little fanfare this week, we ended our sojourn as homeless wanderers, living out of our trailer for ten months. We made it as far north as the Arctic Circle and as far south as Puerto Penasco, Mexico. In between, we visited Alaska, western Canada, southern Utah, Nevada, Arizona and California.
Now that we are back in the civilized world of homeownership, I reflected on our experience. By far, it was good, sometimes great, and yes, I would do it again and, yes, my wife still loves me (I think). Perhaps our experiences might help you if you decide to live on the road for a while.
Unlike many RV couples, we spent 90 percent of the time "off the grid" where we were not connected to any water, power or sewer that we did not provide for ourselves. We avoided pay campgrounds when we could, preferring to "dry camp" in unofficial sites.
One online resource was a tremendous help in this regard. The website, www.freecampsites.net, has thousands of suggestions for free places to camp nationwide and in Canada and even includes many fee sites. The website gives locations, descriptions, detailed directions and maps if applicable. We used this website a lot in our travels.
I conducted business on the road (for instance, writing this column) and powering my electronic devices while off the grid was often a headache. Two RV batteries hooked to a 100-watt portable solar charger (Harbor Freight, about $150 on sale) with a power inverter was my solution, but the charger didn't keep up well when I was powering half a dozen drives, a couple of computers and a printer. I still don't have a great solution for that.
I routinely needed to connect to the internet and sometimes that was simply impossible. In those cases, we tried to find a restaurant or gas station with internet we could use. With decent cell coverage, I logged onto the internet using either my cellphone as a hotspot or a gizmo we picked up at Verizon called a Jetpack (basically a mobile hotspot that doesn't use your phone or phone data plan).
Fresh water was our Achilles heel. Even being parsimonious and only showering twice a week, washing dishes only when the sink would hold no more and carrying drinking water in a separate container, water seldom lasted more than ten days. Then we had to pull up camp and find a dump and fill station. We also learned that a dump station doesn't necessarily have fresh water so be sure to ask.
Along with water, laundry was an issue. There are far fewer laundromats these days and we occasionally had to travel a bit to find one.
Our 160-watt solar system on the trailer worked well during the long days of summer. It showed its limitations during the winter months when our power drain each day (by far the biggest power user was the furnace fan) exceeded what we gained through solar. Add a couple of cloudy or rainy (even got snowed on at Tucson, Arizona) days and we could seriously erode our battery power supply. Then the generator would be called into service for long stretches. I would like to double my solar capacity.
What would I change? Very little. We saw some awesome places, enjoyed each other's company and made lots of friends. As responsible homeowners, we likely won't take another 10-month hiatus from life, but we are already counting the days until next winter when we will wander for three months.
---
Help Idaho Wildlife
When we traveled across the state in October 2017, most of the vehicles we saw using the wildlife management areas did not have wildlife plates. Buying wildlife plates is a great way for non-hunters and hunters alike to support wildlife-based recreation like birding.
C'mon folks, let's help Idaho's wildlife by proudly buying and displaying a wildlife license plate on each of our vehicles! 
See below for information on Idaho plates. Most states have wildlife plates so if you live outside Idaho, check with your state's wildlife department or vehicle licensing division for availability of state wildlife plates where you live. 
And tell them that you heard about it from Nature-track.com!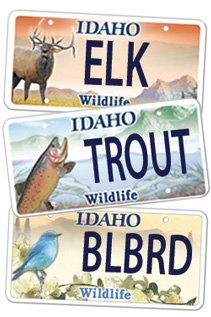 Wildlife License Plates
Idaho Wildlife license plates provide essential funding that benefits the great diversity of native plants and wildlife that are not hunted, fished or trapped—over 10,000 species or 98% of Idaho's species diversity. Game species that share the same habitats (such as elk, deer, antelope, sage-grouse, salmon, trout) also benefit from these specialty plates.
No state tax dollars are provided for wildlife diversity, conservation education and recreation programs. Neither are any revenues from the sale of hunting or fishing licenses spent on nongame species. Instead, these species depend on direct donations, federal grants, fundraising initiatives—and the Idaho Wildlife license plates.
Both my vehicles have Bluebird Plates. I prefer the bluebird because the nongame program gets 70 percent of the money from bluebird plates, but only 60 percent of the money from elk and trout plates - 10 percent of the money from elk plates supports wildlife disease monitoring and testing programs (to benefit the livestock industry) and 10 percent from cutthroat plates supports non-motorized boat access.
Incidentally, in 2014, the Idaho Legislature denied the Department of Fish and Game the ability to add new plates or even to change the name of the elk and cutthroat plates (very specific) to wildlife and fish plates, a move that would have allowed for changing images occasionally and generating more revenue. It would seem that they believe that we Idahoans don't want a well funded wildlife program. Go figure.