Sand Creek Ponds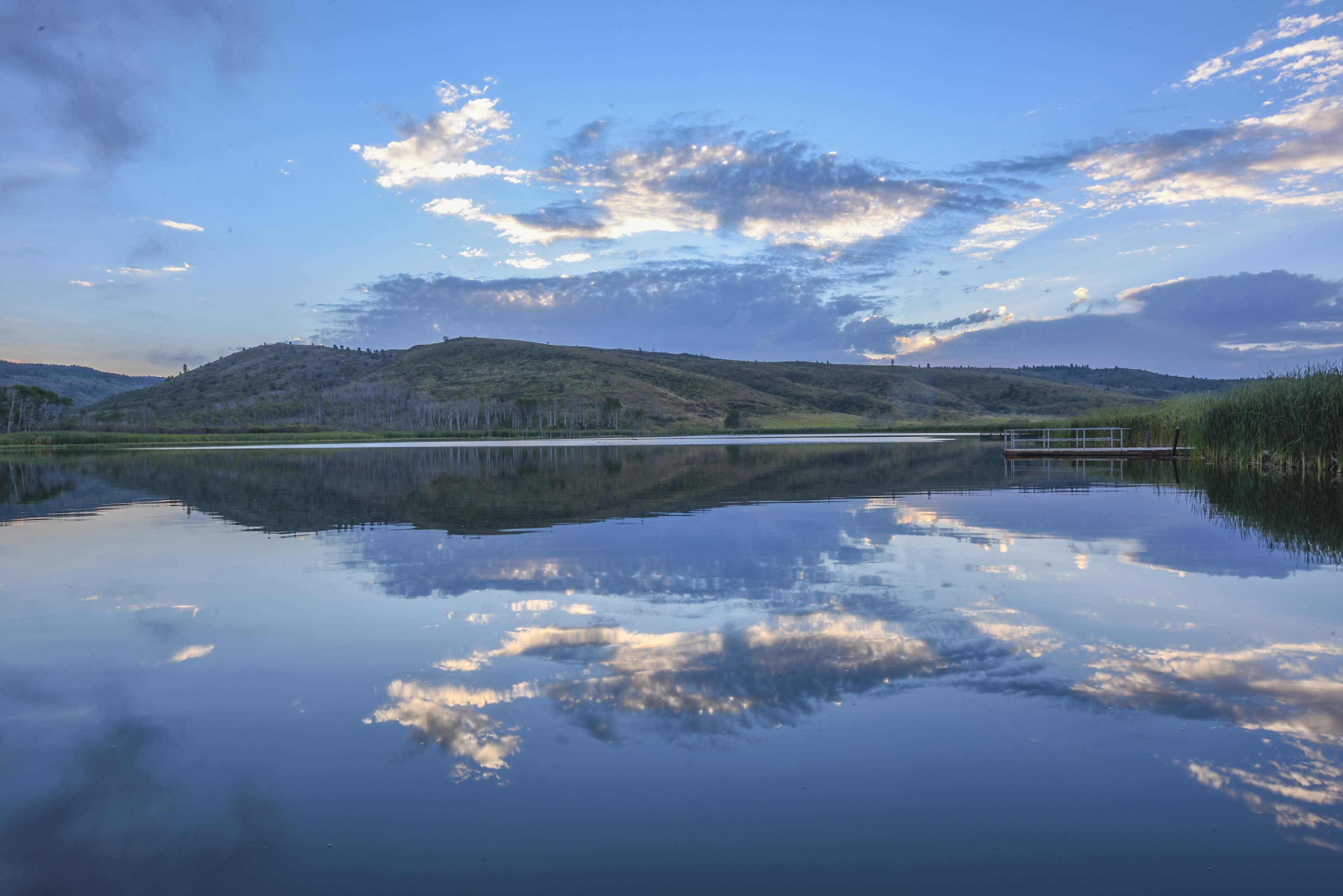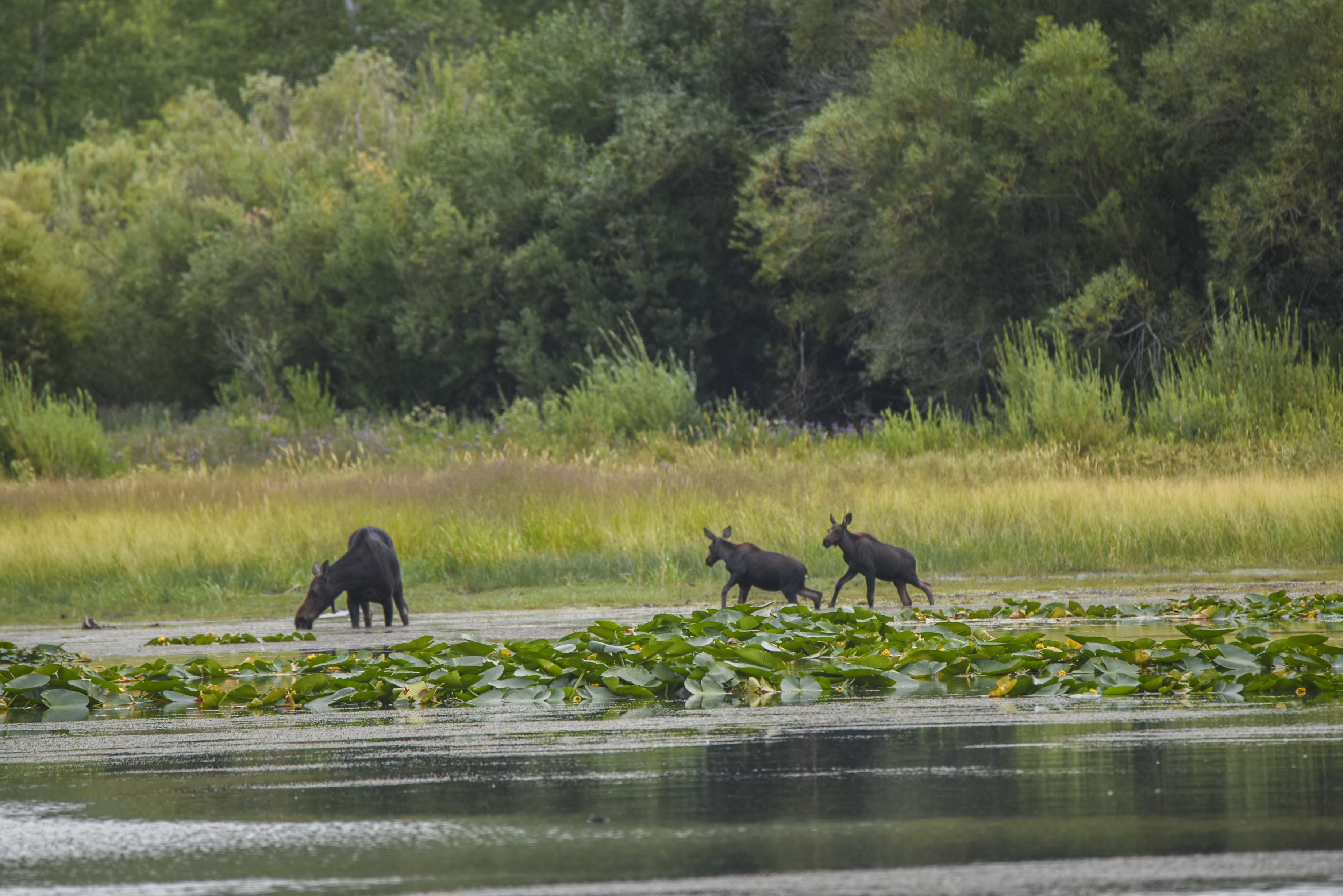 Sand Creek Ponds are a great place for a family outing, fishing, wildlife viewing and camping.
---
I am amazed when I tell people who were born and raised in Eastern Idaho that I am going camping at Sand Creek ponds and they ask, "Where is that?" After all, Sand Creek Ponds, crown jewels of the 34,000-acre Sand Creek Wildlife Management Area 18 miles north of St. Anthony, were completed in the 1970's. More than that, they are only about an hour and twenty minutes from Idaho Falls on what is usually a quality gravel road.
Sand Creek Ponds are fast becoming our favorite place to camp in the spring. Only two other Wildlife Management Areas in the Upper Snake Region of Idaho Department of Fish and Game, Mud Lake and Tex Creek, allow camping so that is a bonus in itself. The ponds though, are a wildlife magnet in the otherwise dry Sand Creek Desert and that is a huge deal for us.
I might as well point out here though that this is bear country, including the occasional grizzly, so there is a food storage order meaning that no food items, coolers, barbeques, etc. can be left un attended. Some of the campsites are equipped with bearproof food lockers.
There are four ponds at Sand Creek, creatively named Ponds 1-4. The uppermost pond is Pond 1 and the southernmost pond is Pond 4. There is also a reservoir, named Blue Creek, that sits just up the canyon from Pond 1.
Blue Creek Reservoir and Pond 1 opened to fishing on Memorial Day weekend. There were several dozen people fishing and catching 9-10 inch rainbows. Ponds 2 and 3 really don't contain fish as they are pretty shallow. Pond 4 however, has some really nice-sized fish, even some whoppers and it is pretty popular when it opens on July 1.
Why is Pond 4 closed longer than Blue Creek Reservoir and Pond 1, you ask? Both Pond 3 and Pond 4 are part of a wildlife sanctuary and are closed to human entry until July 1st to protect waterbird nesting and brood rearing. A pair of trumpeter swans routinely nests on these ponds and they are typically pretty intolerant of humans. Boating with nonmotorized craft such as canoes and float tubes is allowed starting July 15th.
We see more wildlife at Sand Creek Ponds than we see anywhere else. We have seen black bears, elk, moose, whitetail and mule deer, pronghorn antelope, beaver, bald eagles, ruffed grouse, sage-grouse, sharp-tailed grouse, myriad songbirds, sandhill cranes, swans, hundreds of Canada geese, many species of ducks, Virginia rails, soras, leopard frogs—and the list goes on. The diversity is pretty amazing.
There is a nature trail that winds around Pond 2 and ends by Blue Creek Reservoir. The signs are pretty old but most are still readable and staff keeps the trail mown short for easy walking.
People already familiar with the ponds are going to accuse me of hotspotting—extolling the virtues and delights of a specific area. This risks the very real possibility of encouraging so many people to visit that the character and sometimes even the physical attributes are sullied. It is a dangerous activity for an outdoor writer to engage in. I have seen human-caused change in many old haunts and seldom is the change an improvement. Increased regulation, litter, dust, traffic, vandalism and more are all potential consequences.
So, please promptly forget everything you read here. I will have done my duty and will still have this special place to myself much of the time.
---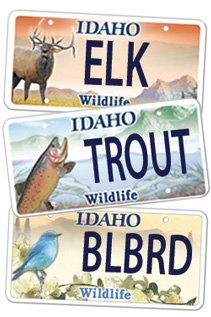 Wildlife License Plates
Idaho Wildlife license plates provide essential funding that benefits the great diversity of native plants and wildlife that are not hunted, fished or trapped—over 10,000 species or 98% of Idaho's species diversity. Game species that share the same habitats (such as elk, deer, antelope, sage-grouse, salmon, trout) also benefit from these specialty plates.
No state tax dollars are provided for wildlife diversity, conservation education and recreation programs. Neither are any revenues from the sale of hunting or fishing licenses spent on nongame species. Instead, these species depend on direct donations, federal grants, fundraising initiatives—and the Idaho Wildlife license plates.
Both my vehicles have Bluebird Plates. I prefer the bluebird because the nongame program gets 70 percent of the money from bluebird plates, but only 60 percent of the money from elk and trout plates - 10 percent of the money from elk plates supports wildlife disease monitoring and testing programs (to benefit the livestock industry) and 10 percent from cutthroat plates supports non-motorized boat access.
Incidentally, in 2014, the Idaho Legislature denied the Department of Fish and Game the ability to add new plates or even to change the name of the elk and cutthroat plates (very specific) to wildlife and fish plates, a move that would have allowed for changing images occasionally and generating more revenue. It would seem that they believe that we Idahoans don't want a well funded wildlife program. Go figure.