Grandkids in Nature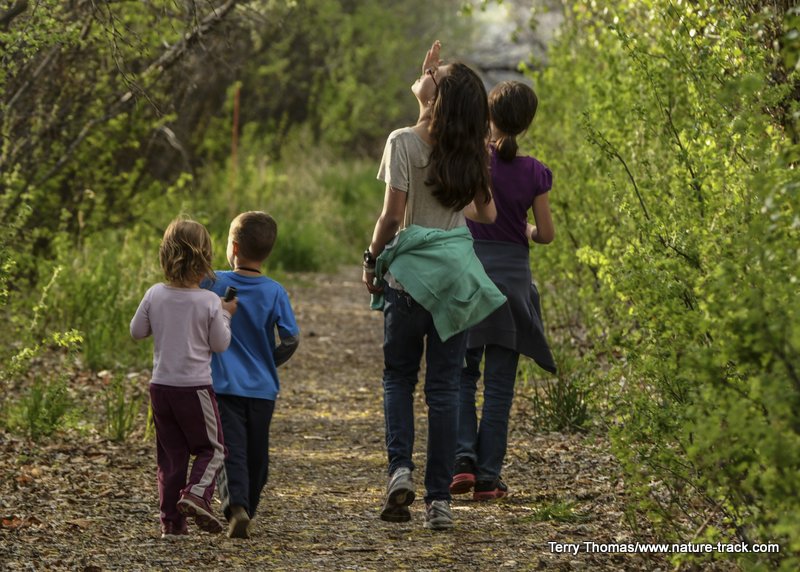 My daughter's kids walk along the trail in the shelterbelt at Market Lake WMA near Roberts looking for owls and porcupines.
---
My daughter and son-in-law hoped to celebrate their 15th wedding anniversary with a week-long cruise. Well, as can be imagined, a 15-year marriage had produced a few, uh...entanglements—five to be exact—and so Elizabeth contacted her mother. Cathy was thrilled with the prospect of watching this wonderful brood, ages eleven to one, and last week the time finally arrived.
These children live very full lives and much of Cathy's time was spent in Pocatello attending soccer games and practices as well as piano lessons. In between these standard activities though, Grandma Cathy had vowed to make it a fun-filled week. They went to the Idaho Falls Zoo at Tautphus Park, The Artitorium, Kid's Town, and Don Aslett's Museum of Clean. She invited a cousin to join them and we all celebrated his fourth birthday. She rented a new movie and found several more on Netflix when she needed a break.
And what was Grandpa's role in all of this excitement? Pretty minor really. Cathy had this campaign all planned out and built around getting the one-year-old down for a nap around 11 a.m. I helped with a meal or two and planned one single day of activities giving Cathy a breather.
The kids were having a great time and with all of Cathy's successes, I wasn't optimistic about what I had chosen to do. My day started by taking the kids to a place along the river where we could cut some willow branches. Then, with some string, the oldest girls, Zoe and Ainsley, learned how to tie square lashings and built a framework from these sticks. They were excited to be able to use their pocket knives (we give each grandchild a pocket knife for his or her ninth birthday) to trim the branches and cut the string.
The end result of this was a four foot by five foot frame forming rough squares. We called this a Nature Wall, a concept I borrowed from a pre-school teacher named Condie Ward. The kids then use the wall to hang natural treasures like bones, leaves and feathers on.
Later that afternoon, we headed out to Market Lake to see the birds. I had scouted this the day before and knew that the owl chick was fairly easy to see in the shelterbelt and that birds abounded in the marsh.
We drove out in two cars, keeping in contact via walkie talkies. When someone spotted a new bird, they reported it on the radio and Zoe wrote it down. At the shelterbelt, we took a walk and introduced them to the owl. Even better, below the young owl was a porcupine which was a thrilling first for the kids.
The colorful sunset had drained from the sky by the time we left and the marsh was starting to settle in for the night as we tallied our list—Forty-seven bird species, half a dozen turtles, and a porcupine.
I was glad that the kids seemed to enjoy the outings but I still wasn't sure of my success until I asked them what one thing they would do again. All of them chose the outdoor activities. And when their parents called, they talked about seeing a porcupine and birds, indicating that these were more memorable than I had thought.
I was pleased that they enjoyed the outdoors as much or more than the glitz and glitter of more civilized pursuits.  That isn't always the case with kids these days as the pull of social media, electronic gadgetry and being entertained instead of finding your own entertainment becomes ever more compelling. Their parents must be doing something right.
Help Idaho Wildlife
When we traveled across the state in October 2017, most of the vehicles we saw using the wildlife management areas did not have wildlife plates. Buying wildlife plates is a great way for non-hunters and hunters alike to support wildlife-based recreation like birding.
C'mon folks, let's help Idaho's wildlife by proudly buying and displaying a wildlife license plate on each of our vehicles! 
See below for information on Idaho plates. Most states have wildlife plates so if you live outside Idaho, check with your state's wildlife department or vehicle licensing division for availability of state wildlife plates where you live. 
And tell them that you heard about it from Nature-track.com!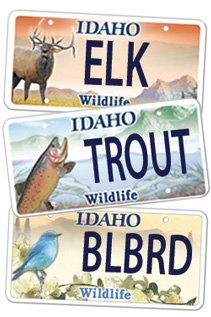 Wildlife License Plates
Idaho Wildlife license plates provide essential funding that benefits the great diversity of native plants and wildlife that are not hunted, fished or trapped—over 10,000 species or 98% of Idaho's species diversity. Game species that share the same habitats (such as elk, deer, antelope, sage-grouse, salmon, trout) also benefit from these specialty plates.
No state tax dollars are provided for wildlife diversity, conservation education and recreation programs. Neither are any revenues from the sale of hunting or fishing licenses spent on nongame species. Instead, these species depend on direct donations, federal grants, fundraising initiatives—and the Idaho Wildlife license plates.
Both my vehicles have Bluebird Plates. I prefer the bluebird because the nongame program gets 70 percent of the money from bluebird plates, but only 60 percent of the money from elk and trout plates - 10 percent of the money from elk plates supports wildlife disease monitoring and testing programs (to benefit the livestock industry) and 10 percent from cutthroat plates supports non-motorized boat access.
Incidentally, in 2014, the Idaho Legislature denied the Department of Fish and Game the ability to add new plates or even to change the name of the elk and cutthroat plates (very specific) to wildlife and fish plates, a move that would have allowed for changing images occasionally and generating more revenue. It would seem that they believe that we Idahoans don't want a well funded wildlife program. Go figure.