Yellowstone In Springtime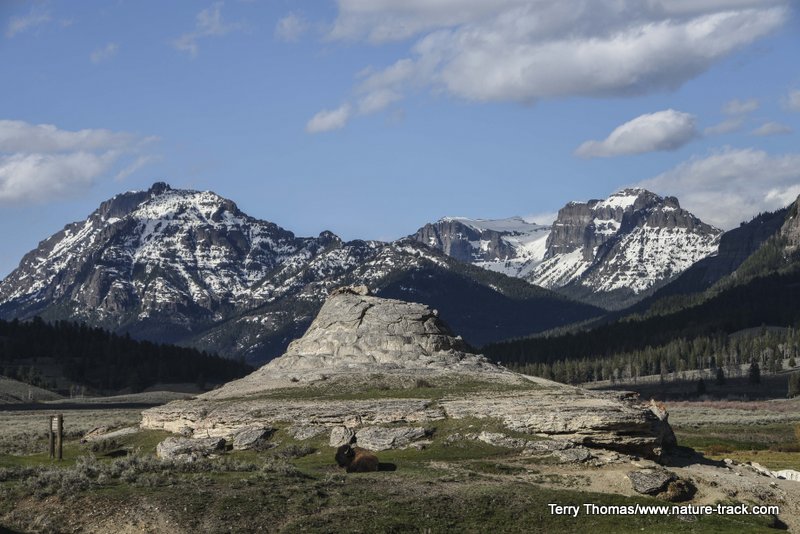 The Lamar Valley and most of the rest of Yellowstone is open and visitors can enjoy wildlife and scenery that will only improve as green-up progresses.
---
Yellowstone National Park is open! All roads, except for the Dunraven Pass Road, are now open and visitors are enjoying the park in a season very different from summer. Springtime is a great time to visit Yellowstone and worth a day or more.
When we first started our annual springtime trips into Yellowstone, crowds were non-existent. In fact, motels in Gardiner considered it the off-season and rates were low and rooms readily available. That is not the case today. In our visit last week, we were actually pretty lucky to score a reasonably placed room at Yellowstone River Motel, a place we have stayed many times as it was the only game in town. We had not intended to stay overnight and had not made reservations. Today, there are several motels to choose from and all are busy.
The roads in the Park are not crowded though, and a bear sighting isn't likely to cause the traffic jams of later in the summer. However, just like during the busy season, if you get out early, you will virtually have the park to yourself. We found only one other vehicle during our 7 a.m. visit to Mud Volcano in Hayden Valley.
Speaking of roads, beware of road construction. This is going to be an ongoing issue this year as Park employees and contractors address the backlog of road maintenance and improvements needed to make the Park safe and pleasant. We relaxed in a line of cars near Willow Park north of Norris for about 15 minutes. The Park website says to expect delays of up to 30 minutes, but one person told us they waited there for nearly two hours. That construction will last until autumn.
We found that most of the side roads were gated closed. This included the Blacktail Plateau road, the Old Gardiner Road, Firehole Drive and virtually all other side roads except Old Faithful. This gives cyclists and hikers a wonderful opportunity to tour there without any competition. One spring we took our bicycles and rode up toward Dunraven Pass from Tower and it remains one of our favorite memories in the Park.
As summer approaches, the number of people visiting the Park will continue to swell, typically reaching peak numbers sometime around the end of July or first week of August. Each year more visitors come, making spring a better option.
Wildlife is another reason for a springtime visit to Yellowstone. Bison calves are born in early May and if you want to see these cute little guys while they are still small and in the "red dog" stage, now is the time. Elk should be calving now and you will soon be seeing the spotted calves following their mothers.
Migration back to summer ranges is still underway and seeing otherwise hard to find wildlife can be a breeze. We saw over 20 bighorn rams and a group of ewes and lambs in Lamar Valley. We also saw several black bears in the same area. Pronghorn antelope were everywhere and mule deer, while less common, were still easy to find.
Lamar Valley was completely snow-free until about Pebble Creek Campground. Hayden Valley, as of a week ago, was still largely snow-covered from Canyon south. Yellowstone Lake was frozen solid, but with warm temperatures and rain, all that should go fast.
Get out into Yellowstone now and enjoy the wildlife and scenery before the crowds descend for the summer. You will be glad you did. Check out my blog on our trip on the Nature Blog page of this website. 
---
Help Idaho Wildlife
When we traveled across the state in October 2017, most of the vehicles we saw using the wildlife management areas did not have wildlife plates. Buying wildlife plates is a great way for non-hunters and hunters alike to support wildlife-based recreation like birding.
C'mon folks, let's help Idaho's wildlife by proudly buying and displaying a wildlife license plate on each of our vehicles! 
See below for information on Idaho plates. Most states have wildlife plates so if you live outside Idaho, check with your state's wildlife department or vehicle licensing division for availability of state wildlife plates where you live. 
And tell them that you heard about it from Nature-track.com!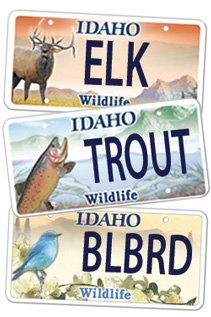 Wildlife License Plates
Idaho Wildlife license plates provide essential funding that benefits the great diversity of native plants and wildlife that are not hunted, fished or trapped—over 10,000 species or 98% of Idaho's species diversity. Game species that share the same habitats (such as elk, deer, antelope, sage-grouse, salmon, trout) also benefit from these specialty plates.
No state tax dollars are provided for wildlife diversity, conservation education and recreation programs. Neither are any revenues from the sale of hunting or fishing licenses spent on nongame species. Instead, these species depend on direct donations, federal grants, fundraising initiatives—and the Idaho Wildlife license plates.
Both my vehicles have Bluebird Plates. I prefer the bluebird because the nongame program gets 70 percent of the money from bluebird plates, but only 60 percent of the money from elk and trout plates - 10 percent of the money from elk plates supports wildlife disease monitoring and testing programs (to benefit the livestock industry) and 10 percent from cutthroat plates supports non-motorized boat access.
Incidentally, in 2014, the Idaho Legislature denied the Department of Fish and Game the ability to add new plates or even to change the name of the elk and cutthroat plates (very specific) to wildlife and fish plates, a move that would have allowed for changing images occasionally and generating more revenue. It would seem that they believe that we Idahoans don't want a well funded wildlife program. Go figure.