Feeding Wildlife Part 2
Group of elk wintering in a platted subdivision in Alpine, Wyoming. Soon this will all be houses and the elk will have to try to find some other place to winter.
---
The winter of 1908-09 began early with heavy winter snows forcing an unusual number of elk into Jackson Hole, Wyoming. Then rain, followed by bitter cold, turned the snowpack as hard as stone. Elk could not get to what feed was available and they began raiding haystacks and wandering down the city streets of then unincorporated Jackson, looking for food. When winter finally ended, one resident claimed that you could walk for two miles stepping on elk carcasses without touching the ground. The winters of 1910 and 1911 weren't as bad, but they too took a toll on the elk. A herd that had numbered over 50,000 before the devastating winter of 1889-90, now numbered less than 10,000.
It wasn't always this way. At one time elk only passed through Jackson Hole heading for more friendly wintering areas on Wyoming's Red Desert, Green River valley and Big Horn basin and possibly Idaho's Teton Valley. But development in these areas and along the migration corridors slowly and inexorably forced the elk out. They began short-stopping in Jackson Hole and before long had lost the herd memory of other places.
In 1909, recognizing the plight of the animals, local residents donated $600 ($15,000 in 2012 dollars) and bought hay to feed the elk. Indeed, their grassroots conservation efforts may have saved the elk herd at that time.
Beginning in 1912, the federal government set aside 1,000 acres of federal land and purchased 1,700 acres of private land and the National Elk Refuge was born. As the refuge grew in size, it became a dedicated feeding operation, first with hay and in later years alfalfa formed into pellets. For over 100 years they have kept the Jackson Hole herd alive and thriving.
But the past 20 years have seen a dramatic shift in management. Refuge managers recognized that feeding the elk in concentrated areas was setting them up for disaster should a disease be introduced to the herd. They began working on increasing natural forage to disperse the animals, largely through increased irrigation of pastures to produce more forage—at the same time recognizing that even on 27,400 acres, there wasn't enough natural forage to maintain 5,000 elk and elk are fed an average of 70 days each winter.
Brucellosis is currently the main threat. Brucellosis is a livestock disease that spread to elk and bison with the influx of cattle grazing on open range. It was slowly eradicated in cattle and today, brucellosis-free status is an industry standard. It doesn't really influence elk and bison populations although it causes abortions in infected females. The real issue is when the elk and bison share it back to livestock and threaten a state's brucellosis-free standing. In 2009, sampling inside and outside the refuge determined that 22% of elk wintering on the refuge are seropositive for brucellosis compared to 3.7% outside the refuge area.
If chronic wasting disease (slow-developing but 100% fatal), which has been found in moose less than 50 miles to the southwest of the refuge, ever reaches the refuge, it could destroy not just the elk there but spread via 5,000 hoofed vectors to the other 20,000 elk in the area as well as deer, moose, bighorn sheep, pronghorn antelope and mountain goats. It is that serious.
The darkest side of feeding is the misconception that we can replace habitat with feeding. There is no substitute for habitat, though. Human development of wildlife habitat means less wildlife. It may not happen immediately but it happens as surely as the sun rises.
There are two options for the Wyoming elk: reduce the number of animals to the point where existing habitat can support them or acquire/develop new habitat. One thing is sure: feeding of big game cannot ever be used as mitigation for development of winter range. If we choose developing winter range, we are choosing fewer big game animals. It is that simple.
---
Help Idaho Wildlife
When we traveled across the state in October 2017, most of the vehicles we saw using the wildlife management areas did not have wildlife plates. Buying wildlife plates is a great way for non-hunters and hunters alike to support wildlife-based recreation like birding.
C'mon folks, let's help Idaho's wildlife by proudly buying and displaying a wildlife license plate on each of our vehicles! 
See below for information on Idaho plates. Most states have wildlife plates so if you live outside Idaho, check with your state's wildlife department or vehicle licensing division for availability of state wildlife plates where you live. 
And tell them that you heard about it from Nature-track.com!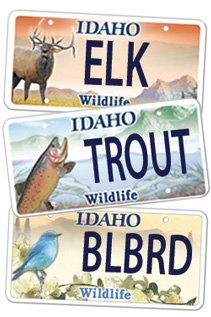 Wildlife License Plates
Idaho Wildlife license plates provide essential funding that benefits the great diversity of native plants and wildlife that are not hunted, fished or trapped—over 10,000 species or 98% of Idaho's species diversity. Game species that share the same habitats (such as elk, deer, antelope, sage-grouse, salmon, trout) also benefit from these specialty plates.
No state tax dollars are provided for wildlife diversity, conservation education and recreation programs. Neither are any revenues from the sale of hunting or fishing licenses spent on nongame species. Instead, these species depend on direct donations, federal grants, fundraising initiatives—and the Idaho Wildlife license plates.
Both my vehicles have Bluebird Plates. I prefer the bluebird because the nongame program gets 70 percent of the money from bluebird plates, but only 60 percent of the money from elk and trout plates - 10 percent of the money from elk plates supports wildlife disease monitoring and testing programs (to benefit the livestock industry) and 10 percent from cutthroat plates supports non-motorized boat access.
Incidentally, in 2014, the Idaho Legislature denied the Department of Fish and Game the ability to add new plates or even to change the name of the elk and cutthroat plates (very specific) to wildlife and fish plates, a move that would have allowed for changing images occasionally and generating more revenue. It would seem that they believe that we Idahoans don't want a well funded wildlife program. Go figure.