Nest Box Time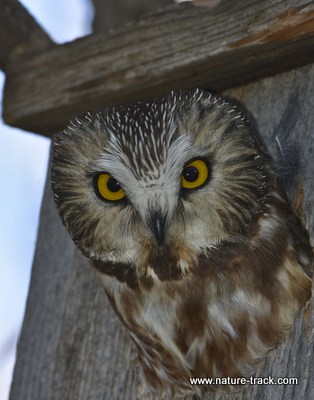 This female saw-whet owl checks out the neighborhood from her very own nest box. Many birds use nest boxes because they mimic natural cavities which can be hard to find. You can find designs for nest boxes at: http://www.nature-track.com/TheNaturalistCorner.html
I saw my first mountain bluebird of the year on Menan Butte last Saturday. With an early spring on the way, if you hope to attract nesting birds to your backyard, you need to get moving.
Creating backyard nesting habitat is a long term project that requires planting trees and shrubs and adding diversity then waiting for it all to grow. However, you can easily add nest boxes that may attract nesting pairs within one or two seasons. However, it is not a matter of haphazardly placing any kind of  box in any random location. Birds are a little more sophisticated than that.
Birds attempting to nest in manmade boxes face four enemies: predators, heat, nest pests and competitors.  Follow the steps here to avoid these nest killers.
First, build the right-sized box of thick untreated wood. Different bird species have different requirements. Of prime importance is hole size. The general rule is use the smallest hole possible for the birds you are trying to attract. For instance, mountain bluebirds need a hole diameter of 1 9/16 inch while mountain chickadees only need a hole of 1 1/8 inches. A box for a saw-whet or screech owl will require a 3 inch hole.
Every box should have three other features: drainage holes in the corners of a bottom that is recessed up a quarter inch, ventilation at the top to reduce heat buildup and a side that will swing out to allow for easy annual cleaning.
Build a ladder to help fledglings get out by cutting horizontal grooves beneath the hole on the inside.
Bird houses don't need a perch beneath the entrance hole. In fact, a perch actually helps predators, such as cats and squirrels, gain access to the eggs and young. Bird homes don't need paint either. If you must paint them, paint only the outside and use lighter colors to reduce heat buildup.
Like with all real estate, after finding the right house, the rest of the equation is location, location, location.  Place your bird houses facing north or east to reduce undue heating by the sun. Competition can be high for these boxes, especially if there are house sparrows around (and where aren't there house sparrows?) so place the boxes as far from your feeders as you can.
Choose the location carefully to help deter predators. If predators can climb up to or down onto a nest box, you may need to install baffles or other predator deterrents.
Beyond that, different species prefer different locations. Swallows and bluebirds prefer nest boxes in open habitat while wrens like a more secluded home. You will need to study up on your birds to determine the best location for boxes.
While you may not get more than one pair of a particular species to nest in your garden, you can certainly encourage multiple species by placing boxes with the right dimensions throughout your yard. Increase your chances by encouraging your neighbors to do the same.
Finally, once you have renters occupying your boxes, join in the scientific effort to monitor nesting success by signing up for Cornell Lab's www.nestwatch.org.
---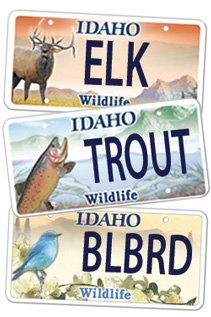 Wildlife License Plates
Idaho Wildlife license plates provide essential funding that benefits the great diversity of native plants and wildlife that are not hunted, fished or trapped—over 10,000 species or 98% of Idaho's species diversity. Game species that share the same habitats (such as elk, deer, antelope, sage-grouse, salmon, trout) also benefit from these specialty plates.
No state tax dollars are provided for wildlife diversity, conservation education and recreation programs. Neither are any revenues from the sale of hunting or fishing licenses spent on nongame species. Instead, these species depend on direct donations, federal grants, fundraising initiatives—and the Idaho Wildlife license plates.
Both my vehicles have Bluebird Plates. I prefer the bluebird because the nongame program gets 70 percent of the money from bluebird plates, but only 60 percent of the money from elk and trout plates - 10 percent of the money from elk plates supports wildlife disease monitoring and testing programs (to benefit the livestock industry) and 10 percent from cutthroat plates supports non-motorized boat access.
Incidentally, in 2014, the Idaho Legislature denied the Department of Fish and Game the ability to add new plates or even to change the name of the elk and cutthroat plates (very specific) to wildlife and fish plates, a move that would have allowed for changing images occasionally and generating more revenue. It would seem that they believe that we Idahoans don't want a well funded wildlife program. Go figure.