Boise Area
A boulder in Celebration Park displays some of the ancient rock art you will find while walking the Petroglyph Trail.
---
We are headed to the Boise area this week to visit our son's family. Many Eastern Idaho folks would likely gag at just the thought of spending time anywhere near the capitol city with its traffic and big city ways, but we find the region amazing. Here are four places you may not have even heard about that are worth a visit when you head to the western side of Idaho.
Celebration Park. This is a Canyon County park on the Snake River near Melba. It is relatively new and has several short hiking trails, fishing, picnic areas and limited camping. The real selling point to this park though is the amazing petroglyphs on many of the boulders. There is a trail that winds through the boulders offering a terrific opportunity to view this ancient art.
Swan Falls Dam. Built in 1901, Swan Falls Dam was the first dam to put the waters of the Snake River to work generating electricity. Accessed out of Kuna, it is right in the middle of the Snake River Birds of Prey Conservation Area. You can watch raptors such as golden eagles on the cliffs high above while enjoying the fishing on the Snake River. Picnicking is allowed during normal operating hours at the dam and there are also tours of the dam and a really cool historical area.
Fort Boise Wildlife Management Area. Fort Boise WMA is just west of Parma, on the Idaho side of the Snake River and managed by the Idaho Department of Fish and Game. It is terrific for birding, fishing and camping, both RV and walk-in. There is an observation tower that overlooks ponds and marshes to the north. In the fall, this area is popular with duck and pheasant hunters. White-tailed deer and turkeys are commonly seen as well. The approximate location of historic Fort Boise (Hudson Bay Company, 1834-1854) near the confluence of the Boise and Snake Rivers is also here and marked with a wooden monument.
Deer Flat National Wildlife Refuge. Deer Flat National Wildlife Refuge was set aside in 1909 by none other than Theodore Roosevelt shortly after the completion of the Deer Flats Reservoir dam, later re-named Lake Lowell. That in itself is pretty cool and speaks to the wildlife values of the place. Deer Flat NWR is a great place for birding, hunting, fishing, hiking and boating. It includes all of the 9,000-acre Lake Lowell as well as about 1,000 acres of islands in the Snake River.
There are many more gems in the Greater Boise area than these (a good reason for the nickname, Treasure Valley). Boise itself has a great system of parks with wild features all connected by a natural greenbelt along the Boise River. Lucky Peak and Arrow Rock reservoirs are just east of town. Hundreds of thousands of acres of public (BLM and Forest Service) land surround Boise and drive 30 miles in any direction and you will encounter a major river. Venture further south into sparsely populated Owyhee County and the Bruneau and Owyhee rivers and you may think you have discovered paradise.
Indeed, despite the growing population, southwest Idaho is a great place to find wildlife, wilderness and adventure. East Idahoans may shun the Treasure Valley area because of its crowds, but we are missing a good bet if we don't take the opportunity to recreate there on occasion.
---
Help Idaho Wildlife
When we traveled across the state in October 2017, most of the vehicles we saw using the wildlife management areas did not have wildlife plates. Buying wildlife plates is a great way for non-hunters and hunters alike to support wildlife-based recreation like birding.
C'mon folks, let's help Idaho's wildlife by proudly buying and displaying a wildlife license plate on each of our vehicles! 
See below for information on Idaho plates. Most states have wildlife plates so if you live outside Idaho, check with your state's wildlife department or vehicle licensing division for availability of state wildlife plates where you live. 
And tell them that you heard about it from Nature-track.com!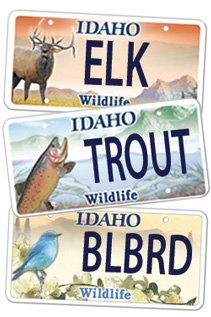 Wildlife License Plates
Idaho Wildlife license plates provide essential funding that benefits the great diversity of native plants and wildlife that are not hunted, fished or trapped—over 10,000 species or 98% of Idaho's species diversity. Game species that share the same habitats (such as elk, deer, antelope, sage-grouse, salmon, trout) also benefit from these specialty plates.
No state tax dollars are provided for wildlife diversity, conservation education and recreation programs. Neither are any revenues from the sale of hunting or fishing licenses spent on nongame species. Instead, these species depend on direct donations, federal grants, fundraising initiatives—and the Idaho Wildlife license plates.
Both my vehicles have Bluebird Plates. I prefer the bluebird because the nongame program gets 70 percent of the money from bluebird plates, but only 60 percent of the money from elk and trout plates - 10 percent of the money from elk plates supports wildlife disease monitoring and testing programs (to benefit the livestock industry) and 10 percent from cutthroat plates supports non-motorized boat access.
Incidentally, in 2014, the Idaho Legislature denied the Department of Fish and Game the ability to add new plates or even to change the name of the elk and cutthroat plates (very specific) to wildlife and fish plates, a move that would have allowed for changing images occasionally and generating more revenue. It would seem that they believe that we Idahoans don't want a well funded wildlife program. Go figure.