Idaho For the Curious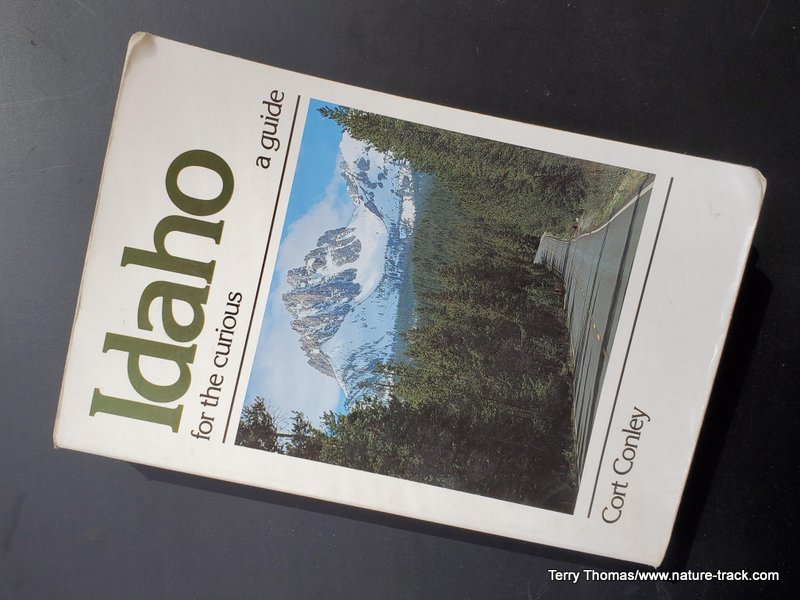 Idaho For the Curious is a fabulous travel companion when traveling around the Gem State.
---
For Father's Day, I received a book entitled, 50 States, 5,000 Ideas, by National Geographic. It is a fascinating book that highlights just a few of the places to go in each state and even 10 Canadian provinces. I immediately turned to Idaho and read through the four or so pages highlighting our state. The experience took me back on the roads of Idaho, revisiting each of the places named (we have been to most of them) and reminded me of another book, this one specifically about Idaho.
This other book, authored by Cort Conley, is called, Idaho For the Curious, A Guide. As we have traveled around the state, this hefty book (704 pages) has occupied the prime middle seat of the truck. It sits in this place of honor because Cathy is constantly reading out loud from its pages as we drive along.
In the past, for us traveling between locations or points of interest was just that: traveling. When we discovered this book, we discovered a new reality. There was actually history and interesting facts along the routes we were on that we had no idea about. As we travel a route, Cathy reads from the book. We often find places to stop and see something of interest or something to come back to in order to spend more time there.
I really like how the book is organized. Beginning at the border with Canada, it follows state and federal highways, starting with Highway 1. In a sense, it is like that quintessential guide to Alaska called Milepost—which is a mile by mile exploration of the Alaska Highway and other roads in and to Alaska. Idaho For the Curious follows each road, but the commentary is more historical than contemporary and the history is fascinating. Knowing the history of each place helps us understand the why things are as they are today. Ghost towns, archeology, national historic landmarks, mines, and a host of other topics are discussed in depth. If it happens along or near one of these highways, Conley has likely created an extensive treatise about it.
Conley also provides interpretation on geology, land marks, state parks, historical trails and a host of other topics. The book is loaded with historical photos.
Because this book was published in 1982 (by Backeddy Books, Cambridge, Idaho), one might assume that it is outdated and should be left to gather dust. And certainly, some things have changed out there. There may be roads that were gravel that are now paved, some forest roads that may now be closed, historical features that has finally faded into dust in the past 38 years. For instance, in 1982, Mesa Falls on the edge of Island Park was still in private ownership and accessed by a gravel road. At that time it had just narrowly missed being turned into a hydroelectric project. Also in I982, Bear Gulch Ski Area between Warm River and Mesa Falls, was still in business. In other cases, seeing the changes wrought in just 38 years is truly eye-opening.
Because it is out of print, this book can be a bit pricey on Amazon (around $24.00 for a used copy). Watch for copies at garage sales and used book stores and you may get a real treasure for much less.  An updated version of this book would be welcome, but I would never give up my original copy.
---
Help Idaho Wildlife
When we traveled across the state in October 2017, most of the vehicles we saw using the wildlife management areas did not have wildlife plates. Buying wildlife plates is a great way for non-hunters and hunters alike to support wildlife-based recreation like birding.
C'mon folks, let's help Idaho's wildlife by proudly buying and displaying a wildlife license plate on each of our vehicles! 
See below for information on Idaho plates. Most states have wildlife plates so if you live outside Idaho, check with your state's wildlife department or vehicle licensing division for availability of state wildlife plates where you live. 
And tell them that you heard about it from Nature-track.com!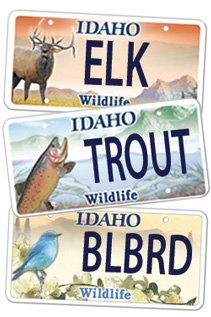 Wildlife License Plates
Idaho Wildlife license plates provide essential funding that benefits the great diversity of native plants and wildlife that are not hunted, fished or trapped—over 10,000 species or 98% of Idaho's species diversity. Game species that share the same habitats (such as elk, deer, antelope, sage-grouse, salmon, trout) also benefit from these specialty plates.
No state tax dollars are provided for wildlife diversity, conservation education and recreation programs. Neither are any revenues from the sale of hunting or fishing licenses spent on nongame species. Instead, these species depend on direct donations, federal grants, fundraising initiatives—and the Idaho Wildlife license plates.
Both my vehicles have Bluebird Plates. I prefer the bluebird because the nongame program gets 70 percent of the money from bluebird plates, but only 60 percent of the money from elk and trout plates - 10 percent of the money from elk plates supports wildlife disease monitoring and testing programs (to benefit the livestock industry) and 10 percent from cutthroat plates supports non-motorized boat access.
Incidentally, in 2014, the Idaho Legislature denied the Department of Fish and Game the ability to add new plates or even to change the name of the elk and cutthroat plates (very specific) to wildlife and fish plates, a move that would have allowed for changing images occasionally and generating more revenue. It would seem that they believe that we Idahoans don't want a well funded wildlife program. Go figure.