Henry's Fork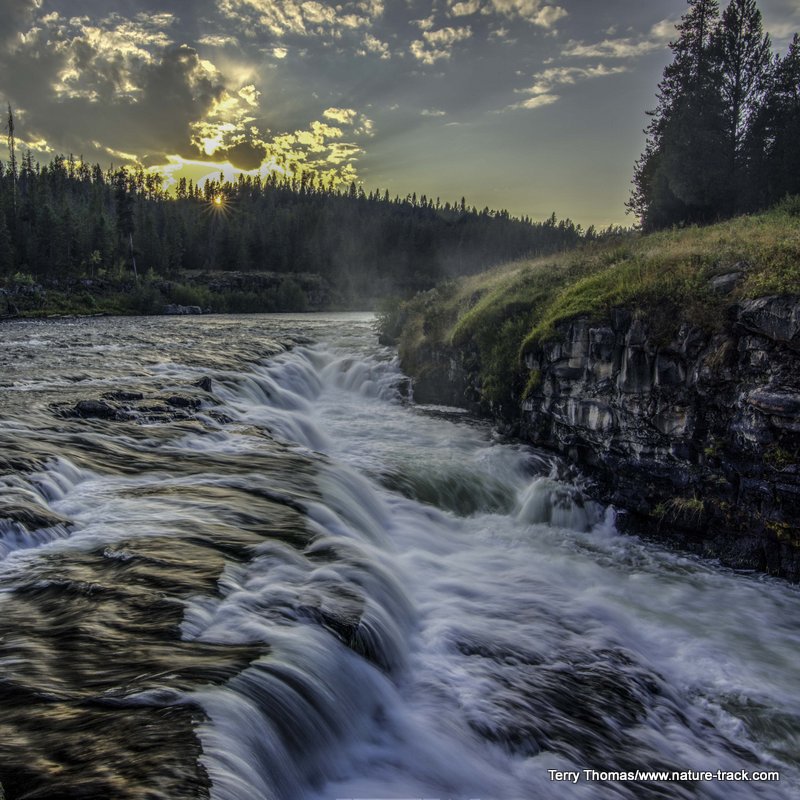 Sheep Falls on the Henry's Fork is the beginning of a series of falls where the river takes dramatic steps off the rim of the Island Park Caldera.
---
Just five miles from the watershed of the Missouri River, Eastern Idaho's Henry's Fork of the Snake River (a.k.a. The North Fork) begins when the daily influx of 500,000 gallons of 54-degree water from Big Springs unite with those from Henrys Lake Outlet near Mack's Inn in Island Park.
Those five miles make all the difference though and this river races, meanders and falls toward the Pacific Ocean, so ten miles might as well be 500. It's journey of only 127 miles (about 70 crow-fly miles) before co-mingling with the other famous Eastern Idaho River, the South Fork, are miles full of wonder.
The very character of the lovely place we call Island Park is defined by this river. Whether it is running over Coffee Pot Rapids or winding silkily through a flower-packed meadow, life blossoms along its banks and flourishes because it is there.
Hardly before it even begins, the Henry's Fork must work its way through Island Park Reservoir where the water is stored for later diversion to water crops in the valley below. During the lull, thousands of boaters, swimmers and fishermen enjoy the stilled water. The most expensive real estate outside of Sun Valley surrounds this reservoir.
The Henry's Fork sheds its shackles when it plunges through Island Park Dam and almost immediately gets an infusion from its first major tributary, Buffalo River. A shallow but steep-sided groove named Box Canyon confines the river like a pipe for the next three miles providing floating and fishing waters in a pristine setting. At Last Chance, the river broadens and slows and wanders somewhat aimlessly through one of Idaho's premiere state parks, Harriman. There, wildlife—trumpeter swans, otters, ducks, geese, elk and grizzly bears all find sanctuary.
    For fly fishermen, this is Holy Water, worshiped and revered for the trout that make their home there. All summer long fishermen gather on the banks, wade the waters and drift past in oar-driven boats, spending big money on guides, meals and lodging at places with names like Trout Hunter.
Just past Pine Haven, the nature of the river begins to change as it prepares for a dramatic exit from the volcanic plateau known as a caldera. The canyon starts to deepen and at Hatchery Ford road's end, a sign warns boaters that this is the last place to get off the water. The river plunges off the caldera rim in a series of falls only kayakers are crazy enough to try.
Between Hatchery Ford boat take-out and the beautiful Upper Mesa Falls is six and a half miles of river that is remote, and except for a few locations, requires a long hike and steep descent to reach it. Even then, travel along its banks is frustrated routinely with basalt cliffs and fast water. As a result, this defacto wilderness seldom sees a human.
Once below Lower Mesa Falls, the river makes a steady march toward the valley and fishermen have been known to lower their rafts and driftboats almost a quarter of a mile down a long slide into the canyon below to float this river's last untamed stretch before it enters Ashton Reservoir six and a half miles from where it takes leave of the volcanic rim.
There is no point in resisting the power the Henry's Fork will have on your soul. Spend just a little time there and its meadows, rushing waters, solitude and serenity, canyons and wildlife will wrap warm and tender fingers around your heart and never let go.
---
Help Idaho Wildlife
When we traveled across the state in October 2017, most of the vehicles we saw using the wildlife management areas did not have wildlife plates. Buying wildlife plates is a great way for non-hunters and hunters alike to support wildlife-based recreation like birding.
C'mon folks, let's help Idaho's wildlife by proudly buying and displaying a wildlife license plate on each of our vehicles! 
See below for information on Idaho plates. Most states have wildlife plates so if you live outside Idaho, check with your state's wildlife department or vehicle licensing division for availability of state wildlife plates where you live. 
And tell them that you heard about it from Nature-track.com!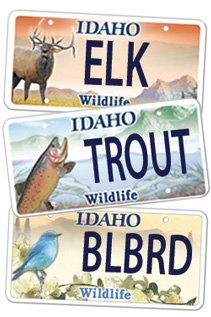 Wildlife License Plates
Idaho Wildlife license plates provide essential funding that benefits the great diversity of native plants and wildlife that are not hunted, fished or trapped—over 10,000 species or 98% of Idaho's species diversity. Game species that share the same habitats (such as elk, deer, antelope, sage-grouse, salmon, trout) also benefit from these specialty plates.
No state tax dollars are provided for wildlife diversity, conservation education and recreation programs. Neither are any revenues from the sale of hunting or fishing licenses spent on nongame species. Instead, these species depend on direct donations, federal grants, fundraising initiatives—and the Idaho Wildlife license plates.
Both my vehicles have Bluebird Plates. I prefer the bluebird because the nongame program gets 70 percent of the money from bluebird plates, but only 60 percent of the money from elk and trout plates - 10 percent of the money from elk plates supports wildlife disease monitoring and testing programs (to benefit the livestock industry) and 10 percent from cutthroat plates supports non-motorized boat access.
Incidentally, in 2014, the Idaho Legislature denied the Department of Fish and Game the ability to add new plates or even to change the name of the elk and cutthroat plates (very specific) to wildlife and fish plates, a move that would have allowed for changing images occasionally and generating more revenue. It would seem that they believe that we Idahoans don't want a well funded wildlife program. Go figure.