Red Rock Lakes NWR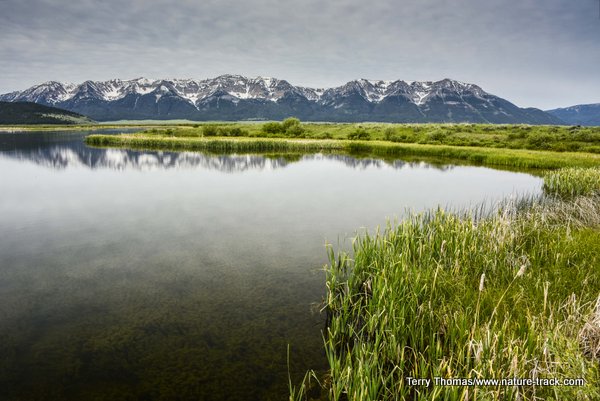 Springtime at Red Rock Lakes National Wildlife Refuge is as full of spectacular scenery as it is wildlife.
---
Because of the crowding, Yellowstone is no longer a place for us in the summer, even in the early part of the season with a very prompt start on the day. When we decided on some place to go last week, we went in the opposite direction, west to Red Rock Lakes National Wildlife Refuge in Montana. This mountain refuge is accessed two ways: driving over Monida Pass on Interstate 15 and then exiting at Monida, Montana and taking the graveled Road 509 east 27 miles to the refuge or going through Island Park and taking the Red Rock Road west up and over the continental divide at Red Rock Pass. It seems to be about the same time either way from Idaho Falls and makes a nice loop. The Red Rock Road is bumpier but shorter and is passable to a sedan (unless wet).
We try to get to Red Rock Lakes NWR several times from spring to fall. This is a stunningly beautiful refuge, with the Centennial mountains to the south, a wide valley to the west and the Madison range visible to the northeast. Elk Lake, a popular fishing lake, is just a few miles north as well.
Red Rocks Lake National Wildlife Refuge was created in 1935 in response to drastically declining trumpeter swan numbers. In 1932, there were only 70 known swans left in the world, half of which were near Red Rock Lakes. The refuge now protects 82,000 acres (50,775 deeded acres) between Yellowstone and the Bitterroot Mountains.
Red Rock Lakes NWR is remote. In fact, it, "encompasses the largest wetland complex in the Greater Yellowstone ecosystem...is one of the few Wetland Wilderness Areas in the country, we continue to manage for primitive wilderness values," according to the website. There is no fuel, no store, spotty cell phone coverage and no flush toilets, but at Red Rock Lakes NWR, one of the most scenic in the entire 150-million-acre refuge system, it isn't about what isn't there but what is there.
This place abounds in wildlife. Moose, the highest density wintering herd in Montana, trumpeter swans, bears, pronghorn antelope, elk, mountain bluebirds, 18 species of nesting waterfowl and a myriad of other wildlife wander here. Spring and early summer are our favorite times, not jsut for wildlife but for wildflowers as well, but fall can be spectacular too, especially for seeing moose and waterfowl.
There are miles of roads including the main South Road and a rougher road around the north side. The Elk Lake Road bisects the east end of the refuge. Several other roads access Lower Red Rock Lake.
Fishing (with a valid Montana fishing license) is allowed on the Refuge in streams, Culver and Widgeon ponds. No bait is allowed and you cannot be in possession of any tackle containing lead. Upper and Lower Red Rock lakes are not open to fishing but are open to canoeing after the waterfowl nesting season—July 1 on Upper Red Rock Lake and September 1 on Lower Red Rock Lake.
The Refuge has two campgrounds, one on each of the main lakes. The campground on Upper Red Rock Lake is small and not suited for anything but the smallest of trailers. On the far west end of Lower Red Rock Lake, River Marsh Campground may accommodate a larger rig but the access road can be rough.
Red Rock Lakes National Wildlife Refuge is a bit further than Yellowstone, but we saw a total of only two other vehicles on the road during our recent visit. Couple that with abundant wildlife and scenery and it is a great alternative.
---
Help Idaho Wildlife
When we traveled across the state in October 2017, most of the vehicles we saw using the wildlife management areas did not have wildlife plates. Buying wildlife plates is a great way for non-hunters and hunters alike to support wildlife-based recreation like birding.
C'mon folks, let's help Idaho's wildlife by proudly buying and displaying a wildlife license plate on each of our vehicles! 
See below for information on Idaho plates. Most states have wildlife plates so if you live outside Idaho, check with your state's wildlife department or vehicle licensing division for availability of state wildlife plates where you live. 
And tell them that you heard about it from Nature-track.com!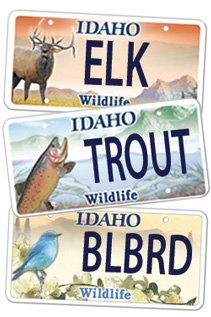 Wildlife License Plates
Idaho Wildlife license plates provide essential funding that benefits the great diversity of native plants and wildlife that are not hunted, fished or trapped—over 10,000 species or 98% of Idaho's species diversity. Game species that share the same habitats (such as elk, deer, antelope, sage-grouse, salmon, trout) also benefit from these specialty plates.
No state tax dollars are provided for wildlife diversity, conservation education and recreation programs. Neither are any revenues from the sale of hunting or fishing licenses spent on nongame species. Instead, these species depend on direct donations, federal grants, fundraising initiatives—and the Idaho Wildlife license plates.
Both my vehicles have Bluebird Plates. I prefer the bluebird because the nongame program gets 70 percent of the money from bluebird plates, but only 60 percent of the money from elk and trout plates - 10 percent of the money from elk plates supports wildlife disease monitoring and testing programs (to benefit the livestock industry) and 10 percent from cutthroat plates supports non-motorized boat access.
Incidentally, in 2014, the Idaho Legislature denied the Department of Fish and Game the ability to add new plates or even to change the name of the elk and cutthroat plates (very specific) to wildlife and fish plates, a move that would have allowed for changing images occasionally and generating more revenue. It would seem that they believe that we Idahoans don't want a well funded wildlife program. Go figure.