Camas Flowers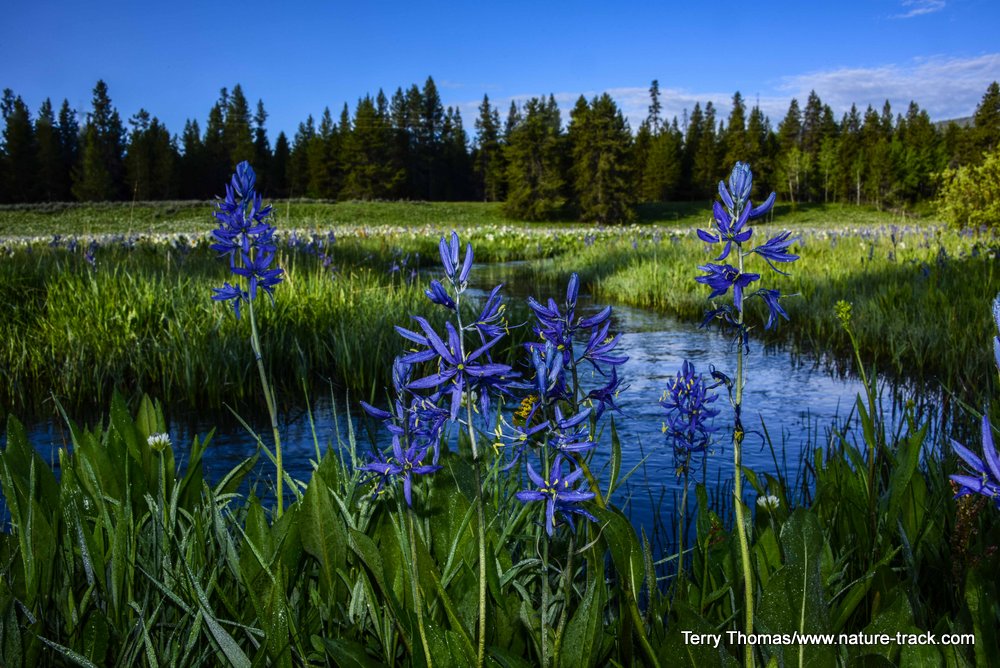 Common camas are in bloom in Island Park. Don't miss the show.
---
It is hard to imagine that a plant could start a war. In 1878 though, that is what happened. The Bannock War, which lasted all summer, began because hungry Native Americans were dismayed to see their "grocery store", the Camas Prairie, near Fairfield, Idaho, turned into grazing pasture, to the detriment of one of their staple foods, the bulbs of the Camas plant.
Common camas, Camassia quamash, is one of the most beautiful of wildflowers. This perennial sports a spike of blue or purple flowers with bright yellow showy stamens. It is a member of the Liliaceae family and counts onions and garlic as cousins. It has a bulb about the size and shape of that of a tulip and grass-like leaves that emerge from the base much like a tulip or daffodil.
This high quality and dependably available food source (two qualities critical to survival) was so important to Native Americans that several tribes, including Shoshone, Nez Perce and Bannocks, made annual long-distance pilgrimages to areas where the camas flowers grew. There they harvested and steamed or roasted enough bulbs each year to help sustain them through the winter months. These areas were so essential to the well-being of the various tribes that the repeatedly petitioned to have them included in treaty settlements.
Pre-settlement, the camas flower was one of the primary plants on the Camas Prairie near Fairfield and formed massive stands of brilliant blue in the spring. In 1806, Meriwether Lewis wrote in his journal that a blooming camas meadow resembled, "a lake of fine clear water, so complete is this deseption (sic) that on first Sight I could have sworn it was water."
There is more than one place named Camas Prairie and although much camas habitat has been drained and converted to agriculture, the common camas is still widespread in wet meadows throughout much of Idaho. It is also found across much of the western US and Canada.
Meriwether Lewis' co-captain, William Clark, wrote that eating camas bulbs made his men sick on at least one occasion. It is thought that they may have eaten undercooked or raw bulbs which have difficult to digest carbohydrates that are converted to sugars by the slow cooking process (a fact verified by laboratory experiments) employed by Native Americans.
It is not likely that Clark's men ate death camas, a similar looking plant with white or cream-colored flowers that also prefers wet meadow habitats. Death camas, not even in the same genus as common camas, is so toxic that just a few bites would have likely killed them.
We passed through the Camas Prairie and the Centennial Marsh near Fairfield several weeks ago and found the camas bloom had likely peaked. However, in Island Park you may find this treasured plant at near peak bloom right now. If you discover the right vantage point, maybe you can join Meriwether Lewis in a fine natural "deseption", mistaking blooming common camas for, "a lake of fine clear water".
---
Help Idaho Wildlife
When we traveled across the state in October 2017, most of the vehicles we saw using the wildlife management areas did not have wildlife plates. Buying wildlife plates is a great way for non-hunters and hunters alike to support wildlife-based recreation like birding.
C'mon folks, let's help Idaho's wildlife by proudly buying and displaying a wildlife license plate on each of our vehicles! 
See below for information on Idaho plates. Most states have wildlife plates so if you live outside Idaho, check with your state's wildlife department or vehicle licensing division for availability of state wildlife plates where you live. 
And tell them that you heard about it from Nature-track.com!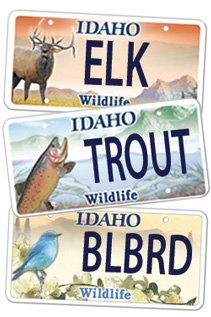 Wildlife License Plates
Idaho Wildlife license plates provide essential funding that benefits the great diversity of native plants and wildlife that are not hunted, fished or trapped—over 10,000 species or 98% of Idaho's species diversity. Game species that share the same habitats (such as elk, deer, antelope, sage-grouse, salmon, trout) also benefit from these specialty plates.
No state tax dollars are provided for wildlife diversity, conservation education and recreation programs. Neither are any revenues from the sale of hunting or fishing licenses spent on nongame species. Instead, these species depend on direct donations, federal grants, fundraising initiatives—and the Idaho Wildlife license plates.
Both my vehicles have Bluebird Plates. I prefer the bluebird because the nongame program gets 70 percent of the money from bluebird plates, but only 60 percent of the money from elk and trout plates - 10 percent of the money from elk plates supports wildlife disease monitoring and testing programs (to benefit the livestock industry) and 10 percent from cutthroat plates supports non-motorized boat access.
Incidentally, in 2014, the Idaho Legislature denied the Department of Fish and Game the ability to add new plates or even to change the name of the elk and cutthroat plates (very specific) to wildlife and fish plates, a move that would have allowed for changing images occasionally and generating more revenue. It would seem that they believe that we Idahoans don't want a well funded wildlife program. Go figure.