Craters of the Moon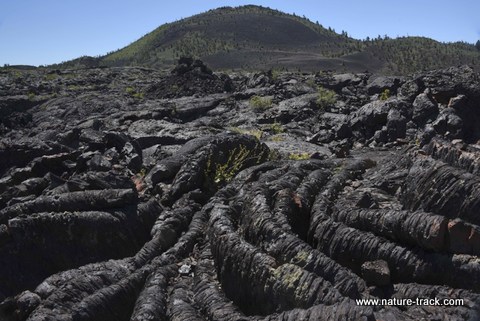 Craters of the Moon National Monument is an under-utilized recreational resource with vast scenic, nature and outdoor activities to enjoy.
---
I sped across the desert west of Arco heedless of the air conditioned comfort I was riding in. A road sign reminding me that I was traveling along Goodale's Cutoff, a 230 mile alternate route of the Oregon Trail, changed that. I imagined riding this same path in a covered wagon. Pioneers bumped over only 11-16 miles a day in choking dust and heat. When they crossed the hellish lava flows we now prize as the Craters of the Moon National Monument, fear-tinged awe welled up at such an inhospitable place.
Even as I enjoyed the surreal vista, described as, "a weird and scenic landscape peculiar to itself" by President Calvin Coolidge when he established this National Monument in 1924, I understood why even the thought of crossing the area would give pioneers nightmares. In an already desolate country, it must have seemed like the home of Satan himself, and aptly described by one pioneer as, "the devil's vomit."
I went to Craters of the Moon for the wildflowers, reported to be exceptional this year. I found flowers in abundance, but what I really discovered was an undiscovered place. It is closer to Idaho Falls than Jackson or West Yellowstone yet sees a very small fraction of the visitors. My trip on the second Saturday in June found parking lots and roads largely empty and even the "campground full" sign was tucked away.
When created in 1924, Craters of the Moon National Monument protected only the very northernmost portion of the much larger Great Rift. In 2000, the monument was greatly expanded to include virtually all of the Great Rift and now includes 1100 square miles, roughly the size of Rhode Island, and is co-managed by the National Park Service and the Bureau of Land Management.
Over forty three thousand acres are designated wilderness and much of the remainder is a wilderness study area. This stark and unforgiving landscape isn't a place for the novice wilderness traveler and only about 100 people a year obtain backcountry permits for wilderness travel.
There is plenty more to do though. The monument staff is exceptional in their ranger-led hikes with winter snowshoe hikes, night-sky hikes and nature hikes. I hooked up with a 1.8 mile long flower identification hike and thoroughly enjoyed the ranger's expertise.
Lava tubes are another attraction. The Monument currently requires you to obtain a permit (handed out at the gate) in order to access caves and tubes. The concern is whitenose syndrome, a fungal disease that is devastating bat populations in much of the country.
Miles of hiking trails will take you to interesting geological formations and into a variety of ecotones ranging from cinders to limber pine stands. Roads are terrific for bicycling.
The lava flows at Craters of the Moon range from 15,000 years to a mere 2,000 years old. Scientists believe that sometime in the next thousand years we are likely to see active flows again. I hope I am there when it happens.
---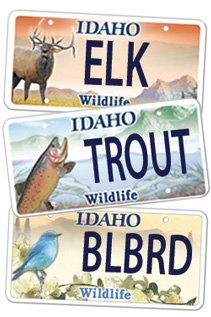 Wildlife License Plates
Idaho Wildlife license plates provide essential funding that benefits the great diversity of native plants and wildlife that are not hunted, fished or trapped—over 10,000 species or 98% of Idaho's species diversity. Game species that share the same habitats (such as elk, deer, antelope, sage-grouse, salmon, trout) also benefit from these specialty plates.
No state tax dollars are provided for wildlife diversity, conservation education and recreation programs. Neither are any revenues from the sale of hunting or fishing licenses spent on nongame species. Instead, these species depend on direct donations, federal grants, fundraising initiatives—and the Idaho Wildlife license plates.
Both my vehicles have Bluebird Plates. I prefer the bluebird because the nongame program gets 70 percent of the money from bluebird plates, but only 60 percent of the money from elk and trout plates - 10 percent of the money from elk plates supports wildlife disease monitoring and testing programs (to benefit the livestock industry) and 10 percent from cutthroat plates supports non-motorized boat access.
Incidentally, in 2014, the Idaho Legislature denied the Department of Fish and Game the ability to add new plates or even to change the name of the elk and cutthroat plates (very specific) to wildlife and fish plates, a move that would have allowed for changing images occasionally and generating more revenue. It would seem that they believe that we Idahoans don't want a well funded wildlife program. Go figure.