Nature is Amazing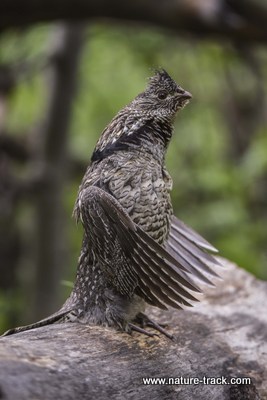 Despite having heard hundreds of drumming ruffed grouse over the years, this bad boy was the first I have actually seen displaying. It was an awesome experience.
---
The thumping started slowly at first, then steadily gained speed, sounding like a small motor just starting up. My grandkids were enthralled by the sound and all three quizzed me about the source. It was a ruffed grouse male, I told them, making the sound, called drumming, by rapidly beating his wings. He did it, I continued, to impress and attract females.
That part was easy. I have heard hundreds of ruffed grouse drumming. I had also spent a number of mornings the last several years unsuccessfully trying to actually see a drumming grouse.
This time though, the grouse was lovesick enough that he drummed almost incessantly. I slowly closed the distance, my head swiveling like a radar dish, listening, adjusting and moving a few steps each time he drummed. Then, through an almost impenetrable screen of brush, I saw him standing on a giant fallen aspen trunk. As I peered through the bushes, he stood erect, flapped his wings slowly several times and then, for a few seconds his wings were nothing but a blur. For the first time, I had actually witnessed a ruffed grouse drumming.
Later, I spent hours in a blind hoping to photograph him but he seemed to know I was there. I could hear him drum on a nearby log and as soon as I left the blind, I could tell that he returned to what I considered his primary perch. In desperation, I set up my GoPro Hero 5 camera, walked away and monitored progress via an app on my phone. After some trial and error and the discovery that GoPro batteries don't last very long, I was ready. With me gone from the site, the grouse was soon back to business. I initiated the GoPro and while the GoPro recorded the event, I watched the action on my phone in fascination. Not only was I seeing a displaying grouse, I had video to prove it.
Back at camp, I noticed fresh piles of dirt recently pushed up by a pocket gopher, a fossorial mammal that lives its life almost completely underground. That makes them very hard to see and I have only actually seen one or two pocket gophers before. Just the day before though, I had explained to my grandkids how the pocket gopher is responsible for "earth worms", those long tubes of soil found each spring snaking along on top of the ground after the snow melts.
I decided I wanted to see this animal and patiently waited by the freshest unplugged hole. Like the grouse though, it seemed to sense my presence. Exasperated, I finally set up the camera, turned it on and walked away for 20 minutes. When I returned, the dirt pile had grown and this time the hole was plugged. Could I have captured the gopher in action? I quickly grabbed the video card and headed to the trailer and my computer.  About in the middle of the file I had caught the pocket gopher, a creature seldom seen, perfectly.
Despite many years of wandering and looking at plants, on a short hike with the grandkids I was amazed to find a large and unique wildflower, the western peony; a plant that I had never noticed before. I say noticed because according to the guidebook, it is a common plant, one that I have likely seen and just glossed over. Identifying this one and adding its photo to my collection was thrilling.
These three experiences, over the course of just a few days, were a reminder that nature is amazing. Despite everything we know and think we know, it still holds far more surprises, hidden wonders and enthralling delights than three lifetimes could ever see.
---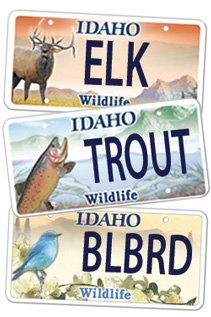 Wildlife License Plates
Idaho Wildlife license plates provide essential funding that benefits the great diversity of native plants and wildlife that are not hunted, fished or trapped—over 10,000 species or 98% of Idaho's species diversity. Game species that share the same habitats (such as elk, deer, antelope, sage-grouse, salmon, trout) also benefit from these specialty plates.
No state tax dollars are provided for wildlife diversity, conservation education and recreation programs. Neither are any revenues from the sale of hunting or fishing licenses spent on nongame species. Instead, these species depend on direct donations, federal grants, fundraising initiatives—and the Idaho Wildlife license plates.
Both my vehicles have Bluebird Plates. I prefer the bluebird because the nongame program gets 70 percent of the money from bluebird plates, but only 60 percent of the money from elk and trout plates - 10 percent of the money from elk plates supports wildlife disease monitoring and testing programs (to benefit the livestock industry) and 10 percent from cutthroat plates supports non-motorized boat access.
Incidentally, in 2014, the Idaho Legislature denied the Department of Fish and Game the ability to add new plates or even to change the name of the elk and cutthroat plates (very specific) to wildlife and fish plates, a move that would have allowed for changing images occasionally and generating more revenue. It would seem that they believe that we Idahoans don't want a well funded wildlife program. Go figure.