Back to Basics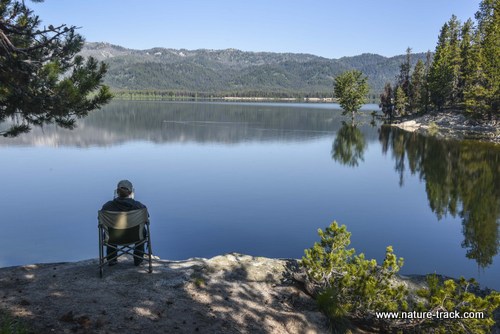 Cathy Thomas relaxes by the shores of Deadwood Reservoir. Even simple activities like reading take on an elemental nature when outdoors.
---
During the past 10 years, trailer camping has replaced our canvas tent for almost all camping except backpacking and canoe camping. The convenience of the trailer and the concept of, "taking it all with you" is pretty irresistible. Camp can be set up in under 20 minutes and mostly just involves leveling the trailer and putting out the awning.
That is a far cry from tent camping where unloading, setting up tents, tables and a cooking center, inflating air mattresses and more may dominate several hours. And doing that in the rain is even more fun.
Several weeks ago though, we determined that tenting was the better option for a three-day trip. It was a long drive and pulling the trailer would expend a lot more fuel. We were headed to a new area and we were unsure of the condition of the roads or what camping would be like.
The pile of tent camping gear grew like an active volcano on the garage floor, and even checking it against my list compiled in 2002, I was sure I would miss something critical, something that is now packed in the trailer.
Finding some of that gear, filling water jugs, loading the truck and stuffing coolers full of ice and food took hours, far longer than getting the trailer ready to go but we were finally out of the driveway and on our way.
After nearly four hours, a fierce hailstorm nearly stopped us in our tracks. Almost two inches of slush covered the highway and just seeing where we were going was tough. I thought ahead to putting up the tent in these conditions and shuddered. That trailer was sounding pretty good right now.
The hail finally stopped but by the time we reached our camp, black clouds threatened again and a downpour kept us pinned in the truck. During a lull, we set about trying to remember how to pitch our somewhat complicated tent, getting it up just before the rain started again. We listened to the rain on canvas until about midnight, grateful for the shelter those thin walls provided.
With camp set up, I finally took stock of it all from a folding chair. Truly, tent camping is more work than trailering. Our camps are reasonably elaborate so it certainly isn't simple to tent camp. It really isn't all that basic anymore either. We do sleep on the ground and the walls are thinner, but basically we have everything that we would have with the trailer but it is just outside.
And then it hit me. We spent our time outside. We cooked outside, we fished, we dealt with bugs and rain. The grandkids got dirty, waded in the lake and played hide and seek with Grandma Cathy. When Cathy took a break and read a book, she did so by the lakeside not in the trailer. The fire and not the trailer, was the center of activity and even bathroom breaks consisted of wandering about with a shovel and toilet paper.
The word I was looking for to describe our experience wasn't basic and it wasn't simple. It was elemental. Tent camping was allowing us to get closer to the core of nature, not as observers but as real participants.
I am not about to give up my trailer, but I plan to use the tent more. It is worth the effort at times to become more a part of the experience, to join with the elements.
---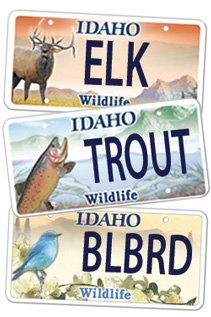 Wildlife License Plates
Idaho Wildlife license plates provide essential funding that benefits the great diversity of native plants and wildlife that are not hunted, fished or trapped—over 10,000 species or 98% of Idaho's species diversity. Game species that share the same habitats (such as elk, deer, antelope, sage-grouse, salmon, trout) also benefit from these specialty plates.
No state tax dollars are provided for wildlife diversity, conservation education and recreation programs. Neither are any revenues from the sale of hunting or fishing licenses spent on nongame species. Instead, these species depend on direct donations, federal grants, fundraising initiatives—and the Idaho Wildlife license plates.
Both my vehicles have Bluebird Plates. I prefer the bluebird because the nongame program gets 70 percent of the money from bluebird plates, but only 60 percent of the money from elk and trout plates - 10 percent of the money from elk plates supports wildlife disease monitoring and testing programs (to benefit the livestock industry) and 10 percent from cutthroat plates supports non-motorized boat access.
Incidentally, in 2014, the Idaho Legislature denied the Department of Fish and Game the ability to add new plates or even to change the name of the elk and cutthroat plates (very specific) to wildlife and fish plates, a move that would have allowed for changing images occasionally and generating more revenue. It would seem that they believe that we Idahoans don't want a well funded wildlife program. Go figure.