The Economics of National Monuments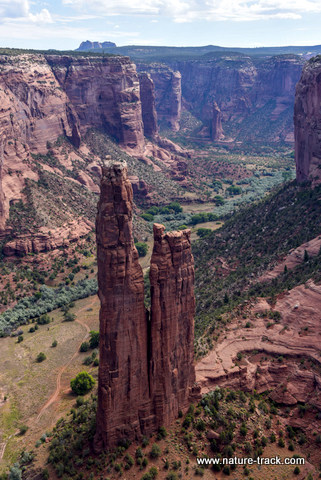 National Monuments like Canyon de Chelly in Arizona, protect priceless antiquities, marvelous landscapes and scientific wonders. Do they do it at an unacceptable cost to local economies?
---
At first blush, one might think that it is a no-brainer to want to have a national monument in your backyard. It might seem that people would be anxious to garner such an honor for their favorite area. This was certainly the case with Fossil Butte National Monument in southwestern Wyoming. That monument was created in 1972 only after the idea originated locally and sustained strong support from citizens of the Kemmerer area.
Local support is often scanty though. Economics is usually the foundation of opposition to the creation of national monuments. There seems to be an automatic fear reaction that restrictions on what can and cannot be done on a national monument will choke economic growth and force the youth of the area to leave for jobs elsewhere.
Those concerns seem largely ungrounded as most, if not all, activities, including, grazing, hunting, ATV use and even oil and gas extraction, that are currently in play are "grandfathered" in modern-day monuments. Life after-monument should not change from the current level. New activities though, such as future oil and gas exploration, may be impacted.
In 2017, Headwaters Economics updated a study conducted in 2011 and again in 2014 that clearly demonstrated economic disaster was not the future of communities affected by national monuments. Their findings concluded: "The local economies surrounding all 17 of the national monuments studied expanded following the creation of new national monuments...trends in important economic indicators—population, employment, personal income and per-capita income—increased after creation of the monuments. ...While the results showing continued growth in nearby communities does not demonstrate a cause-and-effect relationship, the findings show that there is no evidence that the new national monuments prevented economic growth." (https:headwaterseconomics.org/public-lands/public-lands-research).
Monuments can bring long-term stability, but growth still requires a smattering of business sense. I recently visited with a fellow whose friend lives in Grand-Staircase/Escalante National Monument. When the monument was established 20 years ago, he was concerned about the impacts it would have on his family. One evening though, a couple of young men knocked on his door and asked if they could pay him to allow them to camp in his yard. It seemed that all the campsites were full. A tickle of entrepreneurship ran down his spine and he thought, "if these guys are willing to pay to stay in my yard, I bet others would too." He built half a dozen shed-sized cabins on his property and they are rented out all season long, providing a steady stream of income.
This same rancher realized that these campers all had to eat. He built a pizza restaurant and created jobs for a dozen local kids while adding more income to his ranch, all courtesy of the National Monument.
In that same town, a large new motel was recently completed. It isn't there to support the cattle or oil industries. It is there only because the monument attracts thousands of recreationists each year—people who need to stay and eat somewhere and who will come back as long as the natural beauty of the area remains intact.
In the legal world there are two standards. First there is the law. Second, there is the interpretation of the law, known as case law. As the Department of Interior conducts its investigation, they would do well to consider that for 111 years, the Antiquities Act has set aside national treasures for all to enjoy. Presidents of both parties have used this law in much the same way, establishing strong case law as to how the law can and should be employed. As the saying goes, if it isn't broke, don't fix it.
---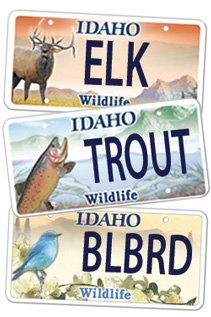 Wildlife License Plates
Idaho Wildlife license plates provide essential funding that benefits the great diversity of native plants and wildlife that are not hunted, fished or trapped—over 10,000 species or 98% of Idaho's species diversity. Game species that share the same habitats (such as elk, deer, antelope, sage-grouse, salmon, trout) also benefit from these specialty plates.
No state tax dollars are provided for wildlife diversity, conservation education and recreation programs. Neither are any revenues from the sale of hunting or fishing licenses spent on nongame species. Instead, these species depend on direct donations, federal grants, fundraising initiatives—and the Idaho Wildlife license plates.
Both my vehicles have Bluebird Plates. I prefer the bluebird because the nongame program gets 70 percent of the money from bluebird plates, but only 60 percent of the money from elk and trout plates - 10 percent of the money from elk plates supports wildlife disease monitoring and testing programs (to benefit the livestock industry) and 10 percent from cutthroat plates supports non-motorized boat access.
Incidentally, in 2014, the Idaho Legislature denied the Department of Fish and Game the ability to add new plates or even to change the name of the elk and cutthroat plates (very specific) to wildlife and fish plates, a move that would have allowed for changing images occasionally and generating more revenue. It would seem that they believe that we Idahoans don't want a well funded wildlife program. Go figure.