Blackfoot River WMA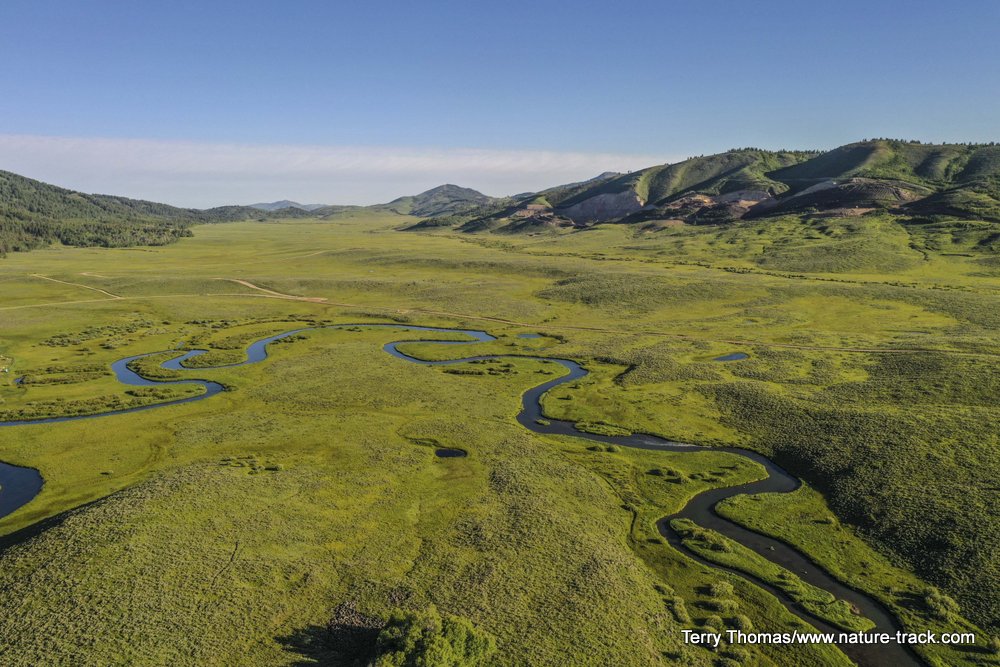 The Blackfoot River WMA protects some of the headwaters of the Blackfoot River as it winds through a beautiful mountain valley. Note the phosphate mine in the upper right of the bottom image.
---
Even after 30 years in East Idaho, it is great to realize just how much I have left to explore relatively close to home. Last spring, we enjoyed our first visit to Little City of Rocks near Gooding. The year before that we went to the real City of Rocks south of Burley. Last week I made it back to a place I have been to but have never explored, Blackfoot River Wildlife Management Area.
While none of these places is exactly outside our back door, we have never been disappointed or felt like the distance made them not worth a visit. And that was the case with Blackfoot River WMA.
Blackfoot River WMA is about 25 miles northeast of Soda Springs, off Highway 34. It is less than 60 air miles southeast of Idaho Falls but about 115 miles via Soda Springs. There is a much more direct route—taking the Bone Road and then the Blackfoot Reservoir Road, to Highway 34, then left to the Blackfoot River road, but they are much slower roads, mostly gravel, so they may not save much time.
About 10 miles north of Soda Springs on Highway 34, turn right (east) on the Blackfoot River Road. In about 10 more miles, this road turns to gravel. You will enter the Caribou (now Caribou-Targhee, but the signs say Caribou) National Forest and you will follow the Blackfoot River through the canyon. When you pass the Mill Creek Campground sign on the left, you are almost there and as soon as the canyon opens to a valley you have arrived.
On the WMA, the river winds through a valley bottom like a deer browsing through a forest, creating a curving ribbon of flat water flowing between willow-lined banks. Although it is the heat of the summer in the valleys, up there it was still springtime with lupines, elephantheads and more in bloom. These are essentially the headwaters of the Blackfoot River, and it is a blessing that they are protected.
I was itching to pull on my waders and do a little flyfishing, but I was surprised that there were no other fishermen, so I checked the regs. Sure enough, I was two days too early (season opens July 1) so the waders and flyrod stayed in the truck and I flew my drone instead.
I also lamented not bringing my inflatable kayak. The river is perfect for an enjoyable float for several miles through the WMA. On my next visit, the flyrod and kayak will make perfect companions.
When you go to Blackfoot River WMA, DO NOT forget the bug spray. Like most riparian meadow areas, mosquitoes are numerous and hungry. Even though I had plenty of DEET-flavored insect repellent, I still wore a long-sleeved shirt and a hat at all times. Shorts weren't even an option.
You might be surprised to see phosphate mining adjacent to the WMA to the north. Phosphate mining is extremely disruptive to the land, but this is major phosphate country—watch out for haul trucks as you drive—I just hope it comes no closer to the river.
It doesn't matter where you live or how long you have been there, the Blackfoot River WMA is a great example that if you do a little searching, you will find plenty of new places to visit. 
Help Idaho Wildlife
When we traveled across the state in October 2017, most of the vehicles we saw using the wildlife management areas did not have wildlife plates. Buying wildlife plates is a great way for non-hunters and hunters alike to support wildlife-based recreation like birding.
C'mon folks, let's help Idaho's wildlife by proudly buying and displaying a wildlife license plate on each of our vehicles! 
See below for information on Idaho plates. Most states have wildlife plates so if you live outside Idaho, check with your state's wildlife department or vehicle licensing division for availability of state wildlife plates where you live. 
And tell them that you heard about it from Nature-track.com!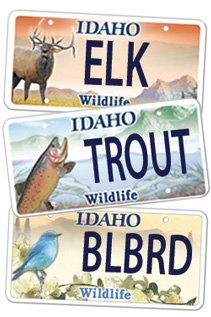 Wildlife License Plates
Idaho Wildlife license plates provide essential funding that benefits the great diversity of native plants and wildlife that are not hunted, fished or trapped—over 10,000 species or 98% of Idaho's species diversity. Game species that share the same habitats (such as elk, deer, antelope, sage-grouse, salmon, trout) also benefit from these specialty plates.
No state tax dollars are provided for wildlife diversity, conservation education and recreation programs. Neither are any revenues from the sale of hunting or fishing licenses spent on nongame species. Instead, these species depend on direct donations, federal grants, fundraising initiatives—and the Idaho Wildlife license plates.
Both my vehicles have Bluebird Plates. I prefer the bluebird because the nongame program gets 70 percent of the money from bluebird plates, but only 60 percent of the money from elk and trout plates - 10 percent of the money from elk plates supports wildlife disease monitoring and testing programs (to benefit the livestock industry) and 10 percent from cutthroat plates supports non-motorized boat access.
Incidentally, in 2014, the Idaho Legislature denied the Department of Fish and Game the ability to add new plates or even to change the name of the elk and cutthroat plates (very specific) to wildlife and fish plates, a move that would have allowed for changing images occasionally and generating more revenue. It would seem that they believe that we Idahoans don't want a well funded wildlife program. Go figure.