Empty Nests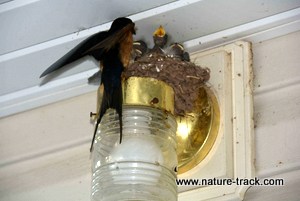 Barn swallows took up residence just inches from our back door and allowed us to be observers in the raising of their young.
Once again, we are empty nesters. The robins had fledged from the front porch a month previous. We had missed most of that show because we were out of the country. Barn swallows, however, saved the day. With a nest in our backyard, they captivated us until a couple of weeks ago.
Barn swallows are beautiful birds with glossy blue-black backs, rusty brown chins, tan chests and deeply forked tails. While we were away, they took up residence on top of the porch light, just inches from the back door. Until we returned they doubtless thought they had found the perfect spot.
Their choice would offer us intimate views of their family life if we didn't scare them off with our comings and goings now that we were home. Barn swallows nest almost exclusively on human-made structures and are tolerant of us, but too much disturbance early in the nesting process can cause them to abandon their efforts and try again elsewhere.
When my anxious fingers gently brushed the first tiny speckled egg my hopes soared. Soon there were five eggs and despite the occasional door opening, the mother largely ignored us and cared for her clutch.
Anxious weeks passed before I found eggshell remnants on the patio. An inspection mirror helped me count five tiny naked hatchlings. They already seemed crowded in the miniature mud cup of a nest.
The babies grew at an astounding rate.  The role of the parents changed instantly from the serene brooding of eggs to frenetic non-stop foraging trying to keep hungry bellies full. I tried to fathom the number of flying insects it must have taken to fuel their growth. No wonder why we are not pestered by mosquitoes in our yard.
 Growth wasn't painless though, for them or for me. They were soon perching perilously on the edge of the nest. I rescued one adventurous chick from the patio, returning it to a nest impossibly full of its siblings. I was saddened to later find two more on the bricks, these less fortunate than their rescued sibling. A third one simply disappeared.
The two survivors were perched on the edge of the nest one morning, looking like teens contemplating their first chance behind the steering wheel. Both parents flew in circles, hovering in front of the youngsters in a crazy fashion. It finally dawned on me that like good parents, they were encouraging their babies to test their wings. I watched for the better part of an hour as the youngsters built up their courage but I finally reluctantly left for work, disappointed that I would miss their first flight.
Sometime that day, the two completed their transition to full-fledged swallows. Soon it was difficult to distinguish them from the adults in their aerial ballets. Swallows return to the porch lights on occasion but only as visitors now.
Last weekend I sadly cleaned up the mess I had willingly tolerated while the youngsters progressed. I removed the small nest, applied a coat of polyurethane and placed it on my desk next to last year's robin's nest. I miss being a part of their lives.