Dark Sky Parks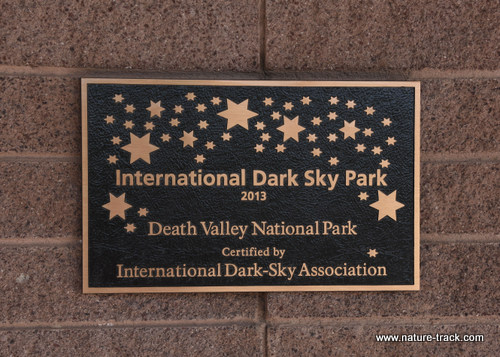 Death Valley National Park is one of several national parks designated as a Dark Sky Park, with significantly dark skies over a broad area and a commitment to keep them that way.
---
Across the millennia, the night sky has always been a place of inspiration, but the accompanying darkness was also the home of unmitigated terrors. Sailors looked to the night sky for guidance, shamans and poets basked in its inspiration yet death walked the night as well and many faced the terrors of predators unleashed by the cover of darkness.
Since the earliest days, humans have been trying to vanquish the dark with fire and then electricity. We have been successful too, creating a world of artificial light that even seen from a satellite seems to stretch across the continent leaving few areas of true darkness. From the ground, night has almost turned to day where the glow of millions of manmade suns washes out the night sky. Millions of children today will not see the Milky Way from their city homes.
For wildlife, the night functions almost like a habitat, like a rainforest or a desert but far more ubiquitous. Animals are adapted to the darkness. It is a place of increased safety for some. For others, senses adapted and honed to the dark, it is the time for the hunt. Still others need darkness to navigate to far off seasonal ranges. When night turns to day, all of these specialized strategies and adaptations are diminished, placing animals at risk.
Enter the International Dark-Sky Association.   To combat the growing glow of humanity, they have created an award-winning program called, Dark Sky Places, to promote dark nighttime skies and to, "encourage communities around the world to preserve and protect dark sites through responsible lighting polices and public education".
The International Dark-Sky Association is based in Tucson, Arizona and is a relatively young group started in 2001. The Association has developed standards and certifications for lighting products that will promote dark skies. Through a rigorous IDA certification program, areas can also qualify for one of five IDA designations: Sanctuary, Reserve, Park, Dark Sky Community and Developments of Distinction.
Sanctuaries are the highest standard: huge areas where light pollution has no significant impact and where the threat is low. These are some of the darkest places on Earth.
The IDA website states, "Reserves consist of a dark "core" zone surrounded by a populated periphery where policy controls are enacted to protect the darkness of the core".
Communities and even subdivisions can become certified by adopting dark sky ordinances and educating their populations about the importance of dark skies.
Dark Sky Parks, of which there are now several dozen, fit between reserves and communities. Dark Sky Parks have significant nighttime skies, many clear nights and are committed to maintaining dark skies. They have an education program which often includes star gazing walks with trained rangers.
Our National Park system has a handful of parks which qualify as Dark Sky Parks. National Bridges National Monument was the first to be so designated in 2007. Capitol Reef National Park was the most recent park to receive Dark Sky Park designation in 2015. Other parks include Great Basin, Death Valley, Big Bend and Grand Canyon of the Gunnison National Parks along with several others.
These days, it isn't so easy to see the Milky Way or the intensity of billions of stars. But if you want to see the dark skies that our ancestors marveled at, these parks are great places to go. Join a ranger-led star tour or just enjoy them on your own. And you likely won't have to worry about giant predators either.
---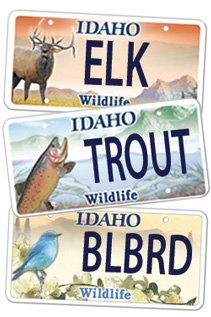 Wildlife License Plates
Idaho Wildlife license plates provide essential funding that benefits the great diversity of native plants and wildlife that are not hunted, fished or trapped—over 10,000 species or 98% of Idaho's species diversity. Game species that share the same habitats (such as elk, deer, antelope, sage-grouse, salmon, trout) also benefit from these specialty plates.
No state tax dollars are provided for wildlife diversity, conservation education and recreation programs. Neither are any revenues from the sale of hunting or fishing licenses spent on nongame species. Instead, these species depend on direct donations, federal grants, fundraising initiatives—and the Idaho Wildlife license plates.
Both my vehicles have Bluebird Plates. I prefer the bluebird because the nongame program gets 70 percent of the money from bluebird plates, but only 60 percent of the money from elk and trout plates - 10 percent of the money from elk plates supports wildlife disease monitoring and testing programs (to benefit the livestock industry) and 10 percent from cutthroat plates supports non-motorized boat access.
Incidentally, in 2014, the Idaho Legislature denied the Department of Fish and Game the ability to add new plates or even to change the name of the elk and cutthroat plates (very specific) to wildlife and fish plates, a move that would have allowed for changing images occasionally and generating more revenue. It would seem that they believe that we Idahoans don't want a well funded wildlife program. Go figure.