Generations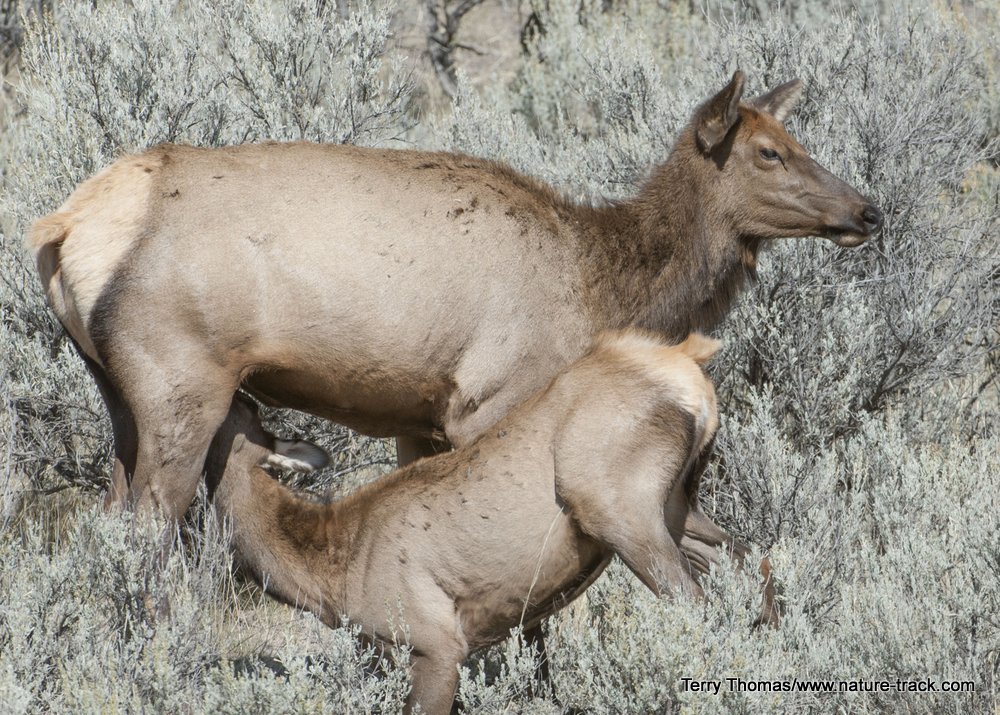 If this calf elk is a female, chances are good it will join a herd with sisters, her mother and grandmother. Great grandmother may be there too and later her daughters.
---
Recently, our family gathered from as far away as Virginia to spend a week together enjoying each other's company. It had been nearly two years since we were all together at once and it was a great event. We had three generations present. My father, the fourth (or first) generation, 92 and recently remarried, was safely ensconced in Yuma, AZ, but we talked to him and Florence, his lively wife two years his junior, via telephone. When they married two years ago, he promised her at least ten years and, given his excellent health and modern medicine, we look forward to celebrating his 100th birthday with them. By that time, our grandkids will have started on the next generation and we will have five generations on this planet at the same time.
Few other animal species can make that claim. The most important ingredient, one shared by very few animals, is longevity. Humans can live longer than almost any other animal. Sure, a Quahog clam can live over 500 years and a number of fish and tortoises can breach the 150-year mark under ideal conditions, but given the millions of species on the Earth, humans are in rare company. Even elephants, often vaunted for their long lifespans, only live between 60 and 70 years at best. Because their generations are shorter though, requiring only 15 years to enter the breeding population, it is feasible to have five generations in a single matriarchal herd.
Rapid reproduction, such as that practiced by rodents and rabbits, where offspring as young as six weeks enter the breeding population, doesn't seem to help in the generation equation. That is because the mortality rate—after all, these species are on just about every predator's dinner list—is so extreme. Living a year or two is a feat.
As a grandfather, I try to pass on what little wisdom and understanding I have gained in 60+ years to my kids and grandkids. With many species though, there is no chance for learning. Any inter-generational knowledge must be passed genetically because parent generations die before the young hatch. This is the case with many insects. I find this particularly fascinating with a species like the monarch butterfly. This butterfly migrates thousand of miles each year. There are several generations though between the ones that return in the spring and those that migrate in the fall. Those fall migrant monarchs have never made the trip yet do it unerringly.
During my graduate research on mule deer, we followed radio-collared deer between winter and summer range. On one flight, we found five radio-collared deer, along with several unmarked deer, standing under the same tree, miles from winter range. This suggested to me that my sample was biased and we had inadvertently marked a series of related deer, and they were hanging together like family.
Ungulates such as moose, bighorn sheep, elk, pronghorn antelope and deer, typically breed in the second or third season and females often establish matriarchal and multi-generational groups. Most do not live much longer than 10-12 years, but I know of a bull elk that was at least 22 years old when he was harvested so the potential for four or five generations is there.
Multi-generational families are one of the things that separates humans from most other travelers on this planet. It is something I hope to never take for granted.
---
Help Idaho Wildlife
When we traveled across the state in October 2017, most of the vehicles we saw using the wildlife management areas did not have wildlife plates. Buying wildlife plates is a great way for non-hunters and hunters alike to support wildlife-based recreation like birding.
C'mon folks, let's help Idaho's wildlife by proudly buying and displaying a wildlife license plate on each of our vehicles! 
See below for information on Idaho plates. Most states have wildlife plates so if you live outside Idaho, check with your state's wildlife department or vehicle licensing division for availability of state wildlife plates where you live. 
And tell them that you heard about it from Nature-track.com!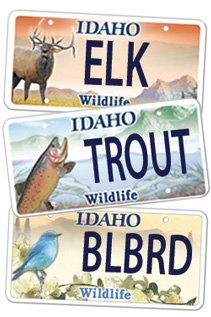 Wildlife License Plates
Idaho Wildlife license plates provide essential funding that benefits the great diversity of native plants and wildlife that are not hunted, fished or trapped—over 10,000 species or 98% of Idaho's species diversity. Game species that share the same habitats (such as elk, deer, antelope, sage-grouse, salmon, trout) also benefit from these specialty plates.
No state tax dollars are provided for wildlife diversity, conservation education and recreation programs. Neither are any revenues from the sale of hunting or fishing licenses spent on nongame species. Instead, these species depend on direct donations, federal grants, fundraising initiatives—and the Idaho Wildlife license plates.
Both my vehicles have Bluebird Plates. I prefer the bluebird because the nongame program gets 70 percent of the money from bluebird plates, but only 60 percent of the money from elk and trout plates - 10 percent of the money from elk plates supports wildlife disease monitoring and testing programs (to benefit the livestock industry) and 10 percent from cutthroat plates supports non-motorized boat access.
Incidentally, in 2014, the Idaho Legislature denied the Department of Fish and Game the ability to add new plates or even to change the name of the elk and cutthroat plates (very specific) to wildlife and fish plates, a move that would have allowed for changing images occasionally and generating more revenue. It would seem that they believe that we Idahoans don't want a well funded wildlife program. Go figure.