Butterflies and Moths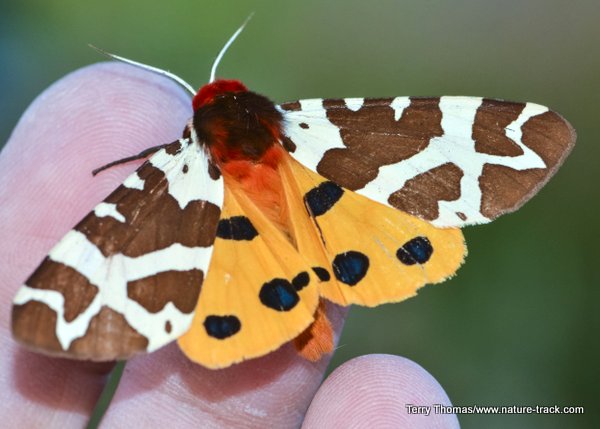 Not all moths are blandly colored as this Garden Tiger Moth shows.
---
I was looking at the photo accompanying this column when my granddaughter, Olivia, came in to say goodnight. "That's a pretty picture!" she exclaimed. "That looks like a butterfly, it is so pretty. Moths are usually gray or brown. But that is a moth because it rests with its wings open and has funny looking antennae." Spot on, I told her. For six years old, she is way too knowledgeable. These days, before I pontificate to my grandkids about a nature subject, I am wise to find out what they already know.
Moths and butterflies are both members of the Order Lepidoptera. Skippers are the third and last member of the order, falling somewhere between moths and butterflies. At one time skippers were considered butterflies, but are now recognized as being closer to moths than butterflies.
There are over 180,000 described species of moths, skippers and butterflies (ten percent of all described species) with moth species out-numbering skipper and butterfly species about ten to one. Most are found in the tropics, but North America has 700 species of butterflies and over 11,000 species of moths.
This highly successful order has been around for perhaps 190 million years. In that time, they have colonized every continent except Antarctica. Species thrive as high as 20,000 feet above sea level, in Arctic environments, deserts, jungles, plains, forests and every other known habitat.
Olivia had nailed two characteristics that often separate butterflies from moths—something not always easy to do. She also discovered that all the rules that apply to telling butterflies from moths are more like guidelines. They are true most of the time, but not all the time.
The first rule is that the antennae of a butterfly are thin and form a "club" at the end. The terminal end may look like a ball, a sausage or something else, but it is always wider than the stem. This is almost always true. Skippers lack the ball and the tips of their antennae "hook" to the outside. Moths don't have clubs, but often have long straight antennae or feathered antennae.
Second, as Olivia also pointed out, butterflies are usually colorful while moths are generally bland or cryptically colored. As the photo shows, this is certainly not a hard and fast rule. There are many stunningly beautiful moths.
Third, butterflies usually rest with their wings together, like hands clasped in prayer. Moths typically rest with wings open (many species have wings that fold on top of the back). However, butterflies will commonly alternate between the two poses when sunning themselves so this isn't a solid rule either.
Fourth, moths are typically nighttime feeders. That is why, if you want to see moths, you hang out a bed sheet at night and put a light source behind it. It will attract moths from long distances. Butterflies are daytime feeders, preferring sunlight. However, there are many day-flying moths. A few years ago, I found a patch of late-summer blooming musk thistle and it was bustling with sphinx moths in the middle of the day.
Fifth, the overall look of a moth is often different from that of a butterfly. Moths appear chunkier and seem to be covered in fur. This is quite evident in the photograph. Skippers look similar to moths in this respect. Butterflies are usually sleek and hairless.
Finally, and this is likely the surest, but most difficult, way to tell butterflies from moths—most moths have a frenulum, a modified structure that links the front and hind wings together to ensure that they move together. Butterflies don't have this, but it is hard to see, requiring a specimen in-hand.
Telling butterflies, skippers and moths apart is often a subjective call. I look first at the antennae and at the overall appearance, then if needed, look at the other clues. Moths are so variable though that the greatest challenge often isn't trying to tell them from butterflies, but rather, whether or not they are moths at all or some other insect.
---
Help Idaho Wildlife
When we traveled across the state in October 2017, most of the vehicles we saw using the wildlife management areas did not have wildlife plates. Buying wildlife plates is a great way for non-hunters and hunters alike to support wildlife-based recreation like birding.
C'mon folks, let's help Idaho's wildlife by proudly buying and displaying a wildlife license plate on each of our vehicles! 
See below for information on Idaho plates. Most states have wildlife plates so if you live outside Idaho, check with your state's wildlife department or vehicle licensing division for availability of state wildlife plates where you live. 
And tell them that you heard about it from Nature-track.com!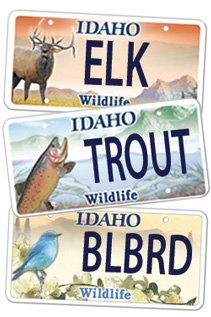 Wildlife License Plates
Idaho Wildlife license plates provide essential funding that benefits the great diversity of native plants and wildlife that are not hunted, fished or trapped—over 10,000 species or 98% of Idaho's species diversity. Game species that share the same habitats (such as elk, deer, antelope, sage-grouse, salmon, trout) also benefit from these specialty plates.
No state tax dollars are provided for wildlife diversity, conservation education and recreation programs. Neither are any revenues from the sale of hunting or fishing licenses spent on nongame species. Instead, these species depend on direct donations, federal grants, fundraising initiatives—and the Idaho Wildlife license plates.
Both my vehicles have Bluebird Plates. I prefer the bluebird because the nongame program gets 70 percent of the money from bluebird plates, but only 60 percent of the money from elk and trout plates - 10 percent of the money from elk plates supports wildlife disease monitoring and testing programs (to benefit the livestock industry) and 10 percent from cutthroat plates supports non-motorized boat access.
Incidentally, in 2014, the Idaho Legislature denied the Department of Fish and Game the ability to add new plates or even to change the name of the elk and cutthroat plates (very specific) to wildlife and fish plates, a move that would have allowed for changing images occasionally and generating more revenue. It would seem that they believe that we Idahoans don't want a well funded wildlife program. Go figure.